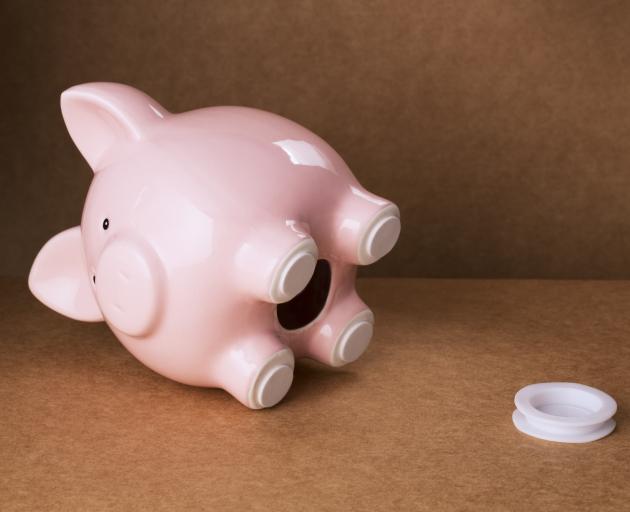 Most New Zealanders are confident in their ability to manage money but about a quarter have no cash savings, according to recent ANZ research.
ANZ commissioned a financial wellbeing survey to explore the financial knowledge, attitudes and behaviours of adults in Australia and New Zealand.
Research showed 23% of New Zealanders surveyed had no financial worries, 40% were doing fine, 24% were getting by and 13% were struggling.
The research also showed financial wellbeing was not based solely on income or wealth but feelings and expectations about a current and future financial situation.
People could have relatively high levels of financial wellbeing without necessarily having a high income, and vice-versa, ANZ managing director retail and business banking Antonia Watson said.
"The ability to start saving, even a small amount, is one of the biggest factors in people feeling higher financial wellbeing.''
There was also a big divide in financial wellbeing between home owners and renters, she said.
Renters were the most likely to rarely or never save and those who owned their own homes were the most confident in all aspects of financials.
Nearly a third of Kiwis still working after 65 say they have to do so to pay the bills, according to new research.
It comes after an Organisation for Economic Co-operation and Development (OECD) report that found New Zealand has one of the least generous pensions relative to the working wage.
BNZ's Financial Futures study has found that 46% of Kiwis plan to keep working beyond 65. And while the majority of workers over 65 were still on the job because of the value and satisfaction it gave them, 31% said they needed to work for financial reasons.
Paul Carter, director of retail and marketing at the BNZ, said the gap between those who chose to work in retirement and those who had to was too high and it sent a message to younger people not to be complacent.
"There's a real opportunity for people to narrow that gap by being more proactive about planning their finances.''
The OECD report 2017 Pensions at a Glance out this month found retirees in the Netherlands received more than 100% of their country's average working wage but Kiwi superannuitants received just 43% - ranking New Zealand the sixth-worst, equal with Australia.
Under the Labour-led Government the age of eligibility for superannuation was set to stay at 65.
But the report warned unless more people were employed in older age, the ageing population would "generate lower pension levels'', reducing wellbeing during retirement.
Visiting expert David Harris said New Zealand was lagging behind other countries in reviewing its retirement policy.
New Zealand already has one of the highest percentages of people continuing to work beyond 65.
The ANZ research was not the only indicator of how tough it was for some to have enough to live, particularly in retirement.
Before the global financial crisis in 2007, the Reserve Bank set the official cash rate (OCR) in New Zealand at 8.25%.
Back then, retiring with $1million might be enough to live very comfortably and securely. Investing in what were considered risk-free investments, such as term deposits which move in line with the OCR, could have produced a gross annual income of $82,500.
Also, assuming the retiree was 65 or over, superannuation of $23,405, gave a total gross income of $105,905.
Unfortunately, this was not so anymore.
A huge bull market in risk assets - shares and property - has meant to achieve a very comfortable and secure retirement by simply investing in term deposits required many more millions.
The OCR was now 1.75% and was forecast to remain at those levels in the near-term.
To generate $82,500 of income at a return of 1.75% an investor would now need over $4.7 million.