Dunedin's stake in the multibillion-dollar global game industry was boosted yesterday as the New Zealand Centre of Digital Excellence dished out its first grants to new and emerging local studios. Bruce Quirey reports.

Reality just got unreal.
Dunedin game development studios led by an underwater diving instructor and a rally car driver are among seven recipients of the first New Zealand Centre of Digital Excellence (Code) grants revealed yesterday.
The new and emerging game studios were awarded the Code grants at a ceremony in Dunedin.
Two studios received Start Up grants.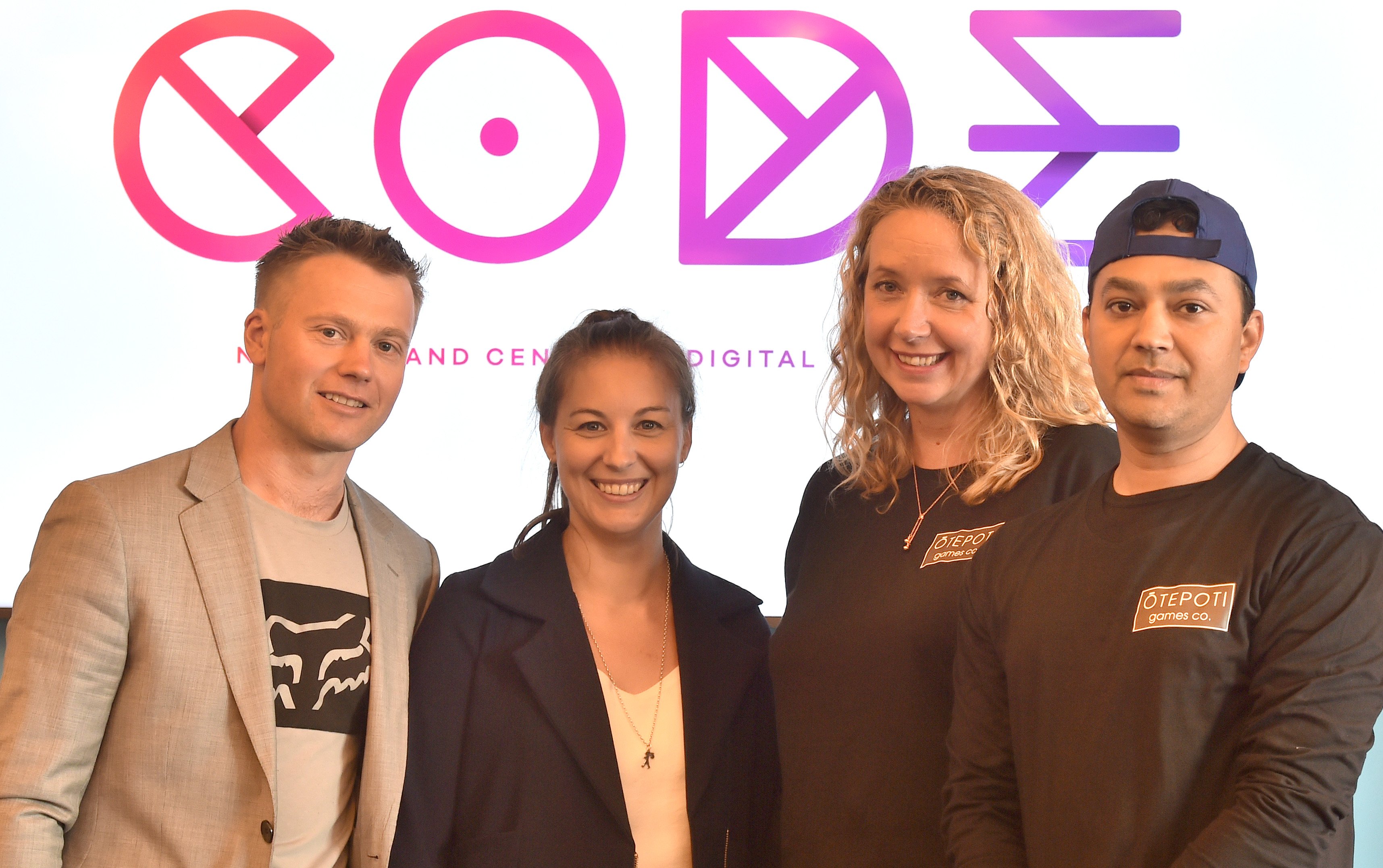 Otepoti Games Company Ltd was awarded $146,586 to develop "cosy"-genre adventure game Pae Moana, based loosely on Otago Harbour and its surrounds.
The Dunedin company was founded by Kylie Jackson, a former underwater diving instructor.
Gfactor Technologies has received $150,000 to launch educational driving simulation game CoDriVR.
It is headed by Otago rally car driver Rhys Gardner.
Five other studios have been awarded Kickstart funding to develop prototype games.
They include Spookysoft ($21,528) for a prototype of My Year of Penguins; Nutriblocks Ltd ($40,000) for Nutri Islands; Court of the Peacocks Tail Ltd ($27,260) for People's Diplomacy; Atawhai Ltd ($36,100) for Toroa; and Lachlan Scown ($12,800) for Mariri.
The first projects are in early development phases and are expected to be ready for market validation or further investment by the end of the year.
Code is a Dunedin hub designed to advance the expansion of New Zealand's growing video game development industry.
Yesterday's ceremony brought game developers together with representatives from several organisations, including the Dunedin City Council, its development arm Enterprise Dunedin and the Government.
Speakers included Minister for the Digital Economy and Communications David Clark, Dunedin Mayor Aaron Hawkins, Code chairman Murray Strong and Code establishment director Tim Ponting.
"It's pleasing to see Code reach another important milestone in the development of New Zealand's game development industry,'' Dr Clark said.
"Having been involved in the design of Code when in Opposition, it's great to see Code become a reality and leverage the amazing gaming talent in Aotearoa."
The New Zealand interactive games industry was growing towards $1billion, he said.
Mr Clark also opened the second Kickstart and Start Up funding rounds, and launched a new Scale Up category, which will provide matched funding to established Dunedin gaming companies wanting to grow their presence in the market.
The three categories in the second round will have an available funding pool of $500,000.
Code is supported by funding administered by the Provincial Development Unit and facilitated by Enterprise Dunedin.
Code grant recipients
START UP GRANTS
Otepoti Games Company Ltd
Team: Founder-chief executive Kylie Jackson, Sid (Siddartha) Vinchurkar, Glen Adlam, Paul Fox, Connor Sherson
Project/game: Pae Moana Grant: $146,586 (Start Up)
Overview: For PC initially, then Xbox, Nintendo Switch and Playstation.
Pae Moana is a single-player, third person, open world, exploratory environment game about adventure, friendship and conservation. It is inspired by the natural beauty and rare wildlife and bicultural history of the Otago Peninsula. You play as Captain Aroha, a 20-something female boat skipper of Kai Tahu descent, who is kept busy through a series of challenges.

Gfactor Technologies
Team: Chief executive Rhys Gardner, Claire Paterson, Henry Liu, Samuel Fisher, Hamza Bennani
Project/game: CoDriVR
Grant: $150,000 (Start Up)
Overview: PC, web/HTML5, iOS, Android, VR
A chance for the next generation of New Zealanders to learn to drive without the usual cost, risk and stress of operating a vehicle. Photo-realistic simulations of roads and driving tasks combine with reward and penalty systems for actions, to deliver relevant and exciting experiences for Kiwi youth.  Better awareness of risks and skilled actions may help to reduce the $1 billion social costs of youth driving accidents each year. CoDriVR uses virtual reality headsets and a driving simulator chassis.
KICKSTART GRANTS
Lachsoft Ltd
Team: Lachlan Scown
Project/game: Mariri
Grant: $12,800 (Kickstart)
Overview: PC initial launch. 
Mariri is a 3-D low-poly tranquil gardening sim, based in New Zealand. Grow plants to attract native birds and earn revenue to be spent on more plants. Start off in a rundown garden plot with a dingy shack that needs attention. Repair, maintain or renovate parts of the plot as challenges are completed. In-game revenue will come from the presence of birds. Possums and other predators invade the garden, posing a threat to the bird residents. The game is being developed in partnership with Maori.
Nutriblocks Ltd
Team: Director Claudia Leong, Veronica Liesaputra, George Brosnan, Josiah Hunt
Project/game: Nutri Islands
Grant: $40,000 (Kickstart)
Overview: Initial launch web/HTML5  with subsequent Android launch.
A light-hearted 3-D game that aims to educate children about healthy eating habits. Players will select their avatar and pet before exploring different islands, each themed around a specific eating health issue, such as irritable bowel syndrome or specific learning outcomes, such as learning about the preparation of traditional foods.
Spookysoft
Team: Director Stef Animal
Project/game: My Year of Penguins
Grant: $21,528 (Kickstart)
Overview: PC and iOS game 12x 2D mini-games for children. A lively and educational collection of 12 colourful, penguin-themed minigames for children aged 3-7.
Five charming penguin characters are the stars of the game and lead the player through a new and exciting adventure each month. The game is inspired by Dunedin's penguins. It features a hoiho (yellow eyed penguin), a korora (little blue penguin) and three of their more distant penguin cousins.
Court of the Peacocks Tail Ltd
Team: Edward Stutters, Remaya Campbell, Kelsey Scheurich
Project/game: People's Diplomacy
Grant: $27,260 (Kickstart)
Overview: Web/HTML, iOS, Android
A multiplayer, classroom-based serious game in which real-life principles of diplomacy, international security, war, ethics, intergroup conflict and human rights come to life. The game will model a surrender negotiation set in the near-future - the surrender of a lunar colony to pro-Mars factions. The game offers schools a new way to teach pupils about peace studies, with academic context from the University of Otago.

Atawhai Interactive
Team: Lead Mickey Treadwell, Connor Bridson, Lisa Blakie, Max Howard-Martens
Project/game: Toroa
Grant: $36,100 (Kickstart)
Overview: PC initial launch.
Toroa is an atmospheric adventure game where the player takes the role of the toroa (albatross) gliding across the Pacific Ocean on its journey back to Taiaroa Head to reunite with its chick after being at sea for a great period of time. A storm is brewing on the horizon, just one of the many obstacles for the toroa to face. The game showcases the beauty of the toroa, the Otago Peninsula and the Pacific Ocean and will represent te ao Maori with narration in te reo Maori, Maori place names, animals and atua.