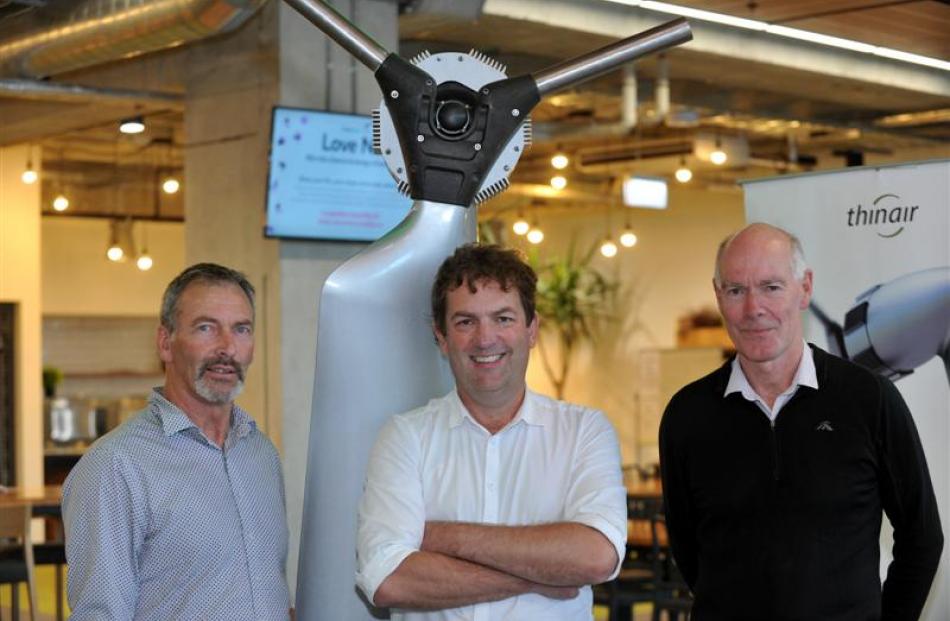 There is something in the air at Powerhouse Wind.
The Dunedin-based clean tech start-up has launched an equity crowd-funding campaign to allow it to scale up production to bring its Thinair 102 wind turbine to wider markets.
A lot of work had been put into developing a product that complemented solar panels in the on/off grid renewable energy sector, director Bill Currie said.
It was targeting about $600,000 to scale up, employ staff and change the focus from development to sales and marketing and customer support, Mr Currie said.
The crowd-funding campaign, through PledgeMe, was a chance for people to buy into a company which was ''revolutionising'' small-scale wind power generation.
The single-blade turbine generated between about 3250kWh and 5200kWh a year, on sites with average wind speeds of 5m/s-6m/s.
Mr Currie, who lives in an off-grid house, has had a long-standing interest in local energy solutions.
He said people were starting to generate their own power and there were also industrial opportunities, such as cellphone and communication sites that were located too far away to be powered by the grid.
Another area where there was a lot of interest was developing countries.
The company obtained funding from Callaghan Innovation which had allowed it to work in innovation workSpace, the design research and development centre at Otago Polytechnic.
Powerhouse Wind had also been utilising some ''pretty clever businesses'' around Dunedin, he said.
Export inquiries were being received and it was a product that seemed to inspire people, Mr Currie said.
While the potential was big, he acknowledged it was not going to to be easy.
''It's definitely going to take some pretty good skills to make it work.''
There was a big gap in New Zealand when it came to small business.
Once you got past the ''first start'' with investment from family and friends, it was ''too much of a stretch'' to get to a sharemarket listing, he said.
Crowd-funding made it possible to find funding and he believed it was a ''really important part of the puzzle'' when it came to innovation.