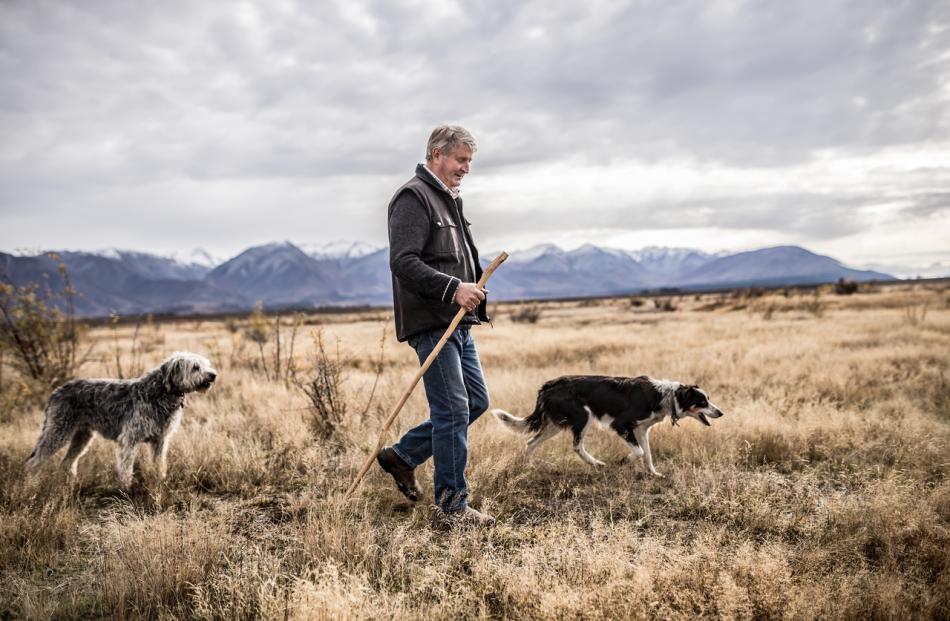 Twizel, the town that wasn't meant to last, is fast becoming a holiday hot spot, writes Sally Rae.
People don't realise what is going on in Twizel.
That's the belief of Chris White, a Dallas-domiciled Kiwi with a passion for the former hydro town.  In fact, he describes it as genuinely being a "hidden gem".
The Mackenzie town has left behind the hydro days, when it was constructed as the temporary base for the Upper Waitaki Power Development, with new housing springing up all over the place and people falling for its charms.
"I'm a little bit sick of it being known as a dam town now.  It's moved on. You want to see the people that are holidaying here.  There's a real underbelly ... of really smart intellect and talent moving in here and holidaying here. People want to get out of the rat race," he said.
Mr White, who has worked in the finance industry in the  United States for many years, is behind an ambitious subdivision development on the outskirts of the town called Merino Downs.
He has partnered with Trammell S. Crow, an American philanthropist, entrepreneur, environmentalist and founder of the world's largest Earth Day — EarthX — for the project.
Lots are being marketed by Sothebys, an indication of the nature of the development which Mr White says the town "deserves".
The land was part of Ben Ohau Station, a property that has been in the Cameron family since 1897, and merino sheep continue to graze over the fence from the development.
Mr White has been in Twizel since mid-September, overseeing the project and getting very hands-on, whether planting trees, fencing or painting.
It has also been an opportunity to catch up with his parents Bruce (Chalky) and Jane, who live in the town.
Chris White grew up in Dunedin, where he attended Otago Boys' High School and the University of Otago, where he completed a commerce degree in economics and finance.
It was a great upbringing, he recalled, and he was exposed to the rural sector during holidays, working on merino farms and also in meat processing plants from when he was about 15. His father was involved in the meat industry.
Following university, he travelled and worked for several years,  in commercial fishing and forestry, among other things. He was in the United States, living in a car and fly-fishing — a passion — when his money was running out.
He ended up sleeping on the couch of his old rugby playing mates from Dunedin; Grant Kreft, Alfie Hunter, Bruce Clarke and Nigel Kreft, who were over there playing rugby.
He then started working in the finance industry, including investment banking, and in 2008 he went out on his own and founded Greenstone Capital Management Partners.
Married to Haley,  with children Harper (5) and Harrison (7), he had now been in the US for 18 years.
In latter times, he made the conscious decision to invest in small private businesses and in good people. Those investments  include New Zealand.Mr White had an office alongside the Crow family in Dallas and when Trammell Crow visited New Zealand, he was captivated with the Mackenzie district.
He did not care about "jumping off a bridge" [bungy jumping], preferring hiking, the environment and solitude.
So that was a perfect fit with Twizel and the decision to embark on the subdivision development.
Mr White was a value investor and he believed Twizel was the best value play, rather than Tekapo, Wanaka or Queenstown.
People who bought a home in the town years ago for $20,000 now had a property that was worth $400,000.
With four lakes in close proximity and with Department of Conservation land on the doorstep, people did not need to own massive tracts of lands. They could just have "a little piece" and then access the Ruataniwha Conservation Park.
Mr White was delighted with the location of land  bought  for Merino Downs; the 22ha site was on the northern-side of the town with unrestricted views and looked over a historic sheep station.
The 34-lot development would include a reserve area with rugby posts, cricket pitch and night-sky viewing benches to help develop a sense of community.
Wanting to "raise the bar" in the area, Mr White said there would be about 12,000 plantings of tussocks, natives and exotic trees and shrubs. There was also about 3km of post-and-rail fencing and a large merino ram sculpture — bigger than the one in Omarama's town centre — by Omarama sculptor Bill Adams  would grace the entry.
There were strict covenants for purchasers to ensure that bar was kept high and it was the most expensive and covenanted development in the town.
"I just want to do a good job. If it's worth doing, it's worth doing right," he said.
As many local businesses and contractors were being used as possible and those working on the project were spending money in the town, so there was a real exponential effect, Mr White said.
Interest had already been  high in the development and he believed the lots would sell quickly.
The White family was keen to return to New Zealand to live permanently and that was one reason Mr White was comfortable spending so much time and effort in the country. It was "a bit of transition" for them.
Their children loved spending time in the Mackenzie, and he likened it to "boys' own adventures".
Looking to the future, Mr White believed more people would be living in places like Twizel, as lifestyle became more important.
Technology would also play a huge role in transforming people's lives.
"I think the Toyota Hilux [will be] flying a drone to work. I do feel pretty confident that your Hilux might be able to fly itself in 5-10 years ... I know it sounds crackpot but it's coming and it's coming quick," he said.