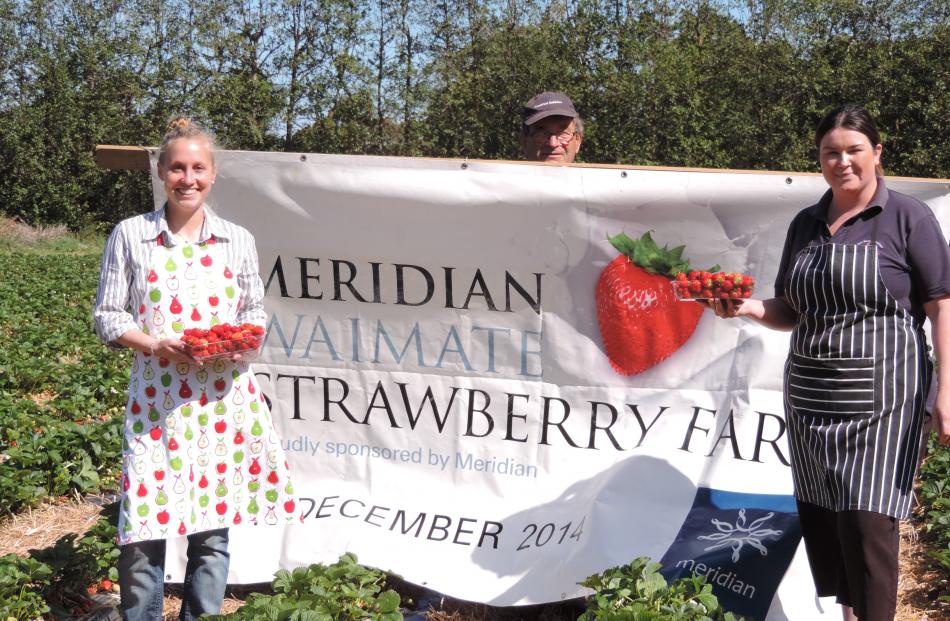 Waimate's main strawberry fields escaped last week's hailstorm and are looking good for the season.
Donald Butler, who, with wife Jackie, owns Butler's Berry Farm and Cafe, said they were lucky the hail that bombarded the east coast last Wednesday skirted around their property alongside State Highway 1 at Hook, just north of Waimate.
''It was close, but it's all good.''
The fruit was ''all coming on quite nicely'', with strawberries already on sale. Those he took to the Otago Farmers' Market in Dunedin on Saturday sold quickly and customers told him they were ''tasting good''.
''We'll be into serious picking in the next few days.''
The Waimate Strawberry Fare, held on the second Saturday in December, falls on the 13th this year. Far from being unlucky, it allows the fruit more time to ripen than when the date is nearer the beginning of the month.
''We might even have a few raspberries,'' Mr Butler said.
''That always excites people. As soon as the strawberries are ready, they want raspberries.''
The Butlers instigated the Strawberry Fare as a way of getting growers together and celebrating the crop, which has thrived in the district since colonial days.
Thirty years ago, Mrs Butler chaired the Waimate Art Group that wanted a location for an outdoor exhibition. She suggested a strawberry fair at the berry farm.
For the first few years, it was held at the Butlers' roadside fruit stall. In 1989 it moved into Waimate's Seddon Square, with 37 stalls among the trees.
It now fills the town's two central parks and attracts crowds of about 15,000 each year.
Pickers at Butler's Berry Farm have an early start on the morning of the Fare, ensuring enough punnets are ready to satisfy demand throughout the day. Many strawberries get topped with ice cream in sundae cups.
There had been much interested in berry-picking jobs this year, Mr Butler said.
They sold most of their produce at markets, rather than to supermarkets.
''We're not into sending big pallets away to big supermarkets. When you have to pick them to send away, you have to pick them really green.''
The Butlers preferred to wait until the fruit had ripened in the sun to develop its flavour, then sell it directly to customers, either at their own premises or at farmers' markets in Dunedin, Oamaru, Geraldine, Ashburton and Christchurch.
- By Sally Brooker