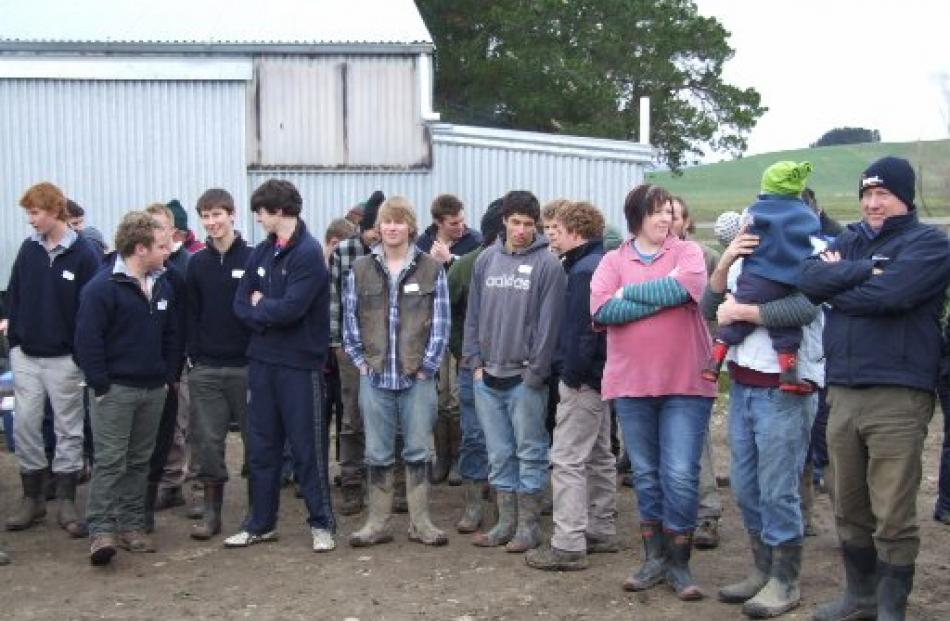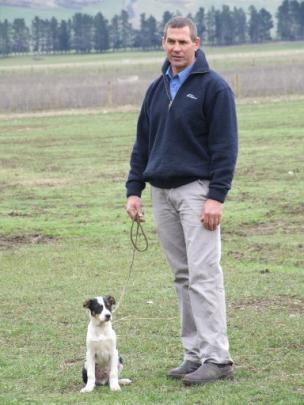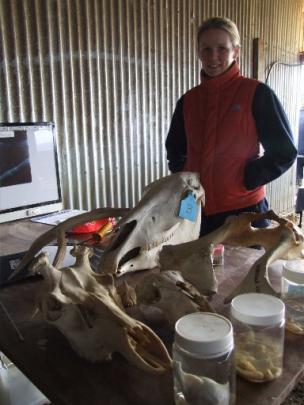 Agriculture and its supporting industries were promoted to secondary-school pupils at the recent Haka Bark Up to encourage young people to consider it as a career. Sally Rae reports.
Among the pupils Geraldine High School agriculture teacher Margaret Walker took to last year's Omarama Bark Up was a teenager "with very little focus on life".
But when he saw the shearing module, his eyes "lit up with a passion", and now, 12 months down the track, he is about to start an apprenticeship.
That teenager, who would have otherwise dropped out of school, now has introductory qualifications through Tectra.
"Now he's just waiting to sign on the dotted line for his apprenticeship.
You couldn't ask for a better story.
From a kid who was just going to drop out, to a kid with a passion."
Mrs Walker was back at this year's Bark Up, which was moved to Caberfeidh Station, in the Hakataramea Valley, with a group of 24 pupils.
Some wanted to go on to university and become stock agents, one wanted to be a vet, and others who would make "absolutely fantastic farmhands".
The agriculture industry could cater for so many different pathways and events like the Bark Up were "absolutely wonderful".
Agriculture and its supporting industries were promoted to more than 120 year 10, 11, 12 and 13 pupils from as far afield as Geraldine and Alexandra.
Young role models and industry professionals guided the pupils in various agricultural activities.
Modules included sheep-dog training, beef farming, animal health and nutrition, sheep farming, shearing and wool, and irrigation and livestock feeding.
Some of those attending were selected for placements with those running the day.
The message being promoted was that agriculture was a viable and worthwhile career, Agriculture ITO Central and West Otago training adviser Sarah Barr said.
Feedback following last year's Bark Up had been "wonderful" and this year's event has been opened up to include year-10 pupils.
The pupils were split into groups to rotate around the modules, and each group had a young person who was "living the dream" as a mentor.
Before the Bark Up, the pupils had been sent profiles to read, giving them an opportunity to relate to somebody involved in the industry.
The Bark Up was a simple concept and the only direction given to those running a module was that it needed to be interactive.
"None of us are pushing our own barrows.
We're just all doing it for the industry and ... that can't be anything but good."
A lot of young people did not have family farms to return home to and corporate farmers, like Lone Star Farms, had opened up some real opportunities, she said.
Lone Star Farms general manager Boyd Macdonald encouraged the pupils to "just dream and live the dream".
From a personal point of view, Lone Star Farms had 11 farms scattered around the South Island and it was important to get youngsters to consider agriculture as a career.
From a wider perspective, there was a "hell of a big opportunity" about to happen in agriculture.
While the industry faced some real challenges, there were going to be opportunities around those.
Skilled people were needed both working on and managing the land, Mr Macdonald said.
Two of Lone Star's managers at the Bark Up - Caberfeidh manager Andrew Harding and Barewood manager Marty Deans - were both running businesses worth more than $25 million.
There were "huge opportunities" in farming and he encouraged careers advisers to promote that in schools.
Mr Macdonald, who chose not to go back to the family farm, instead preferring a career in farm management, said it was not important to have a home farm to be able to make a career out of farming.
Another guest speaker, Conrad Wilkshire, who is insurance general manager for FMG, recalled his time as a farm cadet at Smedley Station in Hawkes Bay.
He came from an urban background and did not necessarily have the same skills his friends had - they could shear 100 sheep a day, while he had to learn to use a hand-piece - but he did have a real passion for agriculture.
From there, he got a scholarship to study at Massey University where he graduated with a bachelor of agriculture and a diploma in business studies (valuation).
He got involved in farm finance and had since forged a very good career out of agriculture.
People did not have to go to university to get ahead in agriculture - "we need everybody in agriculture at all levels" - he said.
Andrew Harding, who manages Caberfeidh Station for Lone Star Farms, said it was important for pupils to know about the opportunities agriculture offered.
"We're doing it [the day] for agriculture as a whole. If we don't do it, the careers advisers aren't going to do it for us."
Mr Harding, who grew up on a hill-country property near Gisborne, worked as a shepherd in the North Island, before mustering on properties around the South Island.
It had been a privilege to manage various properties for the past 10 years, he said.
He has been in the Hakataramea Valley for seven months, having previously managed a property for Greenfields at Paerau.
Caberfeidh is a 6000ha property, running 25,000 stock units and with a staff of seven.
Skilled labour was an issue and young people needed to know that they had to start at the bottom to work their way up.
"You can't learn what you need to start off out of a textbook, but you do need the textbook when you become the manager," he said.
He completed a diploma in agriculture through Agriculture ITO and admitted he would not have his present job without it.
All the staff at Caberfeidh were now doing AgITO training and they were "loving it" because they were meeting people with the same interests.
Careers advisers needed to realise that agriculture was "not just chasing sheep".
Farming was becoming quite technical and the industry needed its scientists, agronomists and people involved in research and development.
Those in the industry needed to be prepared to learn and also look outside the square to be successful in changing times.
Kelvin Sadler, who gave a sheep dog training demonstration, had made the transition from shepherd and later station manager to stock agent.
He now worked for PGG Wrightson, based in Waimate.
While the price of land had ended his goal of farm ownership, he was still involved in the industry.
A keen dog triallist who started competing when he was 18, he has a team of dogs.
"Dogs are still my passion."
Sarah Zuppicich, who studied veterinary nursing, is now on the road as an animal health territory manager for Oamaru Veterinary Services.
Based in Kurow, she services sheep, beef and a few dairy properties, in the Kurow, Omarama and Oamaru area.
"Sheep and beef are my passion. I love it," she said.