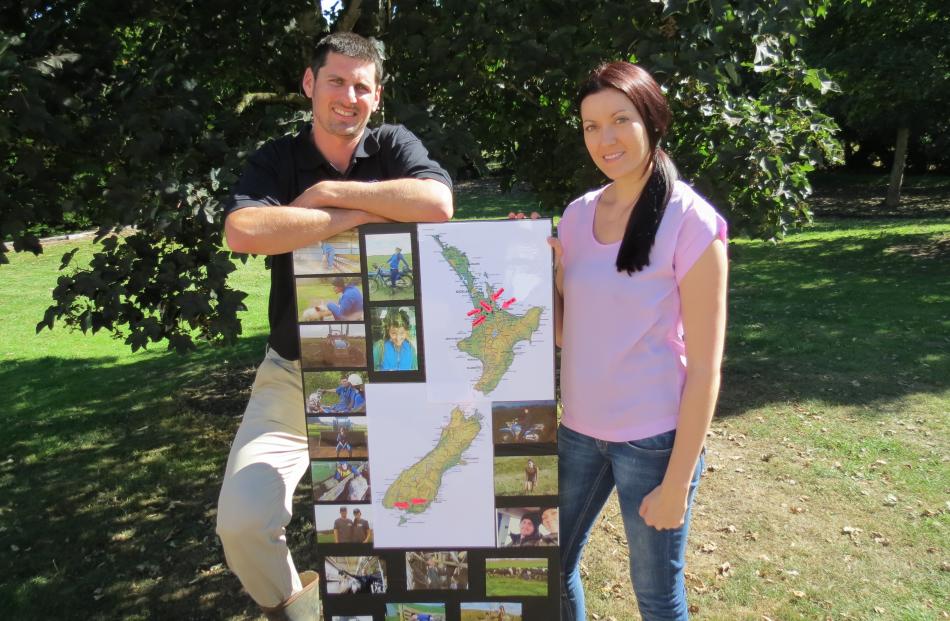 Jared and Sara Crawford know exactly where they want to be in 10 years and how they want to get there, but the move to Southland to take advantage of the opportunities available was a major decision for them.
However, it has paid off.
Mr Crawford won the 2014 Southland Otago Farm Manager of the Year title in Gore last month, in addition to the McIntyre Dick and Partners Leadership and Fonterra Best Practice merit awards.
The win is another step towards their goal of 50/50 sharemilking and then farm ownership in 10 years time.
He manages a first-year conversion 740-cow, 343-effective property near Riversdale for Roger and Tracey Miller.
Their milk solid target is 300,000kgMS, or 400kgMS/cow and the are producing about 1.5kg/cow/day. Mrs Crawford is a trained chef and looks after their son Lennox (1) and ideally they would like their own dairy farm, a beach or lake crib, her own cafe and the chance to travel.
Originally from a dairying background in the Waikato, Mr Crawford spent a year working on a dairy farm after leaving school, before completing his plumbing apprenticeship.
''I am the townie and we have only been farming for four years,'' Mrs Crawford said.
She said about five years ago both were at crossroads in their careers and decided to return to dairying as they planned to have children and wanted to see them grow up in a farming environment.
He started as a 2IC on a Waikato farm in 2010-11, them moved to assistant manager on a 370-cow property.
They decided to move to Southland in 2012, first to an assistant position on a 800-cow farm in Waimumu, and then to their present position this season.
''It was a really big decision to move down here,'' Mrs Crawford said.
''We decided to take the plunge and go down the sharemilking road and there are so many more opportunities down here, with bigger herds.
''We call Southland home now and love it, but part of the sacrifice is not having any family down here, although they come to visit.''
In addition to taking as many courses, discussion groups and seminars to upskill as they can, Mr Crawford has completed the Level Five Production Management certificate through Primary ITO.
''We want to gain as much information and meet as many people as possible,'' Mrs Crawford said.
''By entering the awards there will be more opportunities''We want to stand out.''
The new 60-bale rotary is a fully automated one-person operation.
About 250 cows are wintered on farm while the balance are moved to the run-off.
They will run two pivots for effluent dispersal next season and will increase herd numbers to 950, and then up to 1000 within three or four years.
''We have quite a low stocking rate as we are in our first season,'' he said.
They have an extensive regrassing programme and effluent is stored in a 2 million litre, free-standing, above-ground tank.
The couple are building up their own herd and hope to have 50 in-calf heifers next year, which will be leased back to the farm owners.
They make about 300 tonnes of silage plus baleage and also run stock on fodder beet, which, although it is a higher cost, is higher yielding.
When not working they enjoy travelling.
Mrs Crawford enjoys spending time with Lennox and Mr Crawford enjoys hunting, trail bike riding and social cricket.