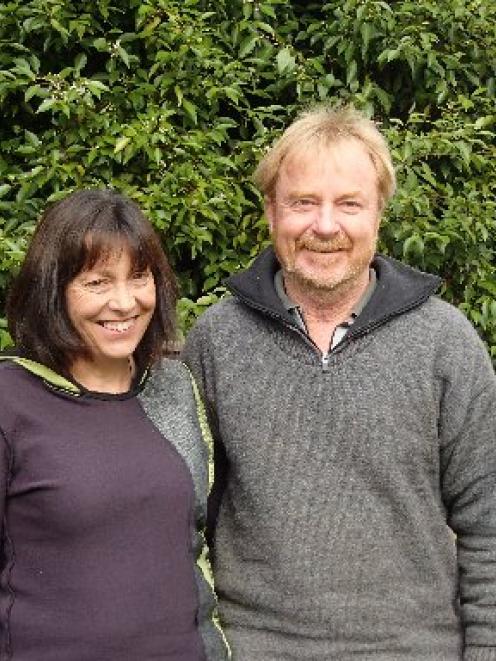 Sustainability and environmental issues are at the forefront of the Thomas family's farming practices, as they try to preserve, for generations to come, their slice of land on the border of Fiordland.
Tuatapere sheep farmers Roger and Alison Thomas won the 2014 Golden Lamb Award Best of Breed (Crossbreed) for their Perendale Texels, processed at Silver Fern Farms Waitane. They were also finalists in the Southland Ballance Farm Environment Awards this month.
The 236 property, which holds 2200 ewes, 580 ewe hoggets and 30 rams, has pockets of land where native plants have been planted and protected.
Over the past 12 years, the Thomases have registered a QEII National Trust covenant, which gives the area of native bush more protection, and hope to register even more land with the trust.
''We value biodiversity and try to protect and look after the bush and waterways,'' Mrs Thomas said.
''We chose the stock type we have because it has less damage to the soil. We often buy a couple of calves in the spring, but we never have dairy cows in the winter.
"We chose to stay away from deer farming because of the damage they cause to the environment.''
Mr Thomas said the remnants of native bush on the farm were home to native birds, such as falcons, tui, and bellbirds, and made the farm a nicer place to work on.
''It's a real thrill to have those kinds of rare birds in our farm. The working environment in our farm is enhanced because we have got native trees planted and the birdlife around.
''A flat farm is easy to run, but it is not as nice.''
The pair had owned the Tuatapere property for 12 years, and bred Perendale Texels for eight of those, switching to the breed because of its easy-care nature.
While scanning percentages had decreased since changing to the breed, lambing percentages had increased, with an average of about 150% per season, he said.
It was not just passion for the farm which kept them in Tuatapere, but the small Western Southland community, which they have been very much a part of for more than two decades.
Mr Thomas is in the local Lions Club and has served on the Board of Trustees for local schools, while Mrs Thomas is a volunteer ambulance driver, spent 13 years on the Waiau Health Trust, and volunteers for the Rural Women's Network.
While their three children have grown up and moved out of home, Mr and Mrs Thomas hope to continue living in Western Southland for as long as possible.
''The lifestyle out here is the best thing about being a sheep farmer,'' Mr Thomas said.
''It's been an amazing place to bring our children up - there's not many lifestyles where you can work as a family and everyone can work together.
''Our goal for the future is to sustainably increase production, while also increasing the biodiversity of the land.''