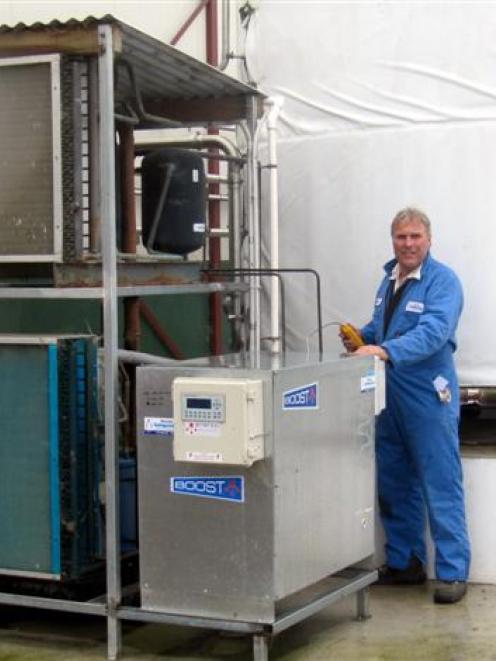 Waitaki Refrigeration has been selected as one of four firms nationwide to deliver the Energy Efficiency and Conservation Authority's dairy shed heat-recovery programme.
The programme, which seeks to raise the profile of heat-recovery technology, will provide grants to assist with installing heat-recovery systems in about 40 dairy sheds during the next two years.
By transferring waste heat from one part of the production process and using it in another, less energy was used, which reduced costs and improved productivity, Eeca said.
Dairy sheds used a lot of energy to heat water for cleaning. Heat recovery was the biggest and most cost-effective opportunity for improving dairy farm energy efficiency.
In many instances, the pay-back period was less than two years, Eeca business industrial programme manager Rod Treder said.
"Heat removed during the milk-chilling process is often wasted. It makes great sense for dairy farmers to use this resource to heat water stored for cleaning. Dairy farms could cut their milking shed electricity bill by up to 30%," he said.
Four providers - Climatemaster, Maverick Energy, Dairycool and Waitaki Refrigeration - were selected through a tender process.
Ashburton-based Dairycool and Oamaru-based Waitaki Refrigeration service the South Island.
Waitaki Refrigeration was an agent for the Enersol boost heat-recovery system which provided 85degC hot water from the dairy farm refrigeration and was able to increase the refrigeration efficiency by more than 20%, managing director David Ferguson said.
On a typical dairy farm, the electrical saving was more than 20,000kW per year with a saving of more than 30% on the dairy shed electrical costs.
On one dairy farm, the Enersol boost system was providing 3000 litres of hot water per day and saving $650 a month on electricity.
Heat was collected through two refrigeration units and then from the water supply when the refrigeration stopped, he said.
The company's role in the programme was to outline the benefits of the technology to dairy farmers and, with its knowledge of heat-recovery systems, could work alongside farmers to buy the best system for farms.
It could also apply to Eeca for funding on farmers' behalf, manage the installation and commissioning while measuring electricity savings, Mr Ferguson said.
Over time, Eeca hoped heat recovery would become a standard feature of dairy shed hot-water systems, Mr Treder said.
Under the programme, Eeca Business will cover up to 33% of the cost of buying and installing heat-recovery technology.