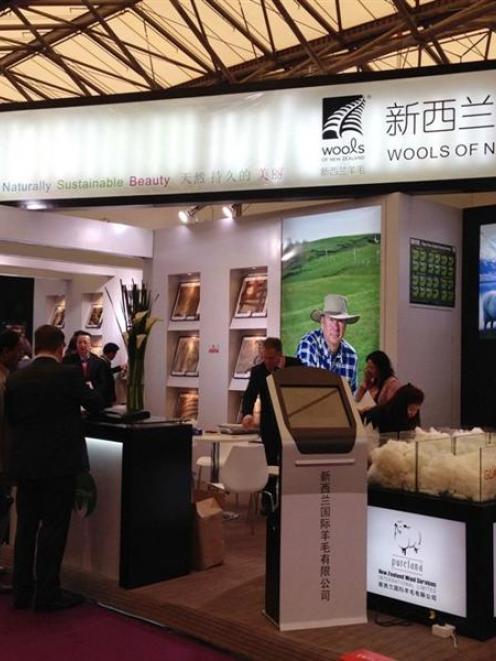 New Zealand's wool industry is ''a wee bit broken'' , Wools of New Zealand chief executive Ross Townshend says.
At an autumn roadshow in Waikouaiti, Mr Townshend spoke of his observations since starting the job in August last year.
Sixty years ago, 85% of sheep farmers' revenue was from wool and 15% was from meat, and now it was the complete opposite.
The industry destroyed value at the sales end with multiple offerings of undifferentiated wools in a ''race to the bottom''. He believed the auction system was ''serving us poorly''.
In recent years, there had been a loss of wool-growing and wool-harvesting skills, along with wool genetics, which equalled a loss of confidence, and there had been the reduction in sheep numbers. Buyers had been commenting on the ''dumbing down'' of the quality of New Zealand wool.
WNZ, which completed its capital-raising at the end of February last year, wanted to raise wool returns to more than 30% of income in five years, he said.
WNZ chairman Mark Shadbolt said collaboration in the wool industry was vital and he had been disappointed in the behaviour of ''some people in the industry'' who had been trying to undermine what WNZ was trying to do.
''It had happened in New Zealand, at farmgate level, and in the international marketplace and it was ''bloody frustrating'', he said.
Farmers needed to be fully involved in the supply chain, and that had been lacking.
It was a market-pull strategy, not selling it at auction ''dumping it and hoping somebody will buy it''.
It was hard and it was slow but the aim was to be a fully commercial grower-owned sales and marketing business within five years, he said.
There was a big focus on in-market activities and WNZ had a presence in the United States, China, Europe and the United Kingdom.
Key companies had been identified in each of those areas, generally high-end companies that were well-structured financially and producing top quality products.
Price volatility was a killer - ''we hate volatility and so do our customers'' - and meant customers could move away from wool and go into blends or synthetics. WNZ was working hard to put in place a stable pricing model, Mr Shadbolt said.
Mr Townshend said WNZ's direct farm-to-scour service agreement with New Zealand Wool Services International had been a learning curve, but also a ''success story so far''.
The spot market sales option was launched in October last year. Volumes were doubling month-on-month and had now reached about 350,000kg, with annualised volumes expected to reach between 3.5 million and 4 million kg within its first year - about 8% of the market.
There was an immediate saving upfront of at least 13c/kg. The price was based on objective assessment of growers' wool and reflected the prevailing market rate.
It was also the growers' decision whether to accept the price offered or keep their wool in the system and hope for a price lift in the future, he said.
Volumes had grown more rapidly than expected and there was still some work to do on ''user-friendliness'' but the process was generally working well and the ''vast majority'' of growers accepting the prices offered.
WNZ continued to promote its new contracts, including its lamb's wool contract with UK-based textile company Camira, which offered growers pricing in a range of $6.25/kg clean with no vegetable matter.
It was talking to Camira about rolling over that contract from 2014 to 2015, and it was also exploring other opportunities with the company, which focused on transport and office fabrics.
''Obviously, first prize for our shareholder growers is to lock into a supply contract but the D2S [Direct to Scour] spot market option is there for wool that cannot meet the tight contract specifications set by WNZ's customers,'' Mr Townshend said.
WNZ was trialling the engagement of Hazlett Rural, a ''new generation'' stock and station company in Canterbury, and there was a possibility of rolling that out.
East Otago farmer Rob Lawson questioned whether that fitted in with trying to take costs out of the supply chain, by bringing in a third party.
Mr Townshend said he did not necessarily see Hazlett Rural as being a third party.
It was a one-year trial and they were ''only paid when they deliver''. If they could deliver 10 things to a farmer, rather than one thing, that had to be good from a farmer's point of view, he said.
ANZ's latest Agri Focus said wool prices were expected to remain reasonably flat for the time being.
Certain wool types, such as the good quality colour wools, had slightly higher demand.
Prices had flattened out over the past several months as the seasonal lift in supply had helped balance the market out. That had resulted in strong wool prices stabilising around the $4.90kg clean mark, which was 12% below the peak in October and November.
Inventories of New Zealand wool were low throughout the supply chain, but end demand had been sluggish, leaving higher inventory levels of finished product. That was now keeping a cap on importer and manufacturer demand.
Total bales offered at auction were down 9% year-to-date but total sales were down just 3%, reflecting better clearance rates.