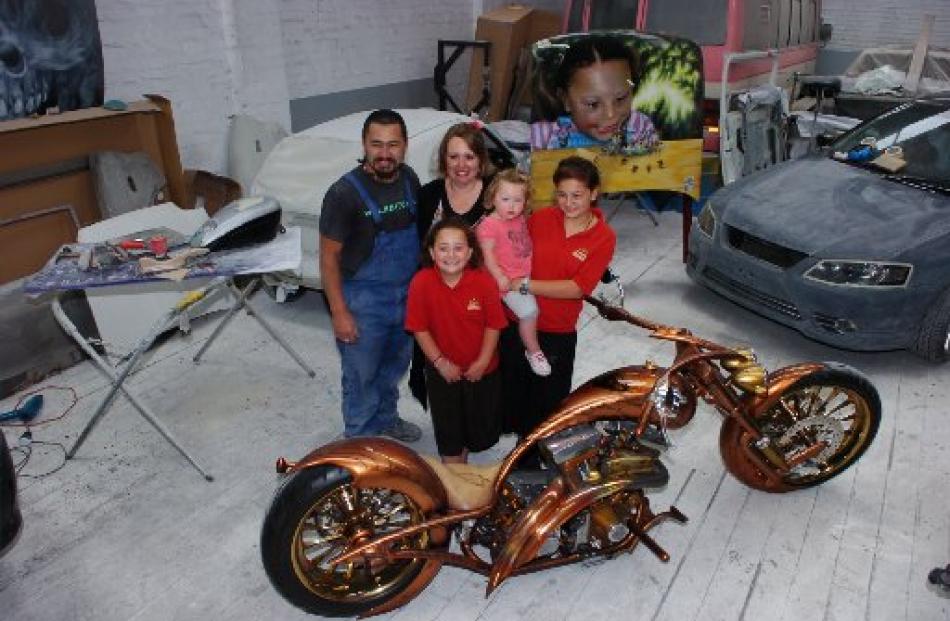 That elusive work and life balance; for many families, it's an often exhausting juggling act. Business reporter Sally Rae speaks to two Dunedin couples who successfully manage to keep things in proportion - while keeping sane.
Meet the Matika family. Dave and Ruth Matika own ABFX and Auto Panelbeaters in Vogel St, while Mrs Matika also works as a personal assistant at the Centre for Entrepreneurship at the University of Otago.
Life is busy for the couple, who have three daughters - Trinity (11), Shimmah (7) and Avana, who turned 2 on Boxing Day - but they would not have it any other way.
"It's full-on, it's definitely full-on but we've grown with it too," Mrs Matika said.
During a typical weekday, Mr Matika will be at work about 6.30am while his wife gets the children ready for school. Mrs Matika then heads to the university to start at 9am and works until about 2.30pm, when it's time to pick up the children.
That is followed by doing "whatever we have to do" after school - touch, netball, basketball, Irish dancing and gymnastics - before heading home to cook dinner. Meals that can be cooked during the day, such as casseroles and roasts, are popular in the household.
Once the children are in bed, Mrs Matika settles down to do the administration work for their business.
At the weekend, Mr Matika works on Saturday mornings and Sunday is always "family day". He has also found time for a major house renovation.
While work was "not 8 to 5 by any means", life was good, Mr Matika said.
The couple met at a 21st birthday party when they were both working in Nelson. Mrs Matika already knew his car - a two-seater shortened Mini called Fugly - before she met him.
While he was at school, he had a part-time job in a paint and panel shop in Golden Bay, which whetted his interest in the industry.
After shifting to Dunedin, he worked for Action Panelbeating for seven years before deciding it was time to do his own thing.
The couple went into business on their own account in late 2000, having bought an existing business.
It was scary, he acknowledged - "deep end-type stuff" - especially after having the security of having a job and working for someone else.
At ABFX, they do everything from small insurance repair jobs to "full-blown" customising and airbrushing graphics - or, as Mr Matika put it, "all the real cool la-di-da stuff".
"We're a bit different to a normal shop ... we get to do some fun stuff," he said.
That fun stuff included Mr Matika making his own pride and joy - a spectacular and award-winning motorcycle called Metallic-ah - creating an image of daughter Shimmah on a car bonnet, and Boon the Nightmare Fairy - "he takes away children's nightmares" - on the bonnet of his wife's car.
As well as cars and motorcycles, he has airbrushed tattoos on to the Nude Blacks, been involved with the ID Fashion Show "and everything in between".
But there was not enough of that sort of work to concentrate solely on it. "We need bread and butter stuff to tide us over until we get the fancy stuff," Mr Matika said.
Like any business, there had been some tough times - "it's never a smooth road" - but it was going well, they agreed.
They had spent years pondering whether they should grow the business and realising that they did not want to was a relief.
"We're really quite happy plodding along, making a living, not a killing," Mrs Matika said.
"You can have a great big job, taking heaps of money and being unhappy as hell," her husband added.
Dunedin, they agreed, was a good city to both live and own a business in.
It was also a great place to bring up a family.
The couple played down their adeptness at juggling work and family commitments. "You don't just step back and see how you do it; there's not time," Mr Matika said.
"You just do it. You don't think about it, you just do it," Mrs Matika said.
• When Alix Lucas-Fyfe returned to work after maternity leave, the transition was made easier because she knew she was leaving the children with a trusted carer.
Mrs Lucas-Fyfe and her husband, Richard Fyfe, run Outreach Software, which provides customer database solutions, including email communications, support ticketing, billing and ledger modules, to small to medium-sized organisations.
After graduating from the University of Otago, where she studied marketing, design and tourism, Mrs Lucas-Fyfe started working for her father, who had an idea for a software programme.
They formed a company, started researching what people needed and were joined by Mr Fyfe in 2004, when he completed his university studies in design.
The couple now run the company themselves.
It is a service-based business, with every solution tailored for that particular organisation, and it was very rewarding to build relationships with clients and help them become more efficient, Mrs Lucas-Fyfe said.
They have a very broad range of customers from Auckland to Invercargill, including Alumni Connect - a programme developed by the Dunedin City Council, New Zealand Trade and Enterprise, Otago Polytechnic and Tourism Dunedin to help secondary schools reconnect with former pupils.
The couple, who have two sons, Tim (5) and Louis (3), are grateful for the support of their families and of their "amazing" home-based educator, which enables them to both work.
Instead of attending kindergarten or day care, they wanted their sons to have home-based care. "If we're working, the next best thing for them was to be in a home-based environment," Mrs Lucas-Fyfe said.
They had a "lovely" relationship with her - "we clicked straight away" - and it had worked out well for all parties.
"We're happy with how the business is going and how the family is going. I think the mix is right for us," Mr Fyfe said.
When Mrs Lucas-Fyfe was at work, she knew her children were in that "amazing" activity-based learning and home environment.
She works part-time and has the flexibility to fit in around her children, particularly in adjusting her hours to suit the school day.
"[By owning a business] we're in control of where we are going and what we're doing, but also having that flexibility with the family side of it is invaluable," she said.
When the couple get home and the children are around, they then switch to "being at home".
It was difficult for them to both get a break away together during the year so they were looking forward to a Christmas holiday, including time in Central Otago.
The couple, who are both originally from Dunedin, love life in the city.
"I think Dunedin is key to it. It really suits us," Mr Fyfe said.