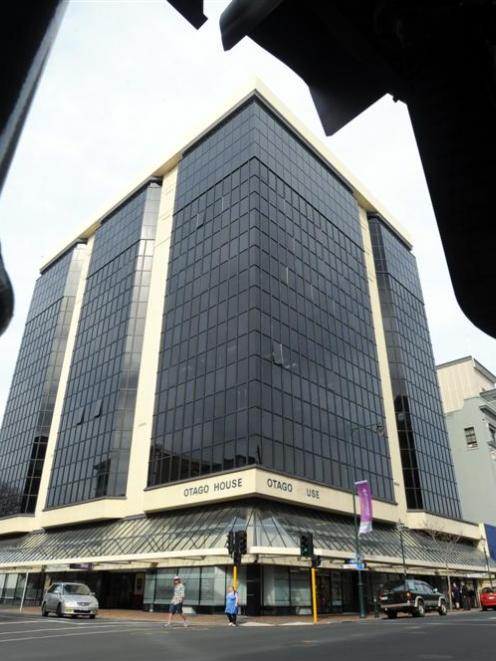 Commercial property rents in Dunedin's central business district have increased slightly over the past year, with other data revealing Dunedin offers employers the lowest operating costs and the most space for employees.
However, Christchurch's earthquakes have sent jitters throughout the commercial property sector around the country, especially for older buildings and how they may be affected by insurance premium hikes.
Colliers International, which monitors 160,000sq m of office space in Dunedin, has just released separate annual reports, on CBD office space nationwide and a workplace report.
As Dunedin lease renewals come up, Colliers was seeing a push from tenants, especially those in older buildings, to relocate to modern office accommodation.
"This trend stems partly from building safety concerns following the Christchurch earthquake," the report said.
Colliers' director of commercial, industrial sales and leasing in Dunedin, Dean Collins, said insurances were already on the move, but for tenants paying gross rents, as opposed to net rents, it was landlords footing the bill.
He estimated insurances were in general up 10%-20% or more, but there were cases of hikes well beyond 20%.
As with other property sectors, there had been "some interest" shown from people in Christchurch relocating to Dunedin but "not an influx", Mr Collins said.
"There's still good tenant demand out there in Dunedin, but tighter in A grade."
The Colliers workplace report found Dunedin's CBD offices had the most space per workstation of the four cities surveyed and the "total occupancy cost" to businesses of providing office space was much lower than in the other main centres.
"The proportion of private offices in Dunedin has dropped by almost half in the past year, although is still higher than other main centres, where open plan working is more popular," the report said.
In Dunedin, each workstation measured 24sq m with an occupancy cost of $5036 per station, second only to a lower cost in Hamilton.
Overall office vacancies in Dunedin were up 2.5% to 12.5% in June, compared to a year ago, but the availability of prime office space had declined 3.2% to 8.6%.
Secondary vacancy space had increased to 13.3%.
"With few options available, we expect [Dunedin CBD] demand to outstrip supply over the next 12 to 18 months, pushing office vacancy down.
"Landlords sitting on well-furnished office space may expect rental growth," the report said.
Dunedin A grade rates were recorded at $210-$250 per square metre; A grade measuring not only age but overall services, sprinkler systems and earthquake ratings.
Auckland's "premium" rates were $450-$670 per sq m and A grade $430-$525, Hamilton A grade $200-$300, Wellington A grade $505-$560. In Christchurch there was virtually no office vacancy inside, or outside, the CBD as rebuilding starts.
Nationally, commercial property sales over $2 million had declined 41.5% in 2011, compared to a year previously, down to $357 million.
Returns nationally for the office sector for the year to March were at 8%.
Landlords of prime, modern office buildings could expect more interest in properties.
"Removal of lower-grade office properties from the tenantable; stock will be significant.
"Less fortunate are owners of the older C or even B grade buildings who face a nasty cocktail of decreasing value and demand, along with increasing insurance costs," the office report noted.