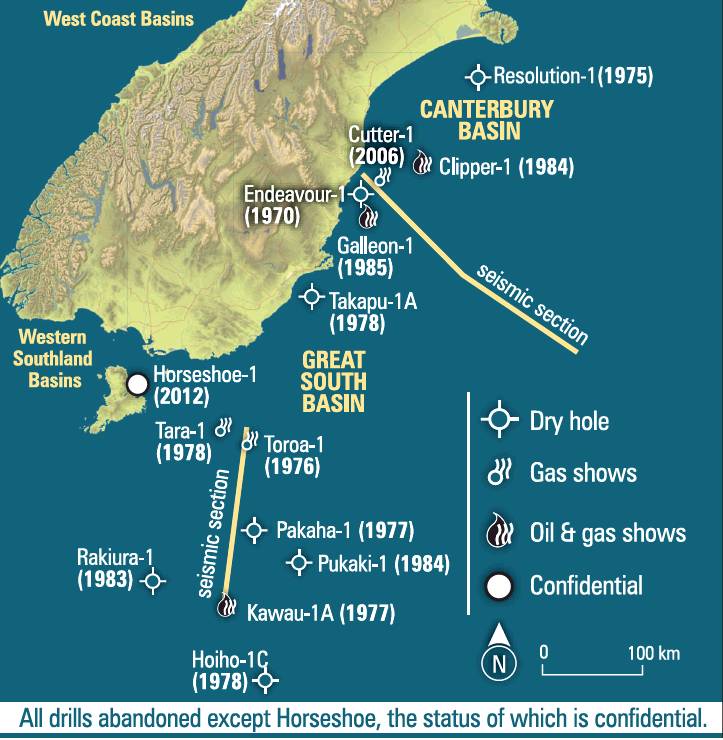 New Zealand Oil and Gas (NZOG) - which holds substantial oil and gas exploration permits offshore from Oamaru and Dunedin - is under a $30.5 million takeover offer by its 70% shareholder.
NZOG's independent directors are partially blaming the Government's April 2018 decision banning any further issuance of offshore drilling permits in prompting them to recommend shareholders conditionally accept the offer.
''The independent directors believe recent policy changes have had a dramatic impact on the perception of New Zealand as an appealing place to invest in the oil and gas industry,'' directors Dr Rosalind Archer and Rod Ritchie said in an NZX update yesterday.
NZOG will delist from the NZX and expand its New Zealand operations, ultimately as a subsidiary to parent, Monaco-based multibillion-dollar company Ofer Global.
The directors said the 25% ''attractive premium'' offered by Singaporean-based OG Oil & Gas was despite an uncertain future for oil and gas investment in New Zealand.
''Departures by major international players continue, with recent decisions by international companies to surrender exploration acreage being the latest examples,'' the directors said of Shell, Petrobras and Anadarko pulling out of New Zealand recently.
NZOG share had been trading flat around 48c since April, and yesterday rallied 21% to trade up to 60c.
Craigs Investment Partners broker Peter McIntyre said the takeover play came as a ''surprise'', but was good for the sector, as definitive plans were likely to evolve - especially around the Clipper acreage, containing the Barque prospect, off Oamaru.
NZOG has touted its deepwater Clipper permit off Oamaru could be the country's largest hydrocarbon discovery, but eight test wells drilled in the area since the mid 1980s have not found commercially viable oil, gas or condensate.
''There's uncertainty over the [Government] ban and gas and oil supply ... Clipper is the one with a lot of interest and would be the game-changer,'' Mr McIntyre said of its potential size.
Given the Government's offshore drilling ban, NZOG's permits are arguably of higher value, but ultimately its owner has to fund an $80million-$100million single-well drilling programme, or relinquish the acreage.
NZOG holds oil and gas exploration off Otago and Southland's coast, but has been unable to attract partners to secure a drilling programme, despite the deep pockets of its 70% shareholder's parent company.
The Barque prospect off Oamaru was extended to 2022 last April, while at the Toroa prospect, 200km south of Dunedin, a permit extension to 2022 has been sought.
Separately, Austrian company OMV expects to drill a $80million, one-off, test hole next summer, the Tawhaki-1 well, about 146km southeast of Balclutha.
Yesterday, OG Oil & Gas chief executive Alastair McGregor did not outline any future intentions, saying only OG Oil & Gas wanted to increase its investment to 100% as the ''best option for NZOG'', and offering shareholders ''substantial value'' for their shares.
OG Oil & Gas has offered 62c per share - a 25% premium on Tuesday's price, under a scheme of arrangement, for the 30% of ordinary NZOG shares it does not already own. It paid 78c per share for its 70% stake, which it took in late 2017.
OG Oil & Gas parent Ofer Global is headed up by Eyal Ofer, with interests in shipping, real estate, banking and investments across Europe, North America, the Near East and Asia.
In making the recommendation to accept, NZOG's independent directors took into account ''the changed operating environment for oil and gas investment in New Zealand following the Government's decision in April 2018 to not award new offshore exploration acreage''.
There was also difficulty raising equity capital as a publicly listed oil and gas company on the NZX, and the ''significant'' NZOG share price decline since the Government's announcement.
The independent directors' recommending acceptance is subject to the 62c being assessed by an independent adviser being within an acceptable company value range. The offer requires shareholder approval from a September vote, court approval and Overseas Investment Office consent.
• NZOG also have production interests in Taranaki and Indonesia and exploration prospects in Western Australia.