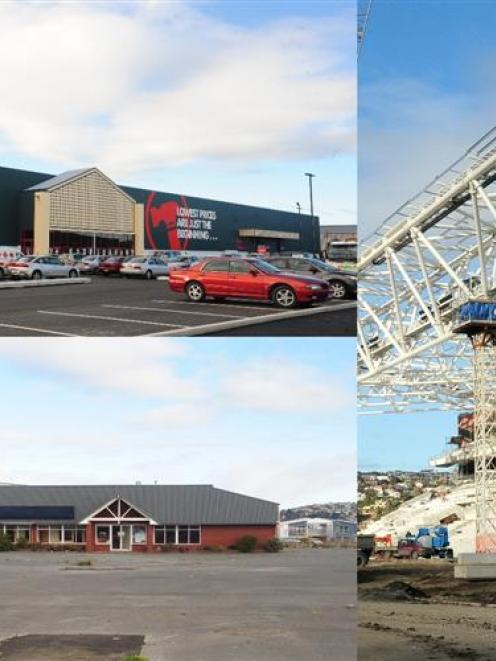 Ground lease land rental charges around Dunedin have escalated by as much as 300% in recent years, at a time when some industrial land sales have ranged from $250 per sq metre to an eye-watering $800 per sq m. Simon Hartley investigates what is incensing many building owners around the city.
Port Otago subsidiary Chalmers Properties has been accused of being "heavy handed" in renegotiating ground lease rentals - up by between 150% and 300% - for some building owners in Dunedin.
Chalmers' chief executive Andrew Duncan rejects the criticism, and along with Dunedin valuers, points to rising land values during the past seven years, inflation and land availability all combining to prompt rental increases.
"There have been significant pressures on land values during the past seven years. That's what is being reflected here," Mr Duncan said.
Anecdotally, many Dunedin building owners believe land sales for the Forsyth Barr Stadium, giant Australian-owned Bunnings hardware in South Dunedin and Progressive Enterprises' Anderson's Bay Rd Countdown supermarket projects have skewed recent valuations.
Bunnings paid $250 per square metre (but must pay Chalmers Properties ground rent), one block of freehold stadium land sold for $571 per sq m and Progressive paid about $800 per sq m for its freehold land.
Many building owners, and lessees who have ground charges passed on to them, are situated in the harbourside area, where Chalmers Properties has extensive holdings.
About 50% of the total capital value of Chalmers' Dunedin assets lies in the returns from its ground lease rentals, a historical legacy of Port Otago's charging rent to building owners for more than a century.
When contacted, no affected Dunedin building owners wanted to be identified because of long-term rental negotiations.
One owner in the area said his charges were recently increased 175%.
"I had no options. They were heavy-handed about the rise, right from the word go," he said.
A former building lessee said five years ago his ground lease charges rose from $30,000 to almost $60,000 "overnight", prompting him to quit the premises and buy his own properties in the area.
"It was far more economical to purchase than rent. The increase by Chalmers was totally uneconomical," he said.
Ah-Lek Tay, a registered valuer and company director of Barlow Justice, in Dunedin, which undertakes valuations for Chalmers Properties, and other clients, said per-square-metre sale prices for projects such as the stadium, Bunnings and Progressive did not influence adjacent property valuations.
Those projects had "largely been ignored" by local valuers because of the complexity of the sales, such as the stadium having only one freehold sale and the rest involving leasehold and lessees. Progressive had been prepared to pay "well above local expectations", at $800 per sq m.
"Industrial land remains in short supply in Dunedin. There's only a fixed amount [of land], battles for rezoning and little [sales] movement," he said.
Chapman Consultancy registered valuer and company director Garry Paterson said "very broadly", Dunedin's industrial land values had increased 350% to 400% during the past 21 years, with a "significant proportion" added during the past seven years.
"Ground rental increases after seven years, [or even] 21 years in some cases, are inevitable. However, some recent settlements ... fail to reflect current economic conditions and the outlook ahead," he said.
As an example, Mr Paterson said ground rents set during a property boom time could differ widely when revisited during a subsequent recession period.
He said the stadium land was now zoned stadium - as opposed to industrial - meaning a "different value level would apply there"
"I don't believe the level of land sales to the stadium project have directly influenced land value and [ground] rental charges. However, the development has probably put pressure on a relatively short supply of industrial land in the area," he said.
The development of Bunnings and the former Shoreline Hotel site were examples of developments causing values to increase, "to the point where existing developed properties are being purchased, buildings demolished and sites redeveloped".
"In the context of industrial land this [area between Andersons Bay Rd and Portsmouth Dr] would be among the most valuable in the city," Mr Paterson said.
Some issues over settlements included "limited dispute-cost benefit", settlements agreed before the review date which need to be considered in a falling or difficult market, and purchasers not fully understanding the future effect of the ground rent.
Some of these had "the potential to erode their future interest in the property", he said. Mr Tay said while much of the industrial land was flat and often reclaimed, the titles, size, access and zonings made each block "quite different and often complex" to value, meaning there was no comparable Dunedin "average" price.
An owner of several buildings in the harbourside area said, when contacted, ground lease rentals on two properties were recently renegotiated and rose almost 200%, and he expected similar claims on other properties coming up for renegotiation soon.
"It's very hard to do much about it, because other people have already paid the increase," he said. "Chalmers will find people will want out of the area unless the charges are kept part-sensible," he said.
Mr Duncan, of Chalmers, said some rentals were negotiated after seven, 14 or 21 years and if annual inflation rates were added for those intervening years, they would prompt an accumulated "large figure".
Annual ground rental charges have at various times been a thorn in the side of lessees or building owners in Dunedin, and elsewhere around the country, where the practice is also standard.
Mr Tay said Dunedin building owners could find themselves "caught out" at the seven-year lease renewal period, when rents were hiked after a long period.
He noted ground lease rentals in general around the country were undergoing similar valuations. One Christchurch occupier's ground lease rates leapt 700%.
Mr Duncan also rejected any influence from the stadium, saying valuers were expected to look at any property's land use and zoning and not be influenced by land sales for properties with other zoning uses.
"Nothing has changed with harbourside [land values], compared with similar land holdings elsewhere in the city" he said.
One harbourside building owner, who also declined to be identified, said his company's renegotiated Chalmers rental was up 140%, to more than $12,000.
"There are people out there facing 300% to 400% charges; 300% is quite high and is causing some consternation," he said.
"While I can understand where they are coming from, it is still tough times out there for a lot of businesses."
Mr Tay said if parties were in dispute they could agree to go to a third party, often another valuer, for a binding determination.
---
GROUND LEASES
The majority of ground leases owned by Port Otago are derived from former harbour-board land leases, many of which are more than 100 years old. Regardless of who owns the building, or subsequently leases it, annual rents are due to ground owner.
Contracts are generally reviewed every seven, 14 or 21 years. Ground rent reviews are based on land values.
Dunedin ground rents are estimated to have gone up by 350%-400% during the past 21 years; most of that increase during the early-2000s property boom.
Port Otago has sold outright more than 110 ground leases during the past decade. About 50% of subsidiary Chalmers Properties' Dunedin-based income is from ground rentals.
---