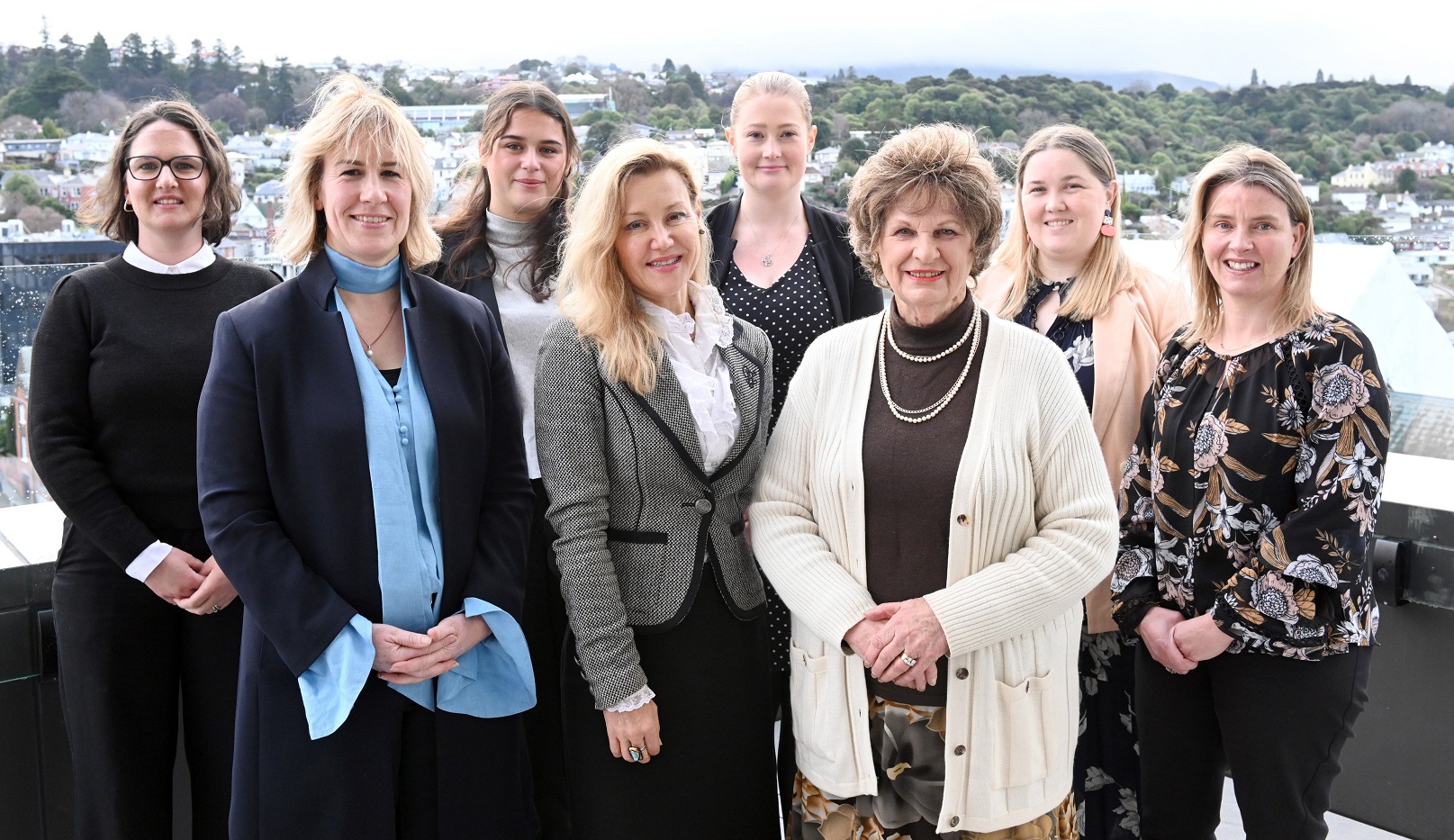 A three-month campaign, led by the Financial Services Council, aimed at growing the financial confidence and wellbeing of women officially ended this week, although further action is planned. Investment firm Forsyth Barr took part through its Ladies Lunch Learn and Build sessions, telling people's stories to inspire women across the business. Business editor Sally Rae talks to guest speaker Amanda Ellis, who shared her own remarkable story this week.
Amanda Ellis never had to look too far for inspiration.
Her mother Natalie Ellis, who holds the record as the longest-serving teacher at Columba College, teaching until she was 83, had been "such a terrific role model".
As well as a passionate teacher, she was an advocate for community engagement, women's rights and financial independence, traits which she passed on to her daughter.
Ms Ellis is a passionate proponent of women's economic empowerment and leadership, climate action and sustainable development.
Her illustrious career has included a variety of high-profile positions; from the inaugural national manager women in business for Westpac, to managing the World Bank President's Global Private Sector CEO Leaders Forum on women's economic empowerment to Deputy Secretary International Development and Ambassador to the United Nations in Geneva.
Now living in Hawaii, Ms Ellis is executive director for Asia Pacific for philanthropist Julie Ann Wrigley's ASU Global Institute of Sustainability and Innovation, and global partnerships director for the ASU Julie Ann Wrigley Global Futures Laboratory.
A co-founder of the Global Banking Alliance for Women (now Financial Alliance for Women), she serves on various boards, including the Global Governance Forum, UN Global Compact Target Gender Equality and Unicef NZ, and has written two best-selling books.
Growing up in Dunedin, where she attended Columba College and Bayfield High School, she recalled a memorable meeting with a school friend's sister who worked for the Ministry of Foreign Affairs and had previously studied French and Japanese.
"I thought, 'wow, what an amazing way to have a career that is truly global'," she recalled, adding that she decided to copy her.
Unable to study Japanese at the University of Otago at the time, Ms Ellis studied French and economics, and followed that dream, joining Foreign Affairs, for which one of her first postings was to the OECD in Paris.
She was fond of a saying by poet Maya Angelou "you can't be what you can't see" — saying the opportunities available were not always necessarily known.
Working now for Julie Ann Wrigley — of Wrigley's chewing gum fame — she described the philanthropist as an "extraordinary visionary".
"Before sustainability was a buzz word in finance, she realised how important it was as a concept for the future of the planet, as well as finance."
In the early 2000s, Ms Wrigley pitched a concept to Stanford University where she would make a multi-million dollar investment which would ensure every student would graduate with sustainability competency, but that was declined.
In 2004, Ms Wrigley made a $US15 million investment in Arizona State University to establish the University's Global Institute of Sustainability. From that institute grew the world's first School of Sustainability, which opened at ASU in 2007.
That same year, she made an additional $US10m investment in ASU to recruit four of the world's leading sustainability scholar-researchers to fill four professorships focused on renewable energy systems, sustainable business practices, global environmental change and complex systems dynamics. ASU was now the largest public university in the United States and "number one" for innovation, Ms Ellis said.
Ms Ellis described Ms Wrigley as " one of the smartest, kindest and most admirable humans I know".
She also saw education as playing a very pivotal role and they managed a range of networks like the Earth League, a voluntary international alliance of prominent scientists, and a new carbon economy consortium.
They also belonged to a range of other initiatives like the International Universities Climate Alliance where people were recognising a mixture of cutting-edge science and social science was needed, Ms Ellis said.
With the impact of climate change now being seen, it was wonderful to work with Ms Wrigley and see how education could be used as a multiplier to create a very different kind of economic model. Political will and behavioural change were the two keys to making a difference, she said.
Asked what advice she would give young women in Dunedin today, Ms Ellis said it was important to keep an open mind and think about exploration and innovation. Half the jobs that would exist in 10 years' time did not exist now.
For her, that happened at Westpac when she was appointed the first national manager for women in business, which was an "incredible" amalgamation of her two interests — women's rights and economic empowerment — and again at the World Bank.
She started the Gender Entrepreneurship Markets initiative at the International Finance Corp, the private-sector arm of the World Bank, which helped channel private and public money to developing countries to assist women to start their own businesses, and provided law and policy advice.
By focusing on skills, exploration and innovation, it was possible to not just have one career.
While she had so many roles over her career, "by far" her favourite was working with Ms Wrigley "and being able to make a difference on the global stage with an opportunity to work in partnership with so many others".
Her other advice to young people was ensuring they were part of a range of networks and interacting with diverse groups of people.
Because of New Zealand's service ethos, she grew up with that. Her parents were very involved in service clubs — her mother was heavily involved in Zonta International.
Ms Ellis was a Rotary exchange student and was now a member of the Honolulu Rotary Club and enjoyed doing service projects. She danced hula "very badly" and met all sorts of interesting people.
It was very important to explore innovation — knowing that skills would be transferable — and then maintain plenty of interests and networks enabling engagement in the community and also the ability to give back.
Ms Ellis met her American husband in Hawaii where they were both on scholarships, and it remained a special place for them.
It was an "absolutely beautiful place" where climate change was also very obvious with the sea level rising, she said.
The Maori concept of kaitiakitanga, or stewardship, was also ingrained in the Hawaiian psyche; the notion of living in harmony with the land.
Hawaii was the first state in the United States to commit to 100% renewable energy by 2045 and the first to stay within the Paris Climate Accord when then President Donald Trump withdrew the US.
Speaking as she was travelling from Dunedin to Christchurch — her next stop a conference in the Maldives — Ms Ellis said it was lovely to be home and catching up with people.
It was her mother's financial adviser at Forsyth Barr, Ken Lister, who nominated her to speak to the firm's women's network.
She said the initiative was "just fantastic" — those organising it had done a wonderful job of getting women throughout the business together and also making everybody aware of the need to upskill female clients.
A World Economic Forum Global Gender Gap Report published this month showed it would take another 132 years to close the global gender gap.
This year, 146 countries were benchmarked. Although no country has yet achieved full gender parity, the top 10 economies had closed at least 80% of their gender gaps with Iceland (90.8%) leading the global ranking. New Zealand is fourth at 84.1%.
Ms Ellis said the Covid-19 pandemic had exacerbated inequality; women were much more negatively impacted than men. They were more likely to be on the frontline as caregivers and at a greater risk of contracting the disease.
Asked what the perception of New Zealand was internationally, Ms Ellis said it was seen as a role model in terms of the responses to the Christchurch mosque shootings and Covid-19.
Being committed to having a climate curriculum and having a Climate Change Minister were seen as "very positive things", along with last year's Wellbeing Budget, and she was very proud to "be a Kiwi".