Invercargill Mayor Tim Shadbolt says Rio Tinto's plans to close the Tiwai Point aluminium smelter next year are "shattering".
More than 1000 jobs appear set to go in Southland following this morning's announcement by the mining giant.
Sir Tim said he heard the news at the same time the announcement was made to the public.
"The first thing is the loss of jobs and that's going to have a shattering impact on the whole region, and then of course then there's  the small workshops, the engineering workshops in particular who have tendered contracts with the smelter and the impact it will have on families and schools - it's absolutely devastating."
Sir Tim said he would meet other civic leaders, NZAS chief executive Stew Hamilton and Southland Chamber of Commerce cheif executive Sharee Carey and president Neil McAra today.
"I like to think we are resilient. But is gonna take us a long time to come back from this.
"I'm just shattered. It is absolutely unbelievable what has happened.
"During the negotiations we made quite clear that the smelter didn't wanted subsidies, they didn't want any help.  All they wanted was fair prices and that is what we are arguing."
Mrs Carey said the news was devastating but was wanting to get more at the meeting before making further comment.
The Australian mining giant has announced that it will start a wind-down of operations and the eventual closure of New Zealand Aluminium Smelters (NZAS).
It comes after its own strategic review concluded that the business is no longer viable given high energy costs and a challenging outlook for the aluminium industry.
The company has given notice that it was terminating its electricity contract with Meridian Energy in August 2021 "when the wind-down of operations is expected to complete".
In a statement, the company added that a strategic review concluded "that the smelter, which has made Rio Tinto an underlying loss of NZ$46 million in 2019, is not economically viable due to energy costs that are some of the highest in the industry globally, coupled with a challenging short to medium term aluminium outlook".
NZAS is a joint venture between Rio Tinto (79.36%) and Sumitomo Chemical Company of Japan. (20.64%).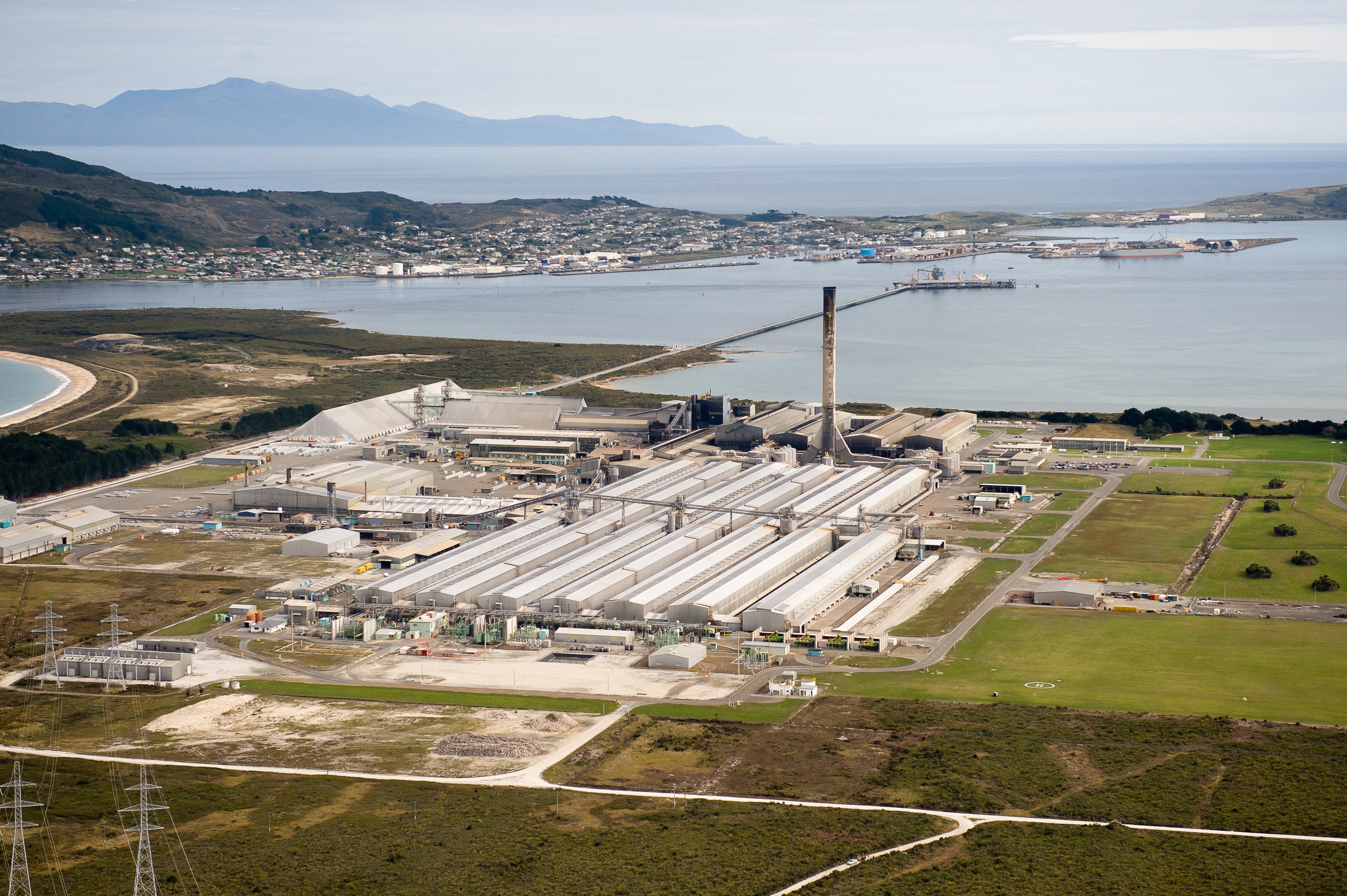 It says it employs around 1000 people directly and creates a further 1600 indirect jobs in Southland.
NZ Aluminium Smelters chief executive Stew Hamilton told RNZ's Morning Report they were on a path to winding down operations.
"This is a very serious situation."
He said it was very disappointing they could not get an outcome to keep the smelter running.
Invercargill deputy mayor Toni Biddle told Newstalk ZB this morning that it was "incredibly disappointing news" - which she learned of at the same time as the media.
Biddle said the local community had fought hard for the community and she felt let down by the Government.
"All we really wanted was a fair operating environment, so we are very disappointed, but we're also very, very resilient down here, so we will stand together as we face this announcement together, moving forward," Biddle said, expressing hope that Rio Tinto could be convinced to change its mind.
"I don't believe it's over until it's over."
Invercargill MP Sarah Dowie said news of the smelter's closure was a terrible blow for all of Southland, and it would ramifications for many other families, as well as the 1000 or so people employed at Tiwai Point.
"My heart goes out to those people directly affected, and I think another 1500 are indirectly affected — that's lot of jobs and a lot of livelihoods," she said.
"It's not just that, it is the ripple on effect throughout our Southland community: we will feel it."
Ms Dowie was consulted as part of Rio Tinto's strategic review of the smelter's future and said despite making "the best case I possibly could" for keeping Tiwai Point open, she had felt the company was more serious about closure than it had been before.
Delays in reviewing electricity transmission pricing and proactiveness in implementing environmental reforms had not helped keep the smelter open, Ms Dowie said.
"I do think the government could have done more."
Labour Invercargill list MP Liz Craig said news of the closure was devastating.
"I spoke with (Prime Minister) Jacinda Ardern this morning about the impact this will have on Southland and am pleased that Grant Robertson has already signalled the Government will support the Southland community in our transition, in areas such as agriculture, aquaculture and manufacturing.
"I have also invited Jacinda and Grant to visit us in Invercargill to discuss how the Government might help us support those affected, grow local jobs and create a sustainable future for the Southland economy." 
For Ultragas owner Brian Haladane, of Invercargill, the news means a contract to upgrade production of LPG and tanks next year was uncertain.
The contract was expected to be worth more than $500,000.
''I'm not sure where we are with that now.''
About 5% of his business with the smelter was on an on-call basis, he said.
''We're essential to the place especially for the gas side of things.''
''It's disappointing, but we do have a lot of other options without them,'' he said.
He had not received any information directly from the smelter.
In October the company announced it was undertaking a strategic review, with the head of its New Zealand operations indicating it needed "tens of millions" in annual relief of both transmission costs and electricity pricing.
At the time the Government indicated that the position of the New Zealand Government was that there would be no more relief from taxpayers for the smelter.
A spokeswoman for Energy Minister Megan Woods said the minister was not immediately able to comment this morning.
The review was meant to be completed in late March, but the company has made no announcement about its future since.
Rio Tinto said that "extensive discussions with a wide range of interested parties have failed to secure a power contract that will enable the operation to become both competitive and profitable".
Over the next 14 months the owners will progressively wind-down and close the operation.
"We recognise the decision to wind-down operations at NZAS will have a significant impact on employees, the community and our customers," Rio Tinto Aluminium chief executive Alf Barrios said.
"It is not a decision we have made lightly and without significant careful consideration. It is very unfortunate we could not find a solution with our partners to secure a power price reduction aimed at making NZAS a financially viable business. We will therefore terminate the power contract and move to close the operation.
"We are committed to working with our partners as we progress through detailed planning towards closure and we will do all we can together with the government to find ways to support the Southland community."
Late in 2019 Barrios flew to New Zealand to meet with Woods and Finance Minister Grant Robertson to stress the risk that the smelter could close.
It appeared to lead to progress, with Barrios writing to the ministers the following day thanking them for an offer to help build a business case for the smelter.
Tiwai Point is the country's biggest electricity consumer and among the world's lowest-carbon producers of aluminium.
Rio Tinto reported a $46.2 million underlying loss from its New Zealand aluminium smelting interests in 2019 - despite near-record production.
The company owns 79.4 per cent of the Tiwai Point aluminium smelter, which produced 353,293 tonnes of saleable metal last year, the most since 2011.
But lower aluminium prices and higher energy, labour and raw material costs saw underlying earnings at Rio's Pacific Aluminium NZ business drop $67.8m from the year before.
Dispute over hazardous waste
The smelter company is also embroiled in a dispute over some 10,000 tonnes potentially toxic ouvea premix wasted stored a disused paper mill in Mataura.
The Environmental Defence Society has filed court proceedings against New Zealand Aluminium Smelters, asking the court to decide who had responsibility under the Resource Management Act.
While New Zealand Aluminium Smelters contracted Taha Asia Pacific to take care of the waste product in 2011, the Environmental Defence Society was arguing that contract - and Taha's subsequent liquidation - should not absolve the smelter of responsibility.
The ouvea premix - a by-product of production at Tiwai Point facility - was dumped at the mill without resource consent in 2015 by Taha Asia Pacific.
Taha went into liquidation the following year and the waste sat there until March 2018, when government and local councils agreed to a $4 million deal with New Zealand Aluminium Smelters to remove and dispose of the waste over six years.
- additional reporting Luisa Girao/Mike Houlahan/RNZ