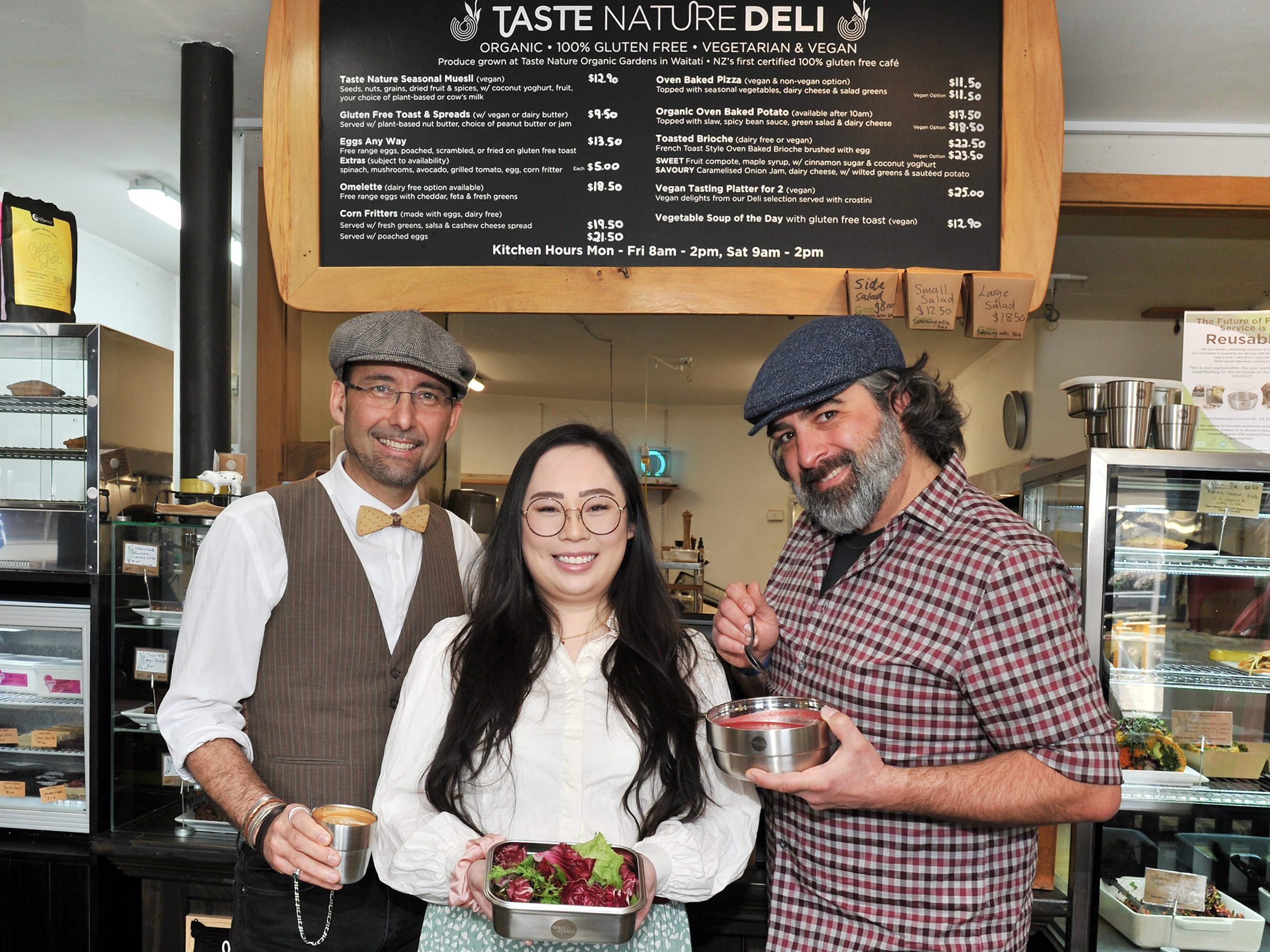 A reuse revolution is potentially hitting Dunedin.
Businesses are being encouraged to take part in a new reusable takeaway container system initiative - similar to borrowing a book from a library - to help drive down the amount of waste generated by single-use packaging products.
It is a Taste Nature Social Enterprise charitable trust venture, co-ordinated by Brian McFarland, in conjunction with Business South, returnable packaging system Again Again and Dunedin City Council waste fund initiative.
Taste Nature managing director Clinton Chambers said his business represented "all things sustainable, organic and natural" as much as possible.
Part of its values and business goals was waste minimisation and reducing the impact on the environment.
Mr McFarland was one of the organic supermarket and cafe's customers; a like-minded person who wanted to do something about creating change, Mr Chambers said.
Such a project required engagement with businesses and a level of administration work to "get things going".
Previous similar schemes had fallen short because they did not necessarily work unless there was support behind them.
Mr McFarland loved takeaway food - his partner was a nurse and he worked for a United States-based software company - so working irregular hours meant convenience food was an easy solution.
What he did not love was all the waste created.
He tried to solve that problem at an individual level, taking reusable containers to food outlets - some took them and some did not.
He started doing some research, figuring out how a system could work.
He talked to restaurants and cafes, including Mr Chambers at Taste Nature, and decided it needed to be a bigger scheme.
Both he and Mr Chambers agreed it had to be an easy system for all involved and one of the hardest things was to start.
Having someone like Mr McFarland driving and organising it was the key to the success of the project.
It was all about taking hassle away from businesses, Mr Chambers said.
The first phase of the project was market research and a small funding grant had been obtained from the DCC.
Mr McFarland would be talking to businesses face-to-face and getting expressions of interest, hopefully by September 15.
From there, the second phase would be applying to the DCC's waste minimisation grants.
Applications for those grants are open until September 30 and there is $70,000 of contestable funding available this year for local businesses working towards waste minimisation goals.
If successful, Mr McFarland would then set up the initiative in businesses and spend three months in a support role getting it up and going.
Part of the funding would be used to subsidise starter packs that businesses needed to purchase.
Customers would use an app to scan out the containers - just like a library - and, if they did not return them, they got charged for a replacement.
Containers could also be bought and uploaded to the system.
People seemed "super excited" about the initiative; they had wanted something similar but a good solution was needed, Mr McFarland said.
Both men shared a dream for Dunedin to lead the way for the country with waste minimisation.
Business South is encouraging businesses to get on board - business growth and sustainability director Tara Druce said it was not only good for the planet but also for business.
"It's awesome to see the Taste Nature trust taking the lead on this initiative.
"Consumers are looking for waste-free alternatives and this initiative responds to that demand while at the same time, over time, reduces business costs," she said.