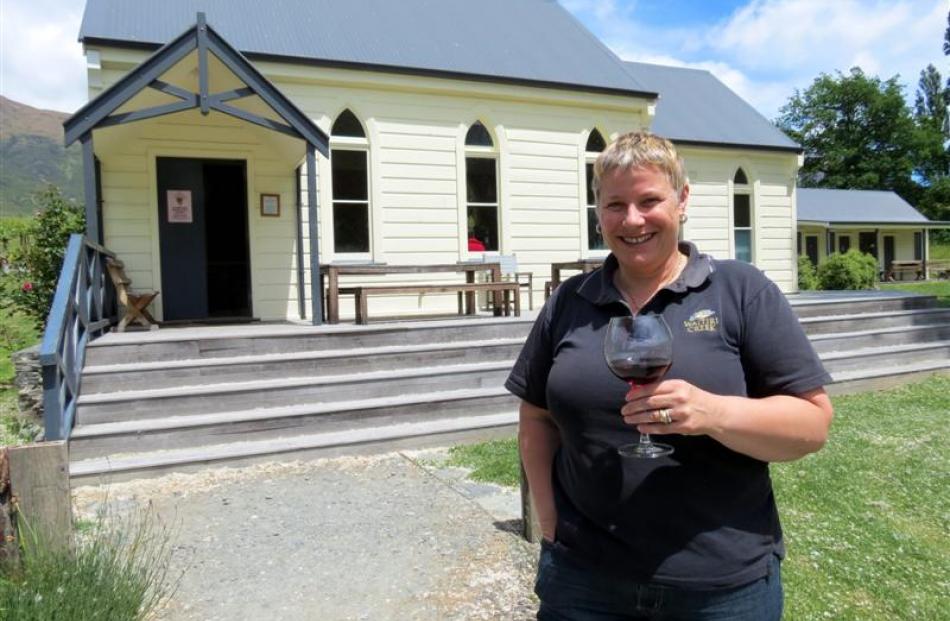 A step inside the beautiful, sun-drenched wooden cellar door area and tasting room of Waitiri Creek Wines in Gibbston is to instantly feel a sense of serenity, a gentle reminder of its original incarnation as the Wangaloa Presbyterian Church.
It's not just due to the aroma of dozens of freshly baked Christmas cakes being wrapped on the table in the centre of the room but a mood ingrained in the rimu of the 118-year-old landmark.
Waitiri Creek co-owner Paula Ramage, of Arrowtown, said she feels the same ambience when she and her staff work in the premises serving a delicious variety of wine and food.
Ms Ramage and her husband, Alistair Ward, had already bought their slice of the valley and planted their first vines in 1993 when they started looking for a building three years later.
''We'd always believed there's such majestic beauty here, we didn't want to compete with that,'' she said, in a rare break from welcoming visitors.
''We wanted something simple, preferably historical, and so our options were an old school, or a church, but we felt that a church had more character and seemed quite fitting for the site.
''It took us five years.
''We went on a church hunt which took in the lower part of the South Island.
''We went as far north as up around Amberley and people would phone us and say there's one here, do you want to have a look, and we'd jump in the car and find out a couple of times it was a brick church and that was no good - it had to be wood.''
The couple were starting to wonder if their dream would ever become reality.
In desperation, they approached the owner of an old church now used for storage at Raes Junction, between Alexandra and Gore, ''but there were more gaps than there was building'' and anyway the owner did not want to sell, Ms Ramage said.
However, the farmer recommended a church in Wangaloa, a hamlet on the coast near Balclutha.
''It was really rough. They had removed all the windows on what is now the southern side,'' she recalled.
''There was an unattractive stucco toilet block attached, it had a 1970s ceiling which had been dropped in and the vaulted ceiling removed, the roof was completely munted and it came with pews and table and no other accoutrements.
''Being Presbyterian, it was pretty austere. All of the rimu tongue and groove walls were covered in shellac. The windows were all plain glass, some of them original, but all of them painted over.
''The floor was solid, but it hasn't changed because we quite like how it harks back to farm use and tells a story of a long-lived building.''
Sensitive negotiations with the tiny community to buy the dilapidated building took 12 months, she said.
Queenstown builder Rick Pettit and team lifted the church in one piece, minus its roof, and put it on to a truck ready to cart it hundreds of kilometres to its new home.
''The first good news was it didn't collapse immediately when it was taken off its foundations,'' Ms Ramage said.
''We always joke that the borer held hands.''
The deconsecrated church on wheels travelled through Gore and Kingston and navigated the winding road known as the Devil's Staircase without falling into Lake Wakatipu, as feared.
It arrived at Waitiri Creek at Easter 2000 and a few parties were held to celebrate.
The structure was allowed to settle into its new climate for 12 months before the roof was the first major renovation job tackled by Mr Pettit and staff. The original doors were swapped from the south side to the north. Missing windows were recreated while paint and shellac was scraped off other windows and walls by hand.
The ceiling became part-vaulted again as an educated guess, as there were no photographs of the original interior.
Wood was coated with Danish wax and the honey-cream palette for the window frames and trimming came from a surviving table.
The open-air, wood-fired pizza area was added outside the former church. Risers and decking outside were built as additional seating facing the cricket wicket, which was finished last year.
While accommodation was never part of the plan, a commercial kitchen was fitted in the former vestry and a detached block in keeping with the church was built nearby to become the office, along with a storage and toilet block.
''But this was the centrepiece and it was all about making it look like it always belonged here and it's certainly fooled a lot of people,'' Ms Ramage.
''December 28 is the 11th anniversary it officially opened as a cellar door and food came a little under 12 months later.
''It's been used for weddings, private dinners, corporate gigs, two Gibbston Harvest Festivals and as a location for Yamaha, Ferrari and Mazda commercials, but 2013 is the first year we're going to be hosting the Classic Hits Winery Tour and we're all excited about that.''
The winery tour's Central Otago concert moves from Olssen's Vineyard, Bannockburn, this year to the larger venue of Waitiri Creek next year, for a concert starring The Adults, also known as Jon Toogood, Julia Deans and Shayne Carter, the supergroup of Anika Moa, Boh Runga and Hollie Smith, plus headliners Fat Freddy's Drop.
''It's going to be a really big day and we'll be playing our part and we just hope the public play theirs by not going in the vineyard and not going nuts,'' Ms Ramage said with a smile.
''I've known the promoter for a long time and we're working closely to make it a success.
''We're both pretty excited about the potential for this site and it all has to be all right on the night.''