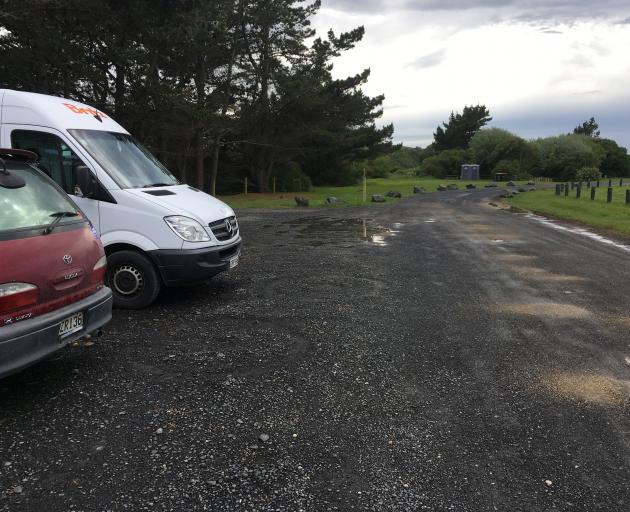 A change to a freedom camping site in Ocean View is causing confusion for tourists.
The 2018-19 freedom camping season started in Dunedin last week.
Saddle Hill Community Board chairman Scott Weatherall said in preparation for the new season, the Dunedin City Council had installed concrete blocks in an area of Ocean View Recreation Reserve where freedom camping was allowed.
Last season, freedom camping vehicles frequently "crammed in'' to the permitted area in the reserve.
The board raised safety concerns over the impact a lack of space could have in an emergency situation, such as a gas bottle explosion.
The concrete blocks were installed to ensure there was space between parked vehicles.
As a result, freedom campers had "changed their parking behaviour but not to the extent we thought''.
Freedom campers were parking vehicles between the concrete blocks but other freedom campers were failing to use the remaining space available in the middle of the permitted area.
As a result, freedom campers were parking vehicles overnight in an area of the reserve which was off-limits to them.
"They are taking up the whole car park ... that's something we don't want because we want it to be able to be enjoyed by everybody.''
Mr Weatherall hoped issuing $200 fines to freedom campers parking in the prohibited area would result in a change of behaviour.
When Taieri Times visited the car park at the reserve, about 9.30am on Saturday, several freedom campers remained on site, despite the council's Camping Control Bylaw requiring them to depart by 8.30am.
Mr Weatherall hoped fines would also motivate freedom campers to leave by 8.30am.
About 3km west along the coast, freedom campers park overnight in Brighton Domain.
Since November 1, self-contained freedom camping vehicles could park overnight in one area of the domain.
The council had installed portable toilets, rubbish and recycling bins in the gravel area under mature pine trees.
The area would be extended to cater for more freedom campers, he said.
Council parks and recreation group manager Robert West said he expected the permitted freedom camping area in the domain to be finished this month.
The area would have a capacity for about 20 vehicles.
Council contractors had issued eight $200 fines in the Brighton and Ocean View area in the first six days of the season.
Six tickets had been issued for freedom campers failing to park in a designated area - five in the reserve and one in the domain.
Another ticket had been issued for a non-self-contained vehicle parking overnight in the domain.
A non-self-contained vehicle which parked overnight in Braids Hill Reserve, in Ocean View, was also ticketed.
SHAWN.MCAVINUE @thestar.co.nz