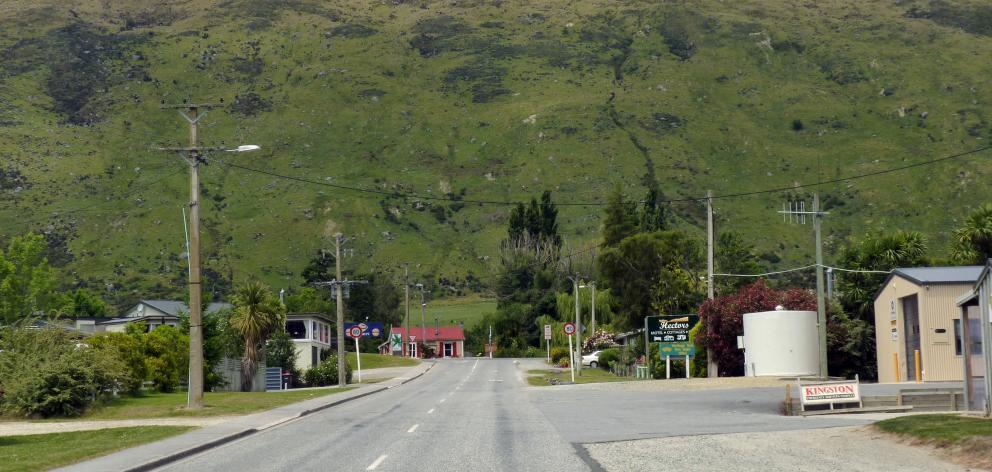 Anger is mounting in Kingston that a developer has gone back to its original plan to use the town's main street for construction traffic.
Kingston Community Association (KCA) members learnt last week that Kingston Village Ltd, which is planning a subdivision of 900-plus homes, intends accessing it off Kent and Oxford Streets.
Late last year, a petition against that plan raised about 385 signatures – almost the town's entire population – in just 10 days or so.
Residents, as well as Queenstown councillor Penny Clark, who looks after the township, understood the developer instead planned an access road off State Highway 6.
The subdivision is one of three in the Wakatipu earmarked for $76 million of central government loan funding. Queenstown's council can borrow the money from the Housing Infrastructure Fund (HIF).
KCA chairman Athol Elliott points out the public toilets, the fire brigade, St John, the library and kids' playground are all by the top end of Kent St, which is the town's main street.
"We're not against the subdivision as such, and we're certainly not against progress, what we are against is the disruption to the existing community."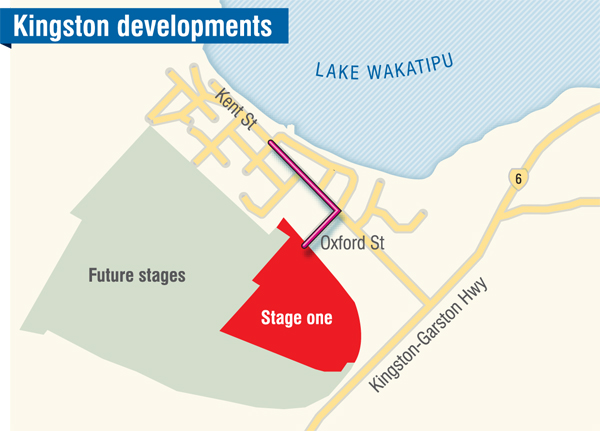 Having construction traffic and tradies go down Kent St "is just madness, and in the middle of that they're proposing to run a trench down the middle of the road to get the water and sewerage into the new subdivision".
Elliott says he's "absolutely disappointed" in council, and believes it's bending over backwards for the developer.
His association's calling a public meeting at the community centre this coming Tuesday at 7pm to discuss the issue.
Kingston's Bev Nicholson is livid: "In a nutshell, they're going to destroy Kingston because they're going to use Kent St, and that intersection on to [SH6], off Kent St, is just diabolical now."
She's concerned for the safety of young children, with young families now "our biggest population".
"You cannot park a car on Kent St and drive a truck down it."
Clark says she's on the community's side, but believes the meeting's a waste of time till the developer and the owner of the historic Kingston Flyer steam train can first sort out an issue between them.
She also thinks the developer's sticking with Kent St as it wants to notch up section sales before spending money on a new accessway.
Kingston Flyer Ltd director Neville Simpson, whose company's working on getting the train back on track, hopefully by November, says he shares concerns over the Kent St access.
"Kingston Flyer Ltd could assist in facilitating access from SH6, so as to reduce adverse effects on the Kingston community."
Simpson says his company also wishes to ensure the proposed subdivision doesn't derail its plans to reinstate and operate the Flyer.
The developer, he claims, "has regrettably refused to acknowledge Kingston Flyer Ltd as an affected person" in its first-stage resource consent application, but he's confident the council will ensure it gets a say.
Kingston Village Ltd general manager, Sydney-based Dale Farnham, says he can understand residents' concerns but won't comment on the issue.
"We're talking with council on the matter and looking for a resolution, but I don't wish to comment any further outside of what comments council may be making."
The government last year announced it's lending money to Queenstown's council for Kingston infrastructure to speed up development of the subdivision to increase the supply of affordable housing.
The $52m in HIF funding is split between Kingston and a Quail Rise South development, while $24m was earmarked for Ladies Mile.
The 10-year interest-free loan, from the $1 billion housing infrastructure fund, will be repaid through developer contributions.
Meanwhile, Clark's adamant the developer won't be able to use Kent St access for any more than the first stage of its development – 217 mixed-density lots.