Public Health South have this afternoon revealed more locations in Oamaru, including Waitaki Boys High School, and Dunedin visited by infectious measles patients.
The agency continues to investigate locations visited by measles cases while they were infectious.
Direct close contacts of measles cases were contacted in person as part of this investigation but the list below covers other places where members of the public could have been infected. The list of locations released yesterday is at the bottom of this story.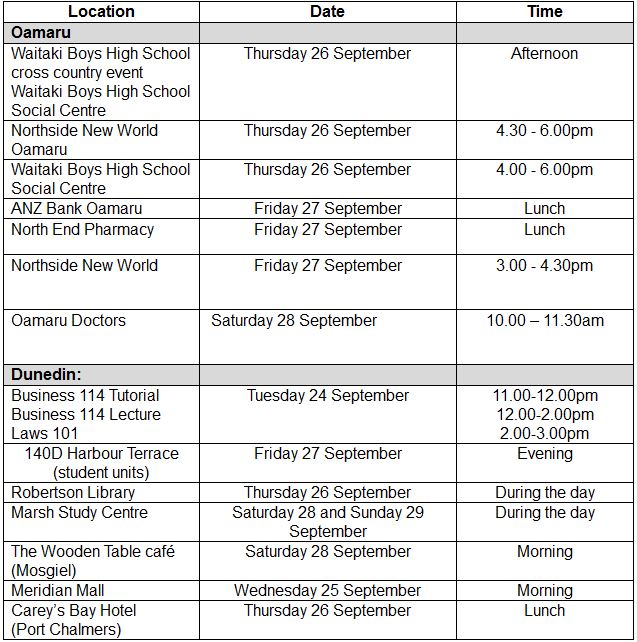 This comes after health officials yesterday said they were confident they could contain the measles outbreak in the South, despite a rash of new cases being confirmed in the region.
Public Health South said seven new cases were confirmed yesterday afternoon taking the total number for the region to 57. Cases of the highly infectious disease had previously been confined to Queenstown, but two new measles cases had been identified in Dunedin, two in Wanaka, and one in Oamaru.
''Our numbers are escalating, and we are actively contact tracing and trying to contain the outbreak,'' medical officer of health Susan Jack said.
''It is a lot of work, but we do not think it is out of control at the moment.''
One of the Dunedin cases is a University of Otago student, who attended first-year business studies and law lectures from September 23 to October 2.
Health officials were working with the university to try to keep students healthy, Dr Jack said.
''We are looking to trace people who are unvaccinated or haven't had two full MMR vaccinations. Everyone else should be protected,'' she said.
''We are working very closely with Student Health.''
There was no link between the student's illness and the visit to the city last month of an infectious measles patient who stayed at Arana and attended a concert, Dr Jack said. The other Dunedin case is not a student.
An infectious person also visited Gore, although no cases have been confirmed there.
Anyone who thinks they might have been exposed to measles should isolate themselves at once if they start to get ill, Dr Jack said.
New Zealand has been struck by a serious measles outbreak and more that 1000 people have contracted the disease.
Children under 5 have been given priority for vaccination.
Dr Jack said an appeal had gone out to the Ministry of Health for more supplies of the measles vaccine, but there were sufficient stocks for priority patients.
''If any parents of under-5s have children who are due or late for their vaccination, there is enough vaccine for them and they should make an appointment and get their children vaccinated.''
Although cases continued to be identified in Queenstown, Dr Jack believed the outbreak there could be controlled.
''It is in the community now, and we continue to ask people if they have been asked to stay in isolation to remain so.
''We do ask that if you do have any symptoms suggestive of measles - cough, runny nose, fever, conjunctivitis and a rash - that you call ahead before you seek care.''
Confirmed measles patients are known to have been infectious in these places:
Queenstown
Queenstown Events Centre, 11.30am swimming class, Sept 23.
Mitre 10 play area, noon-2pm, Sept 23.
Millbrook pool and sauna, Sept 24.
Skyline Gondola, September 23, 27.
Arrowtown Primary School, open class day, Sept 24.
Mainly Music church group, Sept 24.
Wakatipu High School, Sept 23, 25, 26, 27.
Gore
Amore Boutique, Sept 25.
Howl at the Moon, dinner, Sept 25.
S'cape Hair & Medi Spa, afternoon, Sept 26.
Riversdale Primary School production, evening, Sept 26.
Dunedin
U-bar, late evening, Sept 25.
Silent Disco Lone Star, late evening, Sept 26.
New World (Gardens), late afternoon, Sept 27.
Cafe at St Clair, morning, Sept 28.
Mac's Brew Bar, lunch, Sept 28.
Vault 21, late evening Sept 28.
Unipol gym, late afternoon, Oct 1.
University first year business and law lectures, various times, Sept 23-27, Oct 1-2.
Wanaka
Paradiso Cinema, evening, Sept 27.
Snap Fitness, evening, Sept 28.
Gin and Raspberry, evening, Sept 28.
Cork, evening, Sept 28.
FuDog Restaurant, dinner, Sept 28.