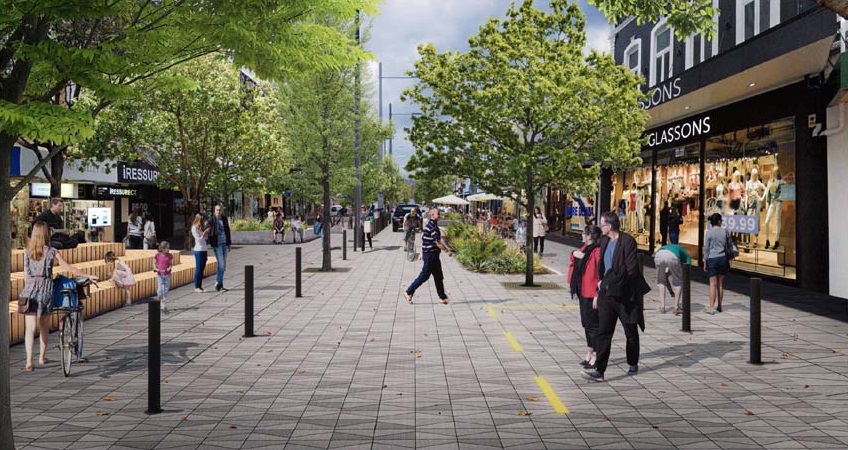 George St work got the green light yesterday and remains on track to begin in April next year.
But a soon-to-be formed downtown advisory group will inform the future design work and the business case for the work that lies ahead for the Dunedin City Council as it replaces ageing underground infrastructure and re-imagines the streetscape when it reforms the street.
Cr David Benson-Pope said a similar infrastructure upgrade and urbanisation of George St in the 1990s was — like the current process — said to have the potential to "destroy" the city centre, but it had not.
As some argued for a "pause" while the effects of the Covid-19 pandemic and retail shutdown were understood, and despite vocal fears from retailers at the new proposal to tilt the balance in Dunedin's city-centre retail area to 75% bicycles, pedestrians and public spaces, and only 25% cars and trucks, Cr Benson-Pope said it was time for councillors to "bite the bullet on this" and shore up the city-centre as a focal point.
"There will be major changes as a result of what we're going through now, but this city had always been resilient," Cr Benson-Pope said.
"The key part of this is we have the opportunity to stay ahead of the game."
He mooted the reconstitution of the Central City Advisory Group "to provide feedback" as the plans to take cars off George St take shape — and argued successfully for the proposed make-up of the group and its terms of reference to come to councillors for approval on June 8.
While council principal urban designer Kathryn Ward and chief executive Sue Bidrose defended the consultation to date — noting the project drew 1198 submissions in April last year — a perceived lack of consultation dominated yesterday's debate on the George St project.
Before the debate, councillors had the chance to question three consultants who helped prepare a raft of reports used to bolster council staff's plans for the revamp and in the public forum, three speakers addressed the concept — Dunedin property developer and owner Tony Clear said public spaces were in fact "the new anchor tenants" for retail areas, while First Retail managing director Chris Wilkinson said at present the trend in city-centre shopping areas was a shift from retail spending to spending in restaurants, cafes and the like.
The council voted 10-4 to endorse the council staff work to date, with Crs Carmen Houlahan, Jules Radich, Lee Vandervis, and Andrew Whiley voting against Cr Benson-Pope's motion. Cr Mike Lord was absent for the vote.