When Sandy Graham says she wants to get things done, it feels like she really means it. Grant Miller talks to the Dunedin City Council's new chief executive about her challenging assignment and life outside the office.
Sandy Graham believes in getting on with the job.
The Dunedin City Council chief executive is not a great one for reading management textbooks. She concedes she is not the best "process person". But she is determined to deliver results and is comfortable with being in charge.
Ms Graham's official start date was October 12; she has had a round of meetings with groups of staff since and says she was heartened by the level of engagement.
"Everyone feels ready to get things done."
Ms Graham is conscious of the need to balance aspiration with affordability and for the council to manage and meet community expectations.
"If I say I'm going to do something, I like to do it."
Like is probably a weaker word than she means. During the job interview process, she used a 10-year plan consultation document as a prop, noting what had and had not been achieved. The clear implication is the Dunedin City Council will not be allowed to under-deliver under her watch.
Video first posted October 1, 2020

Ms Graham (55) considers maintaining a strategic outlook while not neglecting detail to be among her strengths and says she has the right team around her. Getting processes right is a strength of other people whose knowledge can be used. She sees her job as giving effect to what councillors and the community want to achieve.
There is much to be weighed up.
Dunedin needs to plan for growth, but the city's housing stock is inadequate, underground pipes are ageing, an upgrade of the main shopping street is pending, South Dunedin looks vulnerable to climate-change impacts, the council is set to beef up its kerbside rubbish and recycling system and it aims to reduce greenhouse gas emissions, a mid-sized theatre could be built or redeveloped and fears about traffic congestion persist.
Meantime, Covid-19 continues to cause uncertainty and highly contagious variants of the disease add further risk. Planned government reforms of resource management, water, wastewater and stormwater add layers of uncertainty.
Councillors have allowed the council room to take on a lot more debt, and they will be pondering this weekend whether they dare go to the public with a proposed rates rise approaching 10% for next year. Capital spending in the next 10 years could be as high as $1.5 billion. The actual level of debt at the end of June last year was $243 million, but it may climb as high as $869 million in 2031 if councillors do not cull projects from draft budgets.
Those decisions will be for councillors, and Ms Graham will lead the implementation of whatever they decide.
"Affordability is front and centre of my mind," she says.
"The community expectation is we get things done. The test of the organisation is delivering the things the community expects."
Outside of work, Ms Graham likes to get out on the golf course, jump on the rowing machine, cycle and watch sport on television. She loves to read thrillers and spy books.
She is married to Liz Spector, whom she met in Texas, and has two sons, aged 14 and 11.
They have two dogs — Trevor, a big mongrel, and Barney, a small mongrel — and an African grey parrot named Gryffindor.
Ms Graham has watched recent events in the United States with great interest. When rioters were storming the Capitol, she observed on three screens — her television, iPad and mobile phone.
She has been there.
In 2013, Ms Graham took up a month-long fellowship, paid for by the US State Department. She had access to the Senate Chamber in Washington, DC, which became a scene of chaos this month.
Her fellowship also took her to Dallas, Texas, where she came across the University Park city secretary or governance manager, Ms Spector. They had a chat and a drink and hit it off.
When Ms Spector visited Otago in July the following year, Wanaka put on three weeks of perfect weather, Ms Graham says.
They fancied getting an Elvis impersonator to marry them in Las Vegas, but opted for a registry office instead and celebratory beers in Dunedin at their favourite pub, Tonic (now Sessions).
Ms Graham heads an organisation employing about 1100 people, or 810 full-time-equivalent positions. A council chief executive needs to be able to manage and lead people, write well, stay smart, understand figures, have a thick skin and a degree of experience, she says.
Ms Graham says she enjoys her interactions with councillors and strives to put them in a position where they are well informed by staff reports.
"I get a great deal of satisfaction when the meeting has run smoothly — when the content of the reports hasn't created an issue for councillors."
One big challenge for her predecessor, Sue Bidrose, was the fallout from a fraud investigation that embroiled the council's Citifleet manager, Brent Bachop, who then took his own life. The discovery of the fraud prompted three senior council staff to resign, though they were not directly implicated.
The legacy of that may include more caution within the organisation.
Ms Graham says large organisations can also get a bit bureaucratic.
She is careful not to advocate a relaxed attitude to dealing with public money, but she would like to move away from a culture of blame.
Dr Bidrose has said being under the scrutiny of the council and public was difficult at times.
"It can be hard being questioned."
Ms Graham had a taste of this herself in the High Court last year, when she was a witness in a case brought by Dunedin councillor Lee Vandervis, who challenged being found in breach of the council code of conduct. Ms Graham was somewhat peripheral to proceedings, but says being cross-examined by a Queen's Counsel was not fun.
She says she has enjoyed every minute as chief executive, apart from the court case, which Cr Vandervis lost, and the downpour this month that caused flooding in Middlemarch. Dunedin's infrastructure performed reasonably well, but Ms Graham was conscious the deluge might have been a defining moment if the damage had been more severe or widespread.
She has enjoyed learning about what people do within the organisation and wants staff to go about their jobs with confidence. She wants the right decisions to be made at the right places in the organisation.
Ms Graham aims to clear the blockages that prevent systems from running well and to stay focused.
"I want to make sure staff are all working on the right things."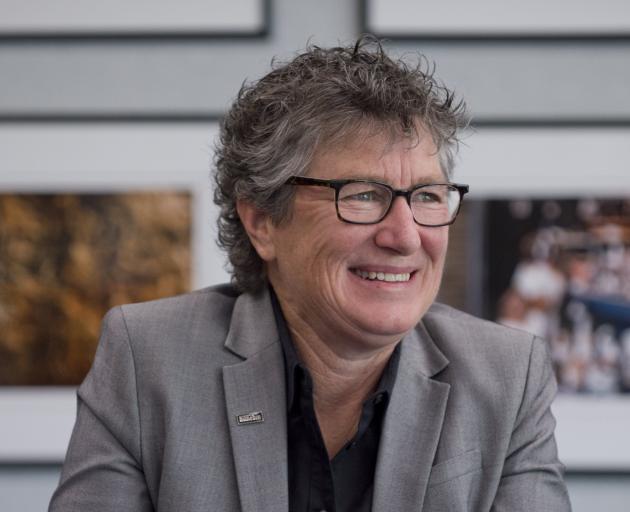 Hard work put into climbing the ladder 
It was not always apparent Sandy Graham was destined for the top job at the Dunedin City Council.
She dropped out of university and worked in a city roading crew, shovelling gravel, operating a stop/go sign and doing kerb and channel work.
But she went back to the University of Otago and completed a law degree, then did a master's in library and information science at Victoria University of Wellington.
Ms Graham obtained work at the University of Otago library, then found employment at the Dunedin City Council in 2007 as a webmaster and her ascent in the organisation began.
She became governance manager in 2009 and was corporate services group manager for three years from 2013, before joining the executive leadership team as strategy and governance general manager.
Her responsibilities included civic governance, legal matters, managing risk, marketing, community development and civil defence.
When she was appointed city services general manager in 2018, her portfolio ranged from parks and recreation to property and planning policy.
The departure of chief executive Sue Bidrose led to Ms Graham being appointed acting chief executive last July, and she declared she would seek "the permanent gig as I am totally committed to what we have created as an organisation and what we are delivering for our community".
SANDY GRAHAM
From: Born and raised in Ranfurly
Previous work for the council: It began in 1984 as part of a roading gang for a couple of years. She returned in 2007 as a webmaster and then rose in the management ranks
Pay: A base salary of $402,000 to start her five-year contract
Family: Daughter of Dawn and the late Ash Graham. Has two younger siblings — sister Kay in Ashburton and brother Mark in Berlin. Married to Liz Spector. Has two sons, Finn and Joe, aged 14 and 11
Pets: Two dogs and a parrot
Hobbies: Golf, walking, cycling, watching sport, reading