Traffic is moving slowly both north and south of Dunedin ahead of tonight's Ed Sheeran gig.
There is heavy traffic congestion on SH1 south of Christchurch and traffic is now backed up near Milton.
Meanwhile, police, St John and fire crews had attended a crash on SH1 this afternoon between Timaru and Temuka and diversions have now been put in place.
A Fire and Emergency New Zealand spokesman said they were called about 1.45pm today to a crash just north of Washdyke.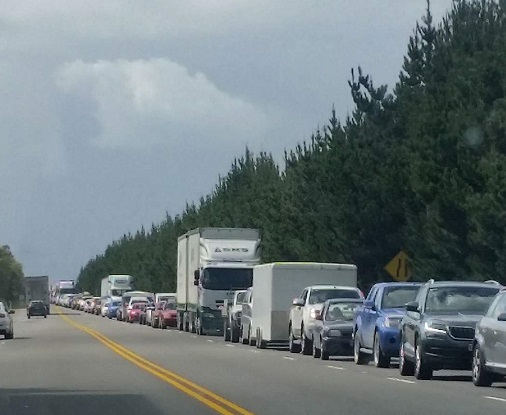 The crash had blocked traffic for a time, which was reported to be very heavy in the area as Christchurch residents travel south for tonight's Ed Sheeran concert in Dunedin.
Otago Daily Times reporter Louise Scott said traffic was backed up at the turn-off from SH8 to SH1 and on SH1 coming into Milton. Cars were moving a little bit faster south of Milton but traffic was "very heavy".
Traffic was much more freely flowing on Dunedin's Southern Motorway and traffic was steady but not backed up at all on the Northern Motorway.
Oamaru Mail reporter Tyson Young sent a photo of southbound traffic bumper to bumper on SH1 north of Ashburton, and said it extended ''as far as the eye can see''.
"No word of a lie it's been like this since Oamaru.''
Traffic is dense in Timaru, it ''is crawling'' through Oamaru, and in Dunedin itself people are complaining that ''it's very difficult to find a park''.  
Traffic has been restricted in Bath St, owing to large numbers of people wanting to see the Ed Sheeran mural there.
Senior Sergeant Mark Donaldson, of Dunedin, said earlier today a ''considerable amount'' of traffic was also expected from Southland.
Commuters should expect "significant delays" on State Highway 1 north and once in Dunedin.
Roads were also tipped to get busy as people travelled to Wanaka for the the Warbirds airshow.
''Additional resources are being pushed on to our highways to make sure people are driving safe and to the conditions", Snr Sgt Donaldson said. 
"We're also having to factor in people travelling over from Warbirds.''
People should plan their journeys early in case of delays, he said.
The New Zealand Transport Agency said there's a lot happening in the Otago region this weekend and motorists should plan their travel in advance for possible queues on State Highway 1.
Holiday checklist:
• Ensure your vehicle is safe on the road. Go here for information on what to check for and how
• Allow plenty of time - make your journey part of the holiday, expect delays with high holiday traffic
• Rest stops are important for the driver and passengers
• If possible, share the driving
• Drivers need to be patient, cautious and courteous - pull over and let traffic behind you pass when it is safe to do so to prevent drivers becoming frustrated and making poor overtaking decisions
• Your holiday starts as soon as you get in the car - take your time and enjoy the ride.