"Art in the service of science", John Buchanan (Hocken Library)
The mid-19th century was a period filled with remarkable colonial artists: crafts people who combined the skills of painters and engravers with the eye of the scientist, often extending their skills over several fields of study. One of the most skilled of such people was Dunedin's John Buchanan.
Born in Scotland in 1819, Buchanan arrived in Dunedin shortly after the city's founding.
Although botany was his chief interest, and many of his studies are of New Zealand plant life, he was also an accomplished landscape artist and successfully turned his hand to other scientific illustration, notably sketches of birds and of the skeletal remains of moa.
It is with one specific landscape, a panorama of Milford Sound, that Buchanan's name is most often connected. A landmark work in early colonial art, it forms the centrepiece of the Hocken's well-realised exhibition. Landscapes and botanical studies dominate the main hall of the gallery, with the side rooms dedicated to the artist's other natural history works. Numerous cases present book illustrations, sketchbooks and scientific papers.
As always with Hocken shows, the exhibition is thoroughly and excellently presented and annotated, as befits an often overlooked but important name from this country's early art history.
•
"New works", Karen Baddock and Jane Crisp (The Artist's Room)
Bird life takes centre stage at The Artist's Room with an exhibition by Jane Crisp and Karen Baddock. Both artists present their subjects with a realist's eye, but their two styles are significantly different and complementary.
Depicting the vibrant and forceful life energy of these creatures is a rare skill, and it is one which both of these artists have achieved. Jane Crisp's acrylics create a photographic realism. Every feather and line is placed with delicate precision, and the plumage glows with soft iridescence as the birds emerge from the depths of their darkened backgrounds. A soft touch of the surreal is added with the birds being accompanied by props of books, keys and fob watches, the effect harking back to the tradition of vanitas art.
Karen Baddock's bird images are simultaneously less and more realistic. Her oils, while still delicate, do not have the pinpoint photographic detail of Crisp's birds, yet these are distinctly living creatures in their own element, generally placed against realistic backdrops to produce naturalistic scenes. These images are accompanied by a series of fine still lifes, which clearly show her compositional skill while also nicely rounding out the exhibition.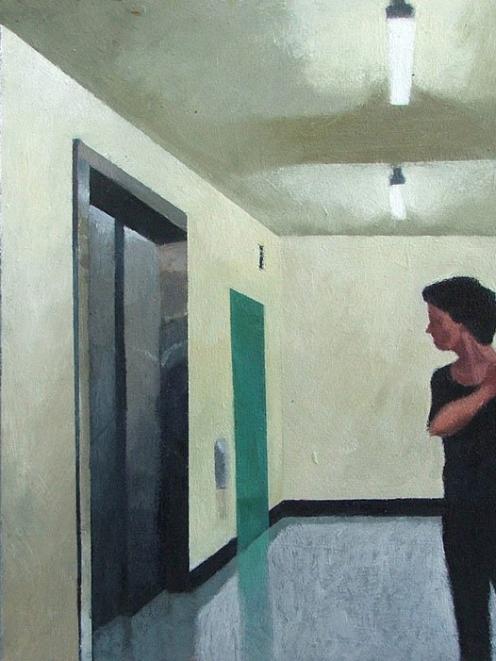 •
"People and buildings", Duncan West (Inge Doesburg Gallery)
As we travel through our daily lives, many of us fail to notice the transition areas which lie between our arrival and destination points. When they do register with us, it is because they are distinctive or picturesque. But more often than not, these zones are less memorable, and blur into each other; they may be innocuous, or have subtle disquieting undertones. Often, however, they have a character which is worthy of immortalising.
It is these points which Duncan West explores in his current exhibition. His paintings and prints memorialise the unnoticed, homing in on the hallway, the elevator door, the solitary urban dweller. The combination of implied isolation and disorienting anonymity lends his paintings an unsettling edge, and the often bland emptiness is emphasised by the slab-like washes of paint with which he often builds his scenes.
West's prints, though more detailed, have a similar theme. The darkness of the city at night becomes an added presence to the images which dwell on the vacant space and graveyard-shift dairy. Lights show from doorways, but we are on the outside, beyond this safe zone.
West completes his display with several card models of urban buildings. Powered by solar cells, these take on a ghostly glow as the light of day disappears.