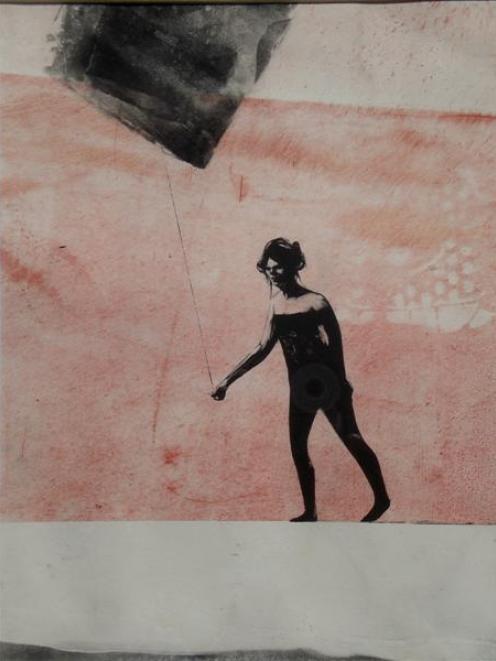 James Dignan takes a look at the latest exhibitions around Dunedin.
> "Sleep Depraved", Jason Greig (Brett McDowell Gallery
Every cloud has a silver lining, and so it is with the latest exhibition at the Brett McDowell Gallery.
When a sudden health emergency stymied Jason Greig's exhibition, the ever-resourceful McDowell called various Dunedin art collectors and produced an off-the-cuff retrospective of Greig's art.
The resulting display is far better than might be expected considering that it was put together at such short notice.
It contains more than 20 works, many of which have not been seen by the public for years, if at all.
Not only that - since the display contain works from 1985 to 2008, it is possible to grasp something of the artist's development.
Greig's early works, represented by a series of lithographs, mine facile, brutal territory.
It was not until Greig started using monoprint that his images gained the deep darkness and subtle creeping horror for which he is best known.
Recent years have seen the addition of limpid colours and repeated themes - the horseman, the mock daguerreotype - and the artist's debt to fin de siecle symbolists such as Redon and Rops has become apparent.
Yet despite these obvious antecedents, this exhibition makes clear Greig's unique position as a powerful, anachronistic19th-century printmaker in 21st-century New Zealand.
> "New Works", Ben Webb (De Novo Gallery)
In his latest exhibition, Ben Webb focuses his attention almost totally on still life.
Previously, the artist's gaze has rested largely on portraiture, his haunted archetypes seemingly staring out from some misty race memory.
The use of the faded flower as a stark memento mori has complemented these works, acknowledging the fleeting lives of the portrait subjects.
The latest exhibition brings these passing blooms to the forefront.
Anonymous symbols of the transience of life, rendered in soft tones and stark black through the use of oils, inks and gouache, these are lilies further gilded by iridescent metallic washes.
As with Webb's previous works, these pieces float into view as if through a dulled window of time.
Somehow it seems - without any cue or clue as evidence - as if the images are from a scrapbook of antique photographs.
The delicate faded images are memories of long-past blooms from another century.
De Novo has taken the brave and unusual step of presenting the works outside the safe confines of the gallery; the images are placed so as to be viewed from the street.
The ephemeral nature of the subjects is thus further emphasised by the suggestion that they be glanced at by passers-by rather than studied directly.