By Robyn Maree Pickens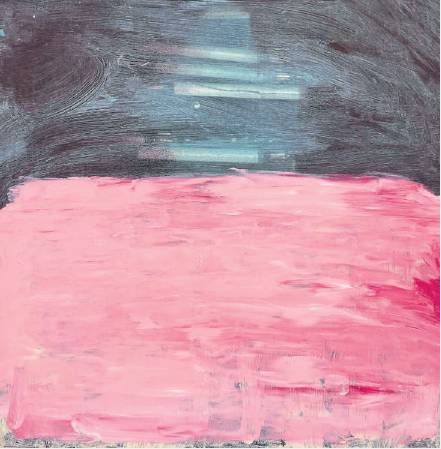 ''Aids for Black Magick'', Nick Harte, Michael Morley
(Olga Gallery)
With the title ''Aids for Black Magick'', the visitor is invited to view the work of Nick Harte and Michael Morley through the lens of the occult. On first viewing, this is most apprehensible in three of Harte's acrylic and solvent ''black'' paintings. This is not so much a result of the colour itself, but on the forms and colours intent on manifesting presence, such as a face emanating at the centre of an otherwise black ground (Il ne etrent que sa mort, 2020), as if it were crossing dimensions. In contrast to these black paintings, the palette of Morley's watercolours is primarily one of soft pastel tones and is no less ''occult'', as the source of inspiration would appear to be Swedish painter Hilma af Klint (1862-1944), who was guided by theosophy and spiritism.
It is important to note that Harte and Morley are musicians (which many readers will know), as the 12-inch record — in both its morphology and physical object — are explicitly present in each artist's work: Harte paints on record sleeves, while each of Morley's watercolours replicates the absent centre of a record. Where Harte builds up a palimpsest of abstract forms on the material form of a record sleeve, Morley, with varying degrees of fidelity, replicates the calligraphy and iconography (logos) of various record companies, such as the lower case letter r of Reprise Records.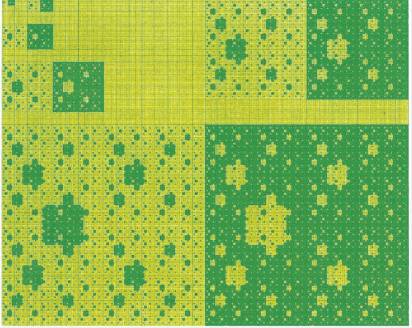 ''Eight New Works'', Martin Thompson
(Brett McDowell Gallery)
To observe the galactic sensibility of Martin Thompson's abstract works on paper is not novel, but perhaps this particular quality is more evident in this year's exhibition. Thompson's precise practice of filling minuscule squares of graph paper with ink creates an expanse of cosmological space comprising nodes, constellations, particles and a mathematical apparatus that oscillates between the visual representation of an arcane formula and pure pattern. In addition to intricate replication and iteration, this latest cluster of galaxies continues Thompson's compositional deployment of the horizontal diptych in which duality is formed through opposition. If one half of the diptych materialises the presence of constellations, the other half dematerialises these exact forms as black holes. The clarity of this distinction or play of opposites is achieved by Thompson's use of one colour on either white or one-tone paper.
This year, Thompson's colour choice is fairly evenly split between red and green: red on white, red on yellow, and green on white, yellow and lighter green. The red on yellow creates a pleasing garish effect alongside the large expanses of red on white, and the cooler green works. Of the eight works, two incorporate what could be described as Thompson's mapping or mathematical plan for the ensuing work at the top. While the green on lighter green presents a miniature of the work below, the red on yellow offers a three-step progression of the pattern's genesis.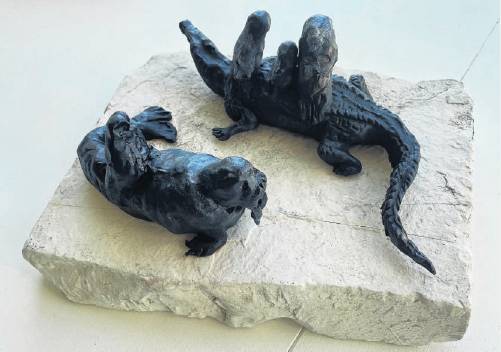 ''Gatekeeper,'' Marie Strauss
(RDS Gallery)
Who do we let in? Who do we refuse? Who animates our stories? What is permitted to seep between worlds, and what escapes? These are some of the questions and explorations at play in Marie Strauss' most recent exhibition of ceramics, paintings and works on paper. \
Captured by the exhibition title ''Gatekeeper'', these explorations encompass binaries of inclusion and exclusion pertaining to the borders of nation states (especially in the context of the pandemic), of relations between non-human animals, between human and non-human animals and between symbolic registers and psychological states of being.
Animals, both real and mythological, dominate Strauss' works across media. They shimmer and flow in fluid sketch-like lines around the curvature of ceramic pots, and cascade in taxonomic free-fall beyond species' borders in vividly coloured large paintings. In Strauss' worlds, the unlike cohabit with the unlike. Two owls nestle on a walrus and three owls perch calmly on a crocodile in two of the artist's hand-built ceramic works. While variations of these relationships may originate in the literature of fantasy, Strauss' particular evocation of these unlikely pairings seems to centre on the relationality of non-human beings. Humankind is absent from the scenario.
In other works, the baboon, jackal, and falcon reprise more familiar symbolic roles for humankind - in this instance as funereal guardians. Of the many provocations on offer, Strauss draws attention to the symbolic and psychological load humans ask animals to bear.