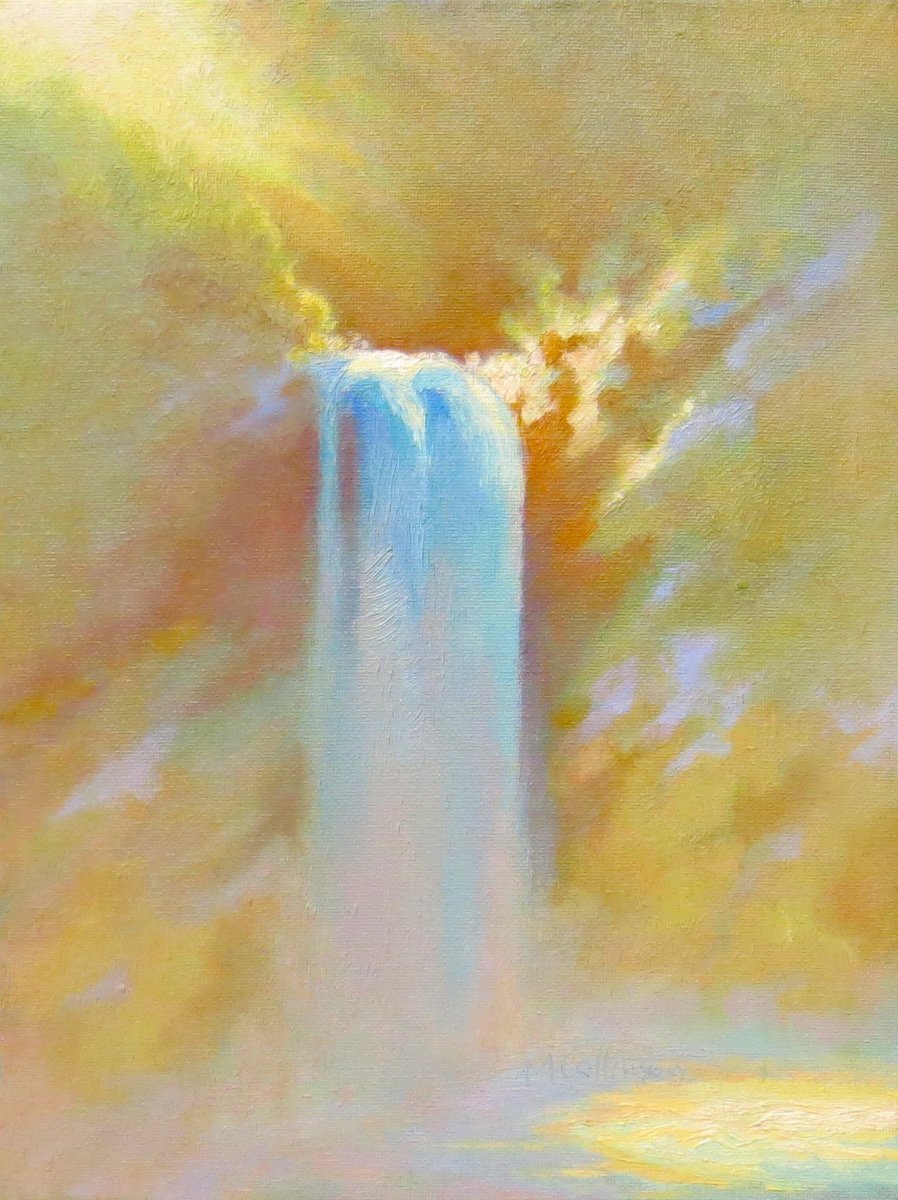 "Life and Light", Mark Collinson (Moray Gallery)
Mark Collinson's exhibition "Life and Light" at Moray Gallery lives up to its title.
The artist has taken a deeply impressionistic look at the landscape and life of the South, presenting a series of works which often do little more than hint at their subjects. The paintings, in oil, are created in gentle pastel tones, with shades of yellow and pink dominating the small canvases. Light is the essential feature of these works, with the play of soft sunlight creating the patterns from which the images are made up.
For the most part, it is the simpler and more atmospheric works which hold the eye longer. In images such as the cloud formations of Offshore Colours and the merely hinted waterfall cascade of In the Deep South, the artist has left room for the viewer to wander both mentally and physically. Creeping Light is ambiguous enough to suggest several possible subjects: cloudscape, riverbank, or tree-lined gravel road. The one human figure to appear in any of these works — a man raking leaves in Evening — is presented delightfully as little more than a cipher.
While a few of the works are more trite in their subject matter, the gentle manner of their presentation makes them enjoyable enough to be worth their place in the exhibition.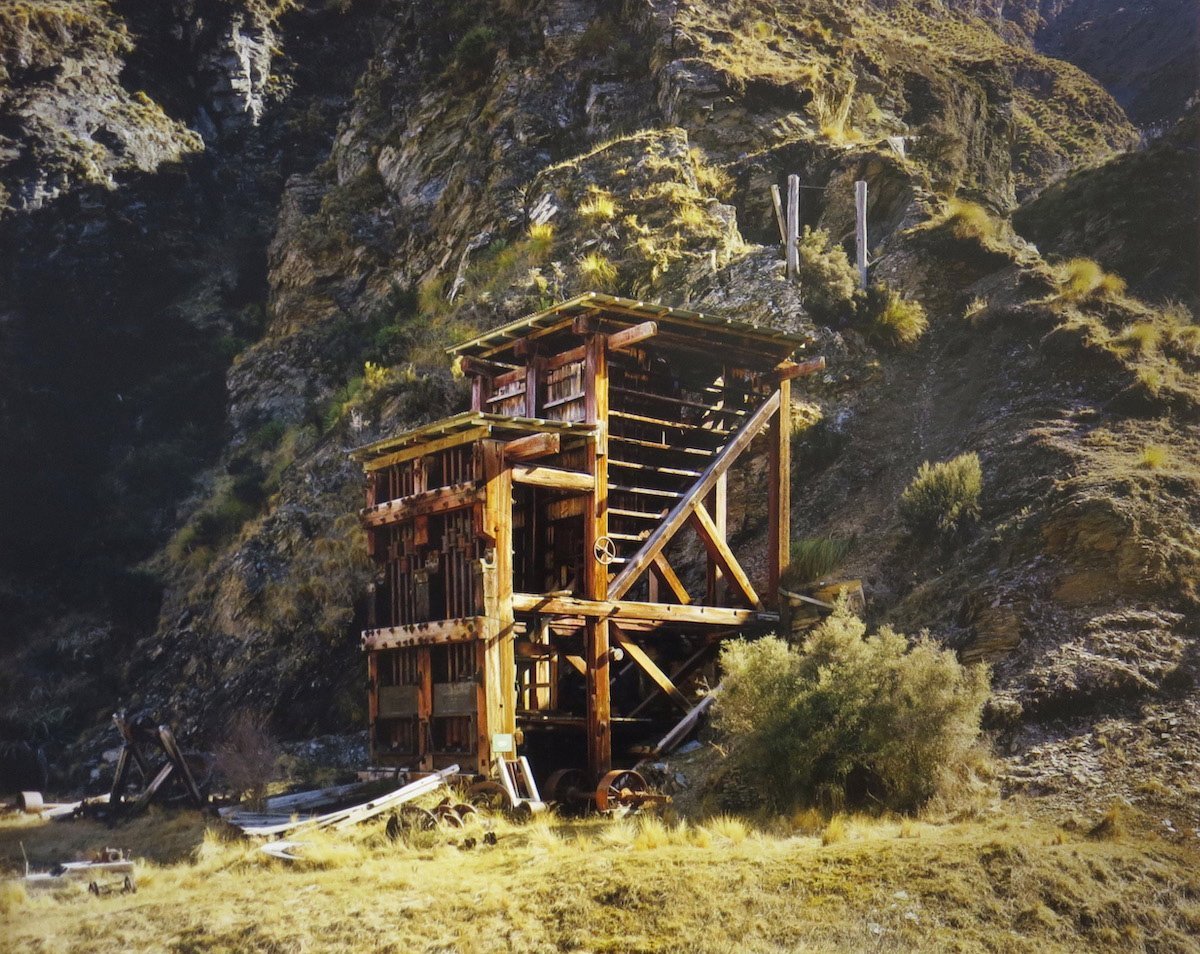 "Elements" (Milford Gallery)
The Milford Gallery's current group show, "Elements", pits the work of three artists against each other in a dialogue about the forces of nature and the effects that humans have had upon the natural world.
Chris Corson-Scott's large-scale photographs capture in meticulous detail the hand of humans upon the environment. The artist's images of the remains of abandoned mine buildings and lime kilns suggest how we have ravaged the land, yet show that these sites of industry are slowly being reclaimed by a nature that may lose individual battles but will inexorably win the war.
Paul McLachlan's intriguing works present the actions of a volatile nature in the form of water — rain, rivers, and the sea. His works are created by a unique method which uses etching-related techniques on a painted surface. The resultant images have a slight three-dimensionality which enhances their nature, and have a feel reminiscent of traditional Japanese printmaking.
Chris Charteris's well-known giant necklace forms suggest calming and slightly optimistic possibilities for symbiosis between mankind and the natural world. His strings of rounded pebbles reflect the transcendent healing nature of the environment and reflect our role as its guardians. If we treat nature with respect, it will respond well to our hands.
"Pink"(The Art Station)
The Otago Art Society has decided that after the last couple of years of tribulation, our lives could do with some brightening up. As a result, their latest exhibition, organised alongside the Dunedin Fringe, has as its theme the colour pink.
Pink is rarely used to its full potential in art, so the exhibition provides an opportunity for local artists to move outside their comfort zones to produce works which could be overwhelmingly pink or merely show a small but necessary amount of the colour. As always with large group shows, style and subject matter vary wildly, though it is perhaps no surprise to find several abstract colour-field efforts. Sunset landscapes are also a frequent subject, ranging in style from Roz Dowland's naturalistic mountain view to a similar yet geometry-inspired scene by Julia McNaughton. Portraiture, in its many forms, is also present, from Sharon Pine's tongue-in-cheek Dia de Muertos-inspired candy skull to an impressive portrait of musician Neil Young by Tony Adamson, and Sarah Freiburger's humorous tipsy anteater. Three-dimensional works are also represented, notably Annemieke's pointillist mannequin and a fine bowl by Jenny Longstaff.
A room at the exhibition has become an immersive "Pink Experience Gallery", filled with handcrafted blooms, and the exhibition is accompanied by a series of workshops and other activities.
By James Dignan