Artist Sonya Lacey loved her time in Dunedin as part of the Dunedin Public Art Gallery Visiting Artist Project so much so she took inspiration from one of the city's leading institutions, the Otago Daily Times. She tells Rebecca Fox about her southern journey.
When Sonya Lacey requested CMYK newspaper ink from the
Otago Daily Times
she had no idea what she would do with it.
''It sounds a bit weird I know.''
The artist, who has a background in the design and publishing industries and a long-standing interest in the material and labour practices of publishing, discovered the Otago Daily Times when visiting the city as part of the Dunedin Public Art Gallery Visiting Artist Project.
''Anyone who knows anything about newspapers knows the Otago Daily Times was one of the most important newspapers in the country and a well respected newspaper with great journalistic practices.
''I was curious to see if there was anything there. So I got a hold of some ink.''
After some thinking she decided to turn the ink into ballpoint pen ink. With the help of a Victoria University scientist she had connections with before, they were able to process the newspaper ink into ink that could be used in a ballpoint pen.
''The reasons it's not as crazy as it sounds is because the innovation behind the original ballpoint ink recipe was based on newspaper ink, as the ink is more viscous than what they were using in fountain pens. So it didn't leak everywhere.''
They tried to replicate the original patent recipe as closely as possible to create the ink.
''We amended it a little to make it flow a little better and then I put that into pens in a mix of colours. I then wrote with it and drew with it, did all sorts of tests.''
In changing the ink, Lacey, who has worked with newspapers quite a lot in her art, was interested in the difference between the two types of communication.
''I'm interested in the shift in scale it implies, mass public communication to a more singular viewer, between a newspaper which holds itself up to be an account of a day or a record in comparison to a kind of text which is written with a ballpoint pen which might be much more freeform, lived experience, an account of the day as it is felt rather than an official record of a day.''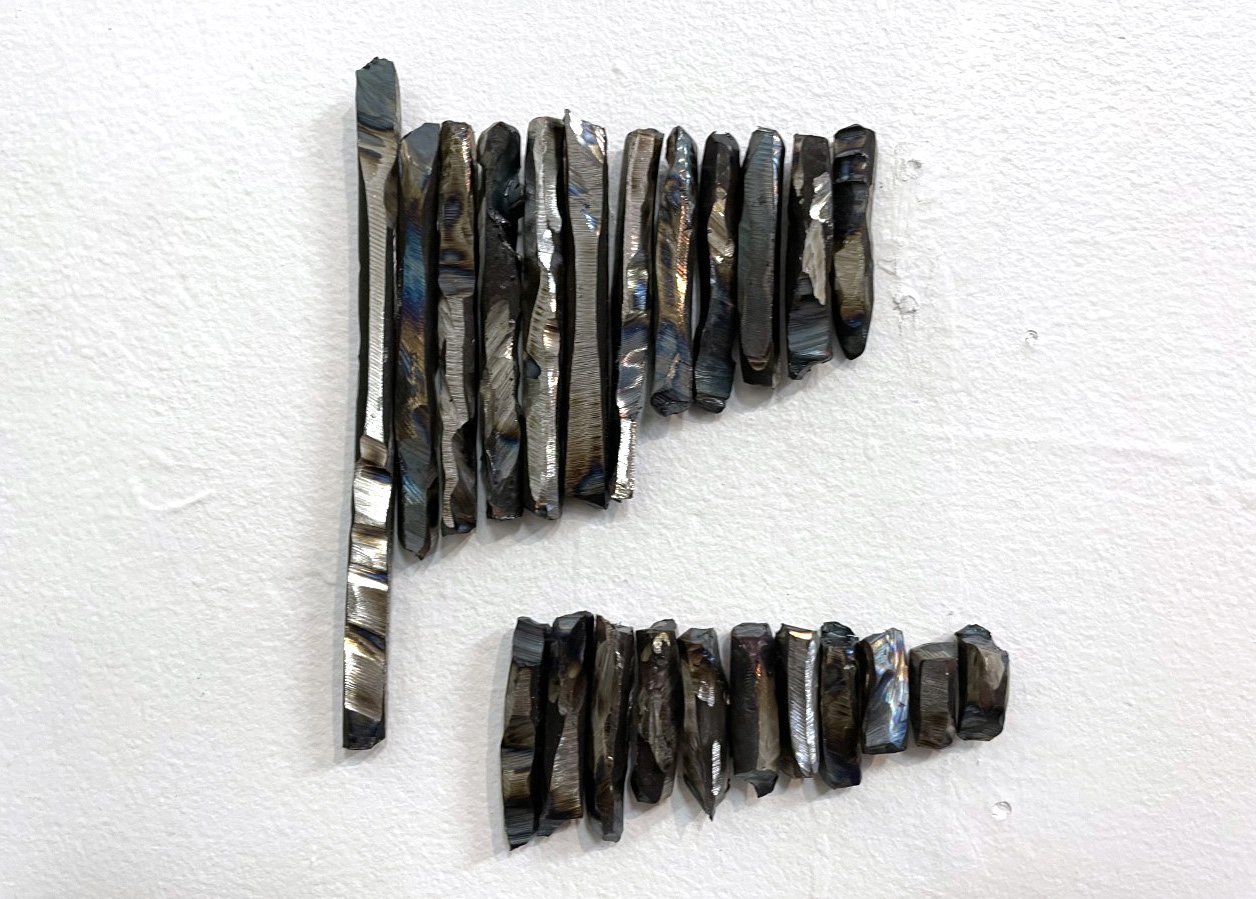 Lacey, who now lives in Tauranga, set up in the Dunedin Public Art Gallery's basement conservation laboratory and used its equipment to look closely at the material of the writing and drawings. She then filmed it using the laboratory's microscopes, and those at Otago Museum as well.
''That forms one work in the show.''
That work is connected to another in her exhibition, ''Totally Dark'', on at the gallery which is in an architectural form of a built wall.
''It is very loosely based on the Allied Press facade. I think of it as like a paraphrasing, it is in no way a replica, it is a nod to it. I wanted to acknowledge the inspiration for the project a little bit.''
While many of Lacey's works are moving images, she is aware those works ask a lot of a viewer as they require them to stay longer than a painting to take it in and get a general sense of it.
So alongside her moving image works, she often makes sculptures which are quite functional and may double as seating.
''I really like the alcoves on the outside of the building which I have built into my sculpture. It provides individual seating, so viewers can perch while they watch the film. I like to think of them as a spot you might perch if you were a worker having a coffee on a morning break. They're temporary seats somewhere you might perch.''
Lacey's practice developed towards moving image through the first newspaper work she made in about 2010.
''I went through this process of remaking a newspaper by a famous newspaper designer Massimo Vignelli. He proposed this beautiful redesign of a newspaper which was rejected because it was too clean and organised.''
Then she filmed it.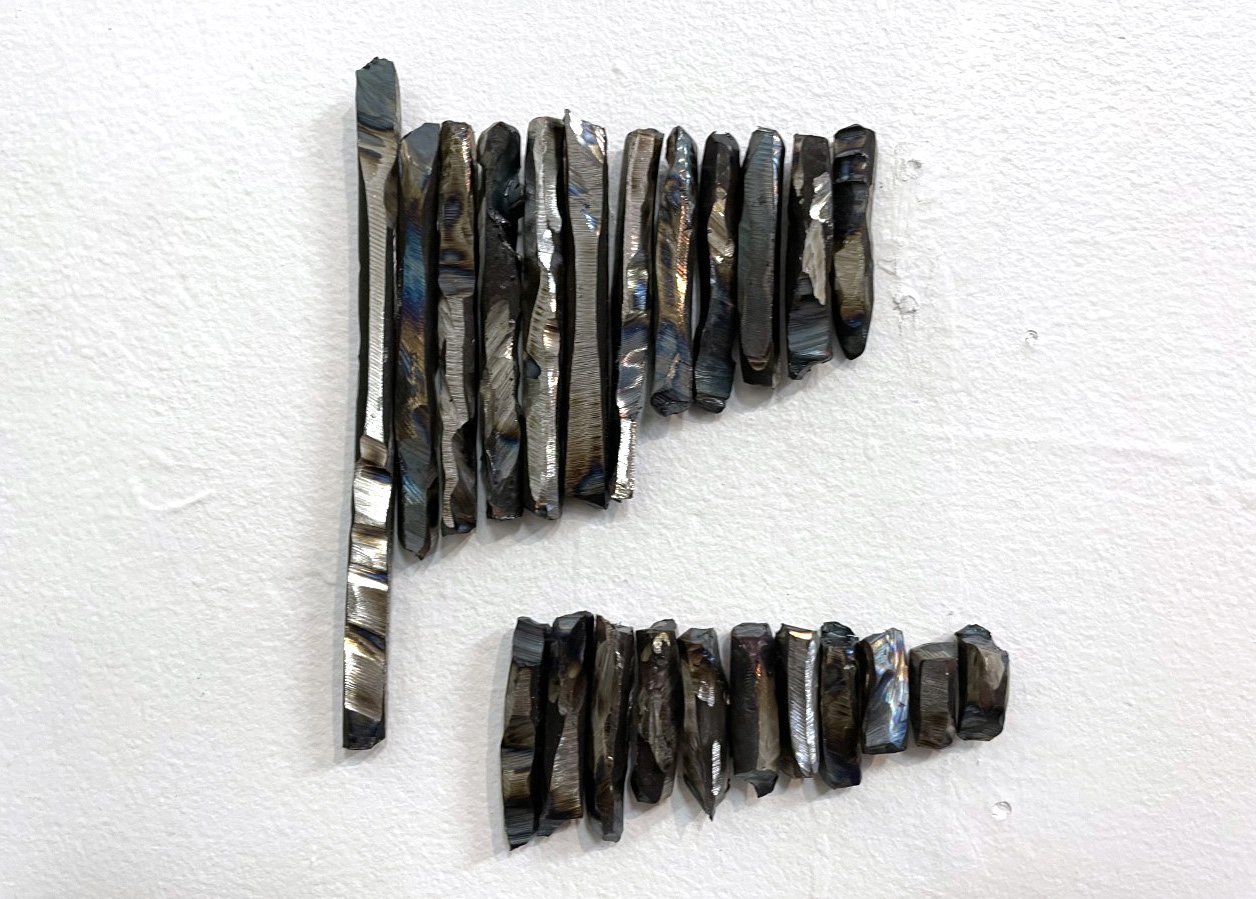 ''I'm always interested in translating materials and what happens in the process when one material is translated into another. So I often make sculptures which get translated into videos or moving image.''
She made the newspaper but was not that happy with the final object.
''There was something lacking. It needed to be moved in a different direction. So I got out some 16mm film and filmed it. That let something else into the work. It gave it the life it needed.
''I like the life that enters a work when it becomes a moving image. A lot of my work deals with time, so it is a natural medium.''
The Dunedin show deals with time very directly, she says.
''The unit of the day underpins the whole show.''
The other of the two moving images in the show was filmed in a time isolation unit, something she had not heard of before this project.
It is a test apartment set up inside a university science department and is entirely isolated from light and sound and any other cues that could be used to calibrate a person's body clock. The room has been used for experiments related to circadian rhythms.
''I've spent a lot of my time in little apartments in Auckland renovated in the year 2000 with funny colours. It's exactly like that but it has this science fiction, crazy gridded ceiling light which is completely computer programmable. It's entirely divorced from the world.''
Lacey, who is interested in the experience of time rather than regulated time, spent up to eight hours a day in the now decommissioned apartment which meant she could gain access.
''You would go crazy in 24-hour period. I spent a duration of a working day there, I guess.''
She felt jet-lagged when she came out, describing it as similar to the way people can feel when they come out of the movies to daylight.
''It's surprising when you walk out to daylight. It felt disconcerting.''
Apparently what happens to the unit of a day when people's bodies are not calibrated is that the body reverts to a day that lasts 24 hours and 11 minutes, she says.
''It's quite messy. So I used that measurement to structure the show, in a way. The ink work is called 11 extra minutes. I was wondering what the potential of that extra time might be.''
''The other work pushes the schedule of the show out by 11 minutes each day.''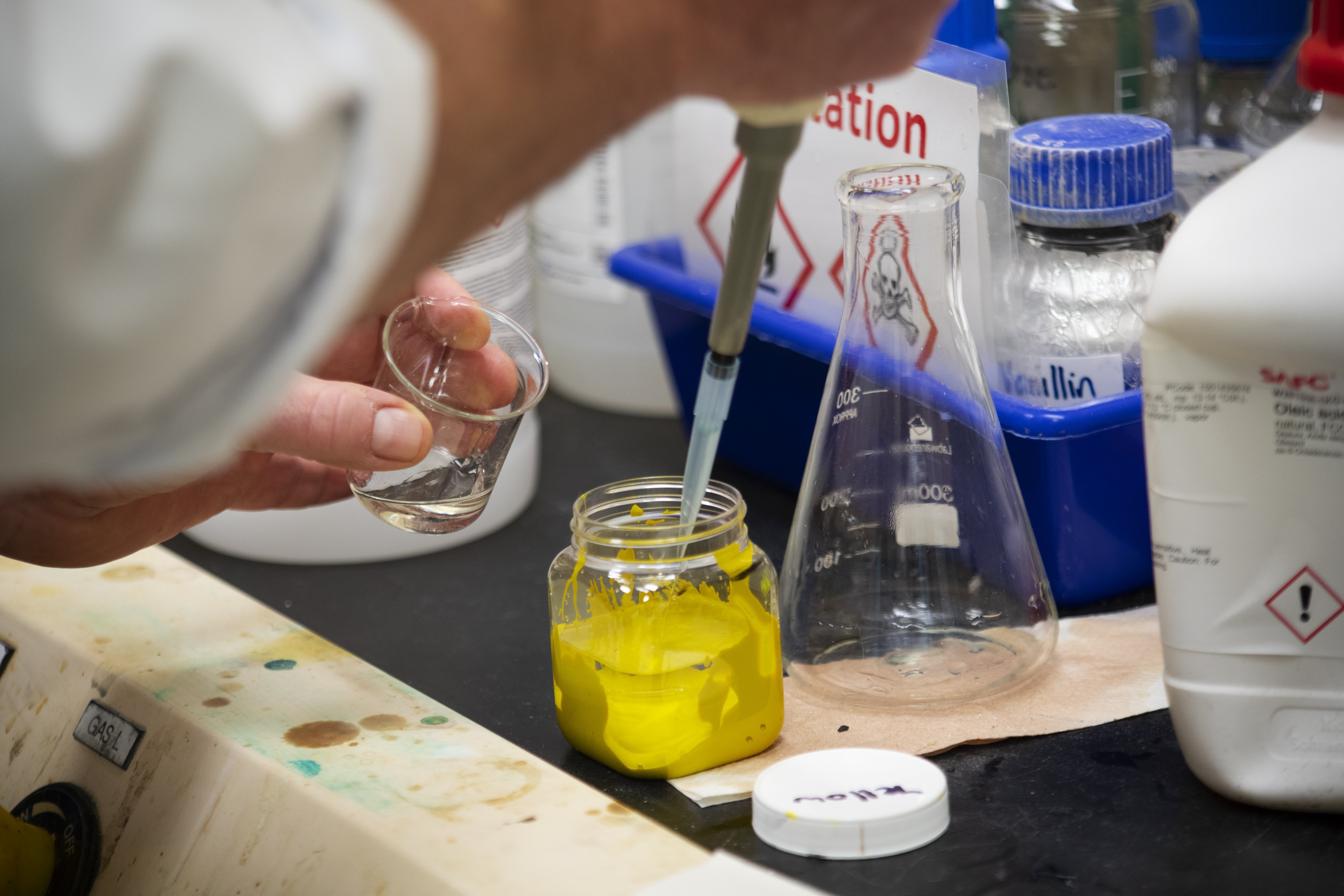 Alongside her DPAG show, Lacey has a ''sister'' show ''Totally Dark [Chlorophyll]'' on display at Favour Gallery, in Dunedin. It is a small artist-run space which operates within a florist's shop that Lacey discovered on her first visit to Dunedin. She was lucky enough to split the 12-week residency into two six-week stints, with six months in between, to give her plenty of time to develop, test and take risks with her ideas.
''I write quite a lot. It's a drawing process for me, it brings together a lot of ideas to test them out.''
When she was in Singapore, right before the pandemic, she had written a script or a reading when she was feeling very jet-lagged and a bit ''out of body''.
''It's totally fiction but it's based in this room where I was staying. It's about overempathising with a plant and taking supplements to help regulate my sleeping pattern but also thinking about what the plant might need as well. You know those feelings of being out of your body you get when you are outside of your country?''
As soon as she visited Favour she knew she needed to show the work there.
''It was perfect. I used the ink from the ODT to handwrite the script and that formed the basis of the show and it is paired with the metals included in the script — iron, copper, magnesium, zinc — what you also take as supplements to help you sleep.''
As well as the two exhibitions opening this month, Lacey was also named a finalist in this year's Walters Prize, New Zealand's top contemporary art award for her work Weekend, exhibited in the group exhibition ''Solo'' at The Dowse Art Museum in Wellington in 2018. That work is now being exhibited as part of the Walters Prize exhibition at Auckland Art Gallery Toi o Tamaki.
''It was a great experience. It was really nice to remake an exhibition with a bit of time and distance, resolve a few things.''
Lacey has been trying to resolve ideas since she started at Elam School of Fine Arts in Auckland, where she studied printmaking.
''I found it quite hard to commit to being an artist. I didn't quite know what that meant, I guess.''
So she decided to go into an adjacent creative field where she could earn money and contribute to society.
''That's how I ended up in design. I moved very quickly to publishing design rather than advertising design.''
She worked on consumer magazines, newspapers and independent publications, discovering a love for the book form and text.
''I like what it offers. It's another time-based medium.''
After university she moved to London to work.
''I'd definitely, I'd officially declared to the universe I'd given up art.''
She realised why she could not commit to art after art school was she found it hard to quantify the value of art.
''It's so esoteric. I needed to step away from it to see its a really valuable part of culture. You either need to do it or you don't need to do it with art and it's good to know you need to do it.''
She came back to New Zealand about 2006 and went back to study at Elam.
''I was dabbling in moving image then but it really came later. It was mostly sculpture and also radio transmission, any little radio broadcasting devices.''
The trips to Dunedin also corresponded with Lacey moving from Wellington to Tauranga for her husband's work as an art gallery director, so she has not spent a lot of time in her new home.
''The true settling starts now, I think.''
She plans to continue writing and reflect on her time in Dunedin.
''I think there is a lot to tease out there. I think it is a start of quite a big project for me. I think I've got a couple of years work to make from it.''
Lacey will be making the work in her new home, which she describes as more studio than house.
''Our house was originally built as an artist studio. It's sort of 90% studio, 10% house. Instead of having a studio on my home I have a home in my studio. I'm really lucky to have a very understanding husband.''
To see 
Sonya Lacey
Totally Dark
Dunedin Public Art Gallery
until November 14
Totally Dark [Chlorophyll],
Favour Gallery (418 Princes St)
until October 20