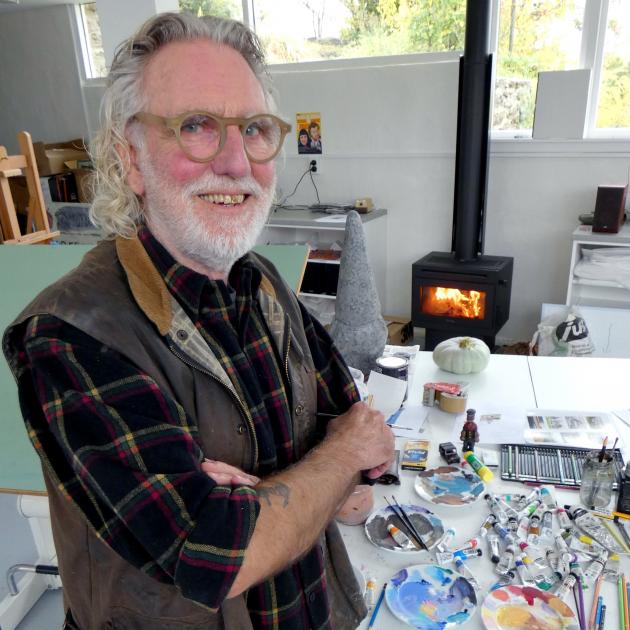 Being  artist in residence at Alexandra's Henderson House gave Dick Frizzell the perfect opportunity to finish a book and gain inspiration for a series of paintings, he tells Rebecca Fox.
Earlier this year two of New Zealand's pre-eminent artists - Dick Frizzell and Grahame Sydney - jumped in a ute and headed out to search for inspiration along some of Central Otago's most remote roads.
Frizzell, a North Islander, paints faux-naive New Zealand landscapes and pop-art while Sydney is known as the definitive painter of Central Otago landscapes.
''He took me to all his favourite haunts, isolated corners of the area. He took me up the Dunstan Trail, all that stuff, '' Frizzell says.
It posed a problem.
''But of course I'm looking for myself in that and I keep seeing Grahame Sydney everywhere. So then I went off on my own and I found a few Dick Frizzells - it was brilliant.''
So while Frizzell (76), who is from the Hawkes Bay, and Sydney have ''similar attitudes'', their painting styles differ, he says.
''I tend to fill the picture plane up with a greater jumble of elements. Grahame always has that long aspect ... whereas I tend to zoom in much more on the rubbish on the side of the road - you know what I mean?
''When I was teaching myself to find myself in the landscape, because that is what you have to do - it's a lot less arbitrary than you might imagine - my instincts were always drawn to the very high horizons. The canvas is covered with pattern - a pattern of trees, a pattern of roads. That's just where I went. The subjects would afford me a range of texture and detail.''
The artist found the ''Frizzells'' in unexpected places.
On a trip from Alexandra to Gore to visit Jim Geddes at the Eastern Southland Art Gallery there were views that really caught his eye.
''I really took to from Raes Junction through Tapanui to Gore. I loved all that - it's sort of the road less travelled in a funny sort of way.
''I think it might be coming from the North Island, as I do, and having spent a lot of time in central North Island where you get that naturally green environment of Tapanui and that, the hedges and windbreaks - I almost cheated starting to look for places that looked like the North Island.''
He liked Lawrence, and the Pigroot is another area that caught his attention.
''Aspects coming up from Palmerston really got me.''
On these road trips Frizzell takes many photographs, building up a file of potential images he will use for his paintings.
''I call it harvesting. I use the camera. I literally build up a file. Then it's a question of winnowing it out and seeing what sticks.''
Photographs of the Pigroot Otama Flat Road and around Tapanui made the cut.
''They're the best. There is probably another exhibition there.''
The view from his bedroom window in Henderson House also made the cut.
''Again it was top to bottom - it was an ever-changing pattern of cloud, which is the same thing, it just happened to be in sky. If you turned it upside down that little bit of land at the bottom would be my sky.''
More inspiration came in a photograph Sydney sent to him after he left Alexandra.
''He sent me this photo he'd taken saying ''here is one you might have missed'', which was really sweet. By then he knew how to spot a Frizzell too.''
The painting that eventuated is Old School Road.
''But I had to crop, zoom in closer on his photograph and crop a section out of the middle to turn it into a Frizzell. It was still a Sydney but it had a Frizzell in the middle of it. It's quite fascinating.''
He enjoyed his time in Alexandra on the residency as it meant he could search out those hidden places instead of ''tearing around'' for a week in a rental car hoping for good weather, as he had done in the past when doing a southern series of work.
''I can sell South Island landscapes in Auckland but I can't sell North Island landscapes in Dunedin. It's quite specific.''
Once he got back home to Hawke's Bay, he settled into an ''intense painting spell''.
''The landscapes are hard, they are very, very demanding. Until I finished this exhibition I didn't realise how much in the zone you get. They don't paint themselves. There is huge temptation to procrastinate. It's demanding stuff physically and mentally and I ain't getting any younger.''
Part of that was creating colour swatches to use throughout the series.
''I use them to strike the right note and they've been piled up in my studio and when I was sweeping up the other day I saw them and they looked so Central Otago it wasn't funny: you know, the colour of dry grass, the soft blues of the shadows.''
However, his time in Alexandra was not just used to paint but also to finish his book, Me According to the History of Art.
''Working in there at the kitchen table where all those other writers have sat thinking and staring out the window, there was this weird atmospheric sense of responsibility that sort of came with it. Quite tangible really.''
He has just put the finishing touches on the acknowledgements and made the changes required by art historian Dr Mark Stocker, who he got to check the text - ''that sorted me out''.
''It's an amazing feeling.''
To get around copyright, Frizzell has illustrated it with A4-size copies of famous paintings he has looked at through history.
It was to be a ''how to'' book of Frizzell's career but as he started looking at the artists who influenced him in his formative years at art school in the late 1950s ''I wrote myself forward through my point of view, right up to me''.
''I'm very chuffed about the book. I know a lot more.''
He is so taken with the art works he is thinking of doing more large salon-scale ''forgeries'', signed with his name of course.
''It's the mid-20th century stuff I kind of responded to.''
It is something he will play around with in 2020 on his year off. He has cancelled all major commitments in an effort to get off the ''deadline roundabout''.
The year will be about the launch of his book and giving him time to ''play around'' at the drawing board and try a few things out.
To see
''Out of Alex'', Dick Frizzell, Milford Gallery, Dunedin, October 5-29. Artist talk, Saturday from 11am.