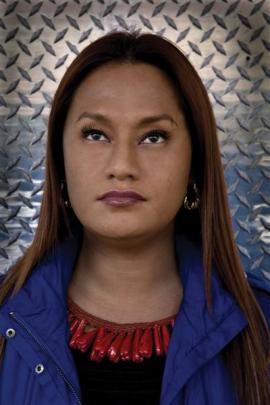 Feeling at the intersection of two races, three cultures and two genders, Shigeyuki Kihara brings an unusual perspective to her art. Charmian Smith talks to the New Zealand artist about her survey exhibition.
With a Japanese father and a Samoan mother, and having grown up in Indonesia, Japan and Samoa and been educated in New Zealand, as well as being a fa'a fafine or ''third gender'', Shigeyuki Kihara feels as if she exists at the intersection of everything.
The trilingual artist's mid-career survey exhibition, ''Shigeyuki Kihara: Undressing the Pacific'', is at the Hocken Library until June 8. It follows hard on the heels of ''Where do we come from? What are we? Where are we going?'' at the Milford Galleries in Dunedin. Born in 1975, Kihara describes herself as actor, director and scriptwriter and uses photography and video to explore her ideas and document her work. She appears as a model in her works and has a photographic crew to work with her on her sets.
''It was easier to cast myself into these roles because they dealt with people around my age, and I felt closer to these issues and characters. I'm interested in critiquing the mask I'm wearing in the photographs, which somehow is indirectly related to my life experience,'' she says.
''A lot of people look at my photos and think it's about me, but in fact it's the other way round. Ultimately the work is not about me, but about you - it's like a mirror of society.''
Her work explores indigenous ideas and their relationship to global ideas through a Samoan filter. The works in this exhibition revisit history and how it has been presented in the past and for what agenda, she says.
''Whoever tells the history determines the future because depending on what your agenda is on history it can shape how you perceive the future. A lot of history in the Pacific and, particularly, in Samoa has been dominated by white heterosexual men, so I want to rewrite history from an indigenous perspective, from a feminist perspective, from a queer perspective and many other perspectives.''
Kihara considers herself ''a Samoan woman of transgender experience'' or fa'a fafine, which means in the manner of a woman and ''both and either at the same time'', she says.
''I always felt that ever since I was born people had a problem with me because I couldn't fit into a certain kind of ideology and I struggled a lot with it, but funnily enough the struggle became the basis of my inspiration for my work.''
One triptych, sepia-toned like old photographs, is entitled ''Fa'a fafine: In the manner of a woman'' and explores and questions the notion of gender in indigenous cultures and especially in Samoa, she says.
''The idea of a Pacific Island woman has always been portrayed as 'la belle sauvage', the primitive, exotic woman, always passive, sexually available, flirtatious. She epitomised the character of the region that is ready for the taking.''
It portrays a Pacific Island woman posing on a chaise lounge like an odalisque in many oriental paintings. In the first image she wears a grass skirt. In the second she is without the grass skirt and in the third her penis is revealed indicating she she a fa'a fafine or transgender individual, she says.
''What I was hoping to do in the triptych was disturb this whole notion of what is a 'dusky maiden', what is Pacific, what is Samoan and what is gender, and I was aiming to reject the colonial gaze, but at the same time and in some situations it submits to it because people really get a kick out of it so I'm not sure if I've actually done my job. But it does stir up a conversation and I think my job as an artist is to trigger discussions.''
Another in the fa'a fafine series portrays a wedding couple wearing traditional Samoan dress and also questions the idea of gender. Kihara models the female and has transposed her head, with a moustache, thicker eyebrows and short hair, on to a man's body, she says.
Although fa'a fafine were openly accepted in traditional Samoan society, when the country came under New Zealand rule in 1914 it adopted New Zealand laws including those that discriminated against homosexuals. While New Zealand has reformed those laws, in Samoa they remain in force, despite pressure to reform them, she says.
Another series, exhibited recently at Milford Galleries in Dunedin is ''Where do we come from? What are we? Where are we going?''. The title is taken from a large work painted by Paul Gaugin just before he died, she says.
''I've lifted this question and directed it towards Samoa where these questions frame my examination into Samoan culture and society in the recent aftermath of the 2009 tsunami, the 50th anniversary of independence from New Zealand and the recent Cyclone Evan.''
The black and white photographs, inspired by the work of Thomas Andrew, a 19th-century New Zealand photographer who worked in Samoa, portray a Samoan woman wearing a Victorian mourning dress in various locations devastated by natural disasters, historic sites and modern locations, such as the airport or mall.
Originally they were in colour but that reinforced the tourist image of Samoa so she stripped the colour to give a more solemn aesthetic and focus on the environment and narrative, Kihara says. She has ideas for a work to explore her link with Japanese culture but is looking for the right opportunity, venue and funding. Japanese see themselves as part of the Pacific and there is a lot of history that links Japan to the Pacific Islands, particularly during World War 2, she says.
Her father was a civil engineer working for a Japanese construction company that was developing Samoan infrastructure as part of Japanese foreign aid when he met her mother. Although they lived in Japan for a while when she was a child, she hasn't been back since she was 19, she says.
''If I was to go back to Japan I decided I'd go back as an artist with an exhibition and I would invite all my family. I'm not really sure how they would respond to how I look, but Japanese people are usually really receptive to you when you are successful about something.''
Over 13 years of working as a visual artist, Kihara has gained an international reputation and exhibited at the Metropolitan Museum of Art in New York. She is now based in Auckland, but is also establishing a studio in Apia, Samoa.
As a child she was constantly drawing and loved Manga, Japanese comics, and couldn't shake off her art as other children often do, she says.
At the age of 15, she was sent to St Patrick's, Silverstream, in Lower Hut as a boarder. It was full of rich white boys from farming backgrounds whose only contact with people of a different ethnicity was at the Chinese takeaway, she says.
''I would say that was the most horrible time of my life. I kind of see boarding school as a boot camp which formed my opinion of what society was and at the same time gave me an introduction to what I would experience in my adult life. I guess my parents wanted to try and do the right thing and they weren't really sure how to handle my situation.''
Several of her Samoan relatives had been educated at St Patrick's and returned to become governors and politicians, but she came out the other way around, she says.
She expressed an interest in art but her father said there was no career in that, so she went to fashion design school instead. Because home economics had not been taught at a boys' school, she filled books with fashion drawings, hoping they would make up for her lack of sewing experience, which it did.
''That allowed me to find the freedom to do what I always wanted to do. I went flatting and met others in my situation and it was great.''
However, at fashion school her collections were too avant garde for the New Zealand market because she was treating fashion like sculpture, she says.
After graduating, she designed costumes for dance and theatre, worked in hair salons, as an art director for magazine fashion editorials, and brought out her own range of T-shirts.
''The kinds of projects I was involved in were all embedded in this kind of post-colonial and indigenous critique. That was the kind of community I was hanging around, - very vigorous kinds of post-colonial and indigenous ideas,'' she says.
---
See it
• ''Shigeyuki Kihara: Undressing the Pacific'' is at the Hocken Galleries until June 8.
• A free public symposium exploring Shigeyuki Kihara's creative work, artistic development and the critical issues that it raises from diverse disciplinary perspectives will be held at the Hutton Theatre, Otago Museum on Saturday, May 4, from 9am to 5pm. The speakers represent a diverse range of disciplinary approaches and cultural perspectives, including from Japan, Samoa, Australia and the United States. For the complete programme, visit www.otago.ac.nz/historyarthistory/staff/otago045224.html
---