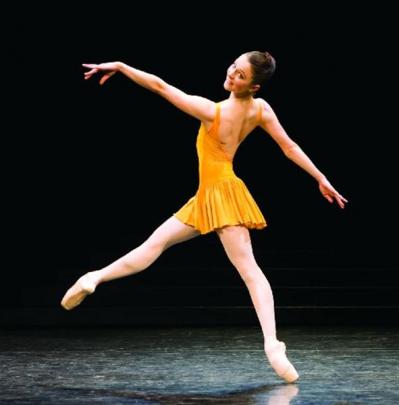 It will be ballet with all the best bits when the Royal New Zealand Ballet's biennial showcase "Tutus on Tour" wheels into town next week.
Nigel Benson talks to RNZB artistic director Gary Harris.
The Royal New Zealand Ballet's most popular tour thunders into town next Wednesday.
"Tutus on Tour" is a smorgasbord of dance, aimed as much at a contemporary audience as the classical aficionado.
It's the evening of ballet which even people with two left feet will enjoy.
"The `Tutus on Tour' programme always has a really good variety of dance," RNZB artistic director Gary Harris tells the Otago Daily Times.
"It's bright, energetic and visually stunning. The dancers love it, because it's a good chance for them to show off.
"But, it's tough for the dancers, too, because they're working in very different styles. For me, that's a big part of the fun; working out how it's going to flow. I love doing all that."
The biennial tour divides the company's 32 dancers into two groups, one touring the South Island and the other touring the North Island.
Both tours will showcase a palette of five works in 47 centres around New Zealand this month.
"There's 16 dancers in each group," Harris says. "'Tutus On Tour' allows us a unique opportunity to bring home-grown dance to communities throughout New Zealand, while at the same time celebrating the beginnings of our ballet company."
The 10th "Tutus on Tour" also shows how far the company has travelled.
When the RNZB started touring in 1953, all of the dancers were billeted by the local communities where they performed.
This tour involves a five-tonne truck packed with costumes, hundreds of pointe shoes, 40m of ballet shoe ribbon, 120m of dance floor, 280 rolls of PVC tape, a lighting rig, sound system, a washing machine, drier and a kettle for making tea.
The two companies will stay in nearly 600 different motel rooms during the tour.
There are also logistical challenges. Lighting designer Nigel Percy had to create a lighting scheme which was self-contained and used as little power as possible, so the programme could play anywhere and not just in traditional theatres.
"The staging doesn't allow for different backdrops to be used, so lighting becomes the only way of trying to create a distinct look for each of the five works," Percy says. "This can be challenging to achieve sometimes."
The programme is:
Saltarello
Christopher Hampson's epic work Saltarello was performed in Dunedin at the Regent Theatre in 2004.
The mysterious and sensual 25-minute piece features dancers in shimmering silver and black - the men in Celtic-style short kilts over leotards and the women in matching metallic skirts.
The costumes match the mood as the work moves in a heartbeat from courtly elegance to explosive energy.
The inspiration for Saltarello came from the Giovanni Boccaccio 1350 masterpiece Decameron and tells the tale of a group of young nobles who withdraw from plague-ravaged Florence and entertain themselves with bravura displays of dancing.
The saltarello was an energetic dance popular in the 14th century.
Currently Under Investigation
A work by top Australian choreographer Garry Stewart, Currently Under Investigation is an innovative and highly-charged nine-minute piece which mixes the classical and the contemporary.
The dancers are all dressed in white, contemporary street fashion, with a backdrop of a soundscape by English-Canadian electronic musician Richie Hawtin.
"Currently Under Investigation is a very physical work, with elements of breakdancing and kung-fu," Harris says. "It's a very hard-core piece."
Former-RNZB dancer Andrew Simmons returns to New Zealand for the premiere of this 10-minute work.
Through to You
Through to You was inspired by the music composition Spiegel Im Spiegel, which loosely translates as "mirror in the mirror".
"I thought that it was an interesting term and started to think about the many ways it could be interpreted," Simmons says.
"For example, looking into someone and seeing a part of you in them, or looking into yourself and seeing what you give out as a person.
I found that seeing a part of yourself in another person and feeling a connection creates a very comforting feeling where you are at ease to be truly yourself and express yourself fully in whatever sense."
Holberg Suite
RNZB ballet master Greg Horsman's 15-minute Holberg Suite explores themes of speed and precision in a work that "puts the tutu into 'Tutus on Tour'," according to Harris.
Horsman says the dance will showcase the strength and beauty of the dancers.
"In my role as ballet master with the Royal New Zealand Ballet, I work very closely with the dancers to continue developing their classical technique. This is something that dancers work at every day in their ballet class.
"When I was contemplating what I would choreograph, I thought it would be great to create a ballet that includes some of the principles that I teach; such as strength, elegance, speed, precision and musicality. I have endeavoured to include these."
Koo Koo Ka Choo
One for Beatles fans, Koo Koo Ka Choo is set to and inspired by the music of John Lennon and Paul McCartney.
Choreographed by RNZB dancers Catherine Eddy and Brendan Bradshaw, the upbeat 20-minute work explores the stages of love.
The costume designers were inspired by 1960s fashion icon Twiggy, costuming female dancers in simple, bright leotards and skirts.
The work is set to Help!, All My Loving, I Want to Hold Your Hand, and a list of other Beatles classics.
"Koo Koo is a lovely work that's all Beatles love songs," Harris says.See them
Tower Tutus on Tour is on at 7.30pm in the Dunedin Town Hall on Wednesday, March 18.