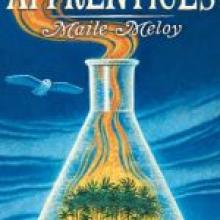 Girls can have adventures, too, as
The Apprentices
by Maile Meloy demonstrates. Although this is a sequel to Meloy's prizewinning tale, The Apothecary, The Apprentices stands alone with enough from the earlier story to put the reader in the picture.
It is 1954 and Janie Scott is at school at Grayson Academy, the United States, working on a science project to desalinate seawater.
Just when she has it sussed, Janie's equipment and notes are stolen and, in a trumped-up accusation of cheating, she is expelled.
Fantasy enters the mix when, desperate, Janie tries to contact her friend Benjamin Burrows and his apothecary father, who are working in Vietnam.
They meet again after a crazy chase around the Pacific - but the adventure doesn't end there.
This is a lively story, whose historical background gives extra zing.
- Gillian Vine