Our reviews of the latest books from home and abroad.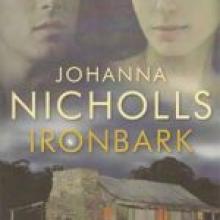 Lovers of historical dramas which are well-supplied with strong characters, action, romance, plot twists and plentiful background research, should enjoy Johanna Nicholls'
Ironbark
(Simon and Schuster, $37, pbk).
It's a long read, but its characters' stories move at pace. Introduced separately, their fortunes interweave in a manner satisfying to readers who like the suspense of misunderstandings, cruelties and injustices, knowing that somehow most problems will be solved in the end.
Set in Australia at the time of convict settlements, it follows the fortunes of three main characters. Jake is the lead man; tough yet tender, born in Australia of convict parents. Keziah is a beautiful, spirited woman of gypsy heritage who travels from England to Australia determined to find her husband, who has been transported for horse theft. Daniel is an artist serving a prison term after being convicted of forgery in England.
Careful research is evident throughout the book, with graphic descriptions of conditions experienced by some convict prisoners, as well as convincing portrayals of differing life-styles in early colonial Australia.
The characters seem larger than life, but need to be to sustain such a long and complicated saga. The character of Keziah is particularly strong and although her semi-magical powers stretch credulity, her gypsy heritage provides an interesting insight into Romany beliefs. Nicholls has worked as head script editor for the ABC's television drama department.
Reading Ironbark, one can imagine it being designed to become a blockbuster movie or television series. It has all the ingredients common to a major soap opera.
- Patricia Thwaites
---
Two storytellers in
What Remains Behind
by Dorothy Fowler (Black Swan, $29.99, pbk) take turns at relating their tales. The main one is Chloe Davis, an archaeologist, who is working on a rescue dig on land near Kaipara in the Far North . . . A "rescue dig", in the narrator's words, ". . . means that we stripmine the place for artefacts and leave the best report we can about what was once there."
What was there was an eccentric religious community, destroyed in the 19th century by a mysterious fire which killed six people. The report has been requested by the local council because a local consortium of property developers, led by Chloe's Shane, wants to subdivide the land into lifestyle blocks.
Chloe has close links with the land, which has been farmed by her family since the 1800s, when the religious community was flourishing.
The other storyteller is a girl from that community, providing an insight into how it was formed and her life within it by writing in her diary. The two voices are very different: one colloquial Kiwi, the other formal Victorian.
I found my attention wavering at the beginning. I was not particularly interested in an obscure religious sect and the archaeological content meant there was a lot of explaining of archaeologists' methods. I was confused as to where the book was leading and found one of the major characters - Chloe's sister Phaedra - extremely annoying.
However, perseverance began to be rewarded as the story gathered momentum. Clues to a complicated whodunit had been buried among the quite dense script and the book's ending made up in excitement for a somewhat dull beginning.
- Patricia Thwaites
---
A futuristic satire on media, technology and globalisation,
Pop Apocalypse
(Harper Perennial, $24.99, pbk) is the first novel from US author Lee Konstantinou.
Eliot Vanderthorpe jun is the scion of a family of evangelical entrepreneurs. He's about to be listed on the New York Reputations Exchange by his father and become a society "name" followed by millions around the digitally saturated globe.
But even a personal reputation manager can't save Eliot from himself as he bungles his way into, through and out the other side of a (highly unlikely) global conspiracy.
Konstantinou plays it for laughs. A Vanderthorpe sibling hits the big time as lead singer in a Christian fundamentalist punk group. Marxist Leninist subversives go corporate to speed the development of capitalism and hasten its downfall.
The remaining parts of a disintegrating United States and its "Freedom Coalition" jostle for power with an Islamic caliphate led by a Lebanese pop singer called Fred. But some of the concepts are just close enough to be conceivable that it's a little disconcerting.
Konstantinou is so busy riffing on his supersized audiovisual panopticon that the population of his world sometimes come across as two-dimensional, emotionally pixelated screen shots.
The fantastic plot seems like a loose skeleton serving to hold together his buzzing grab-bag of ideas before they evaporate; fortunately the ideas are compelling, cynical and disturbingly believable enough to carry the day.
- Victor Billot
---