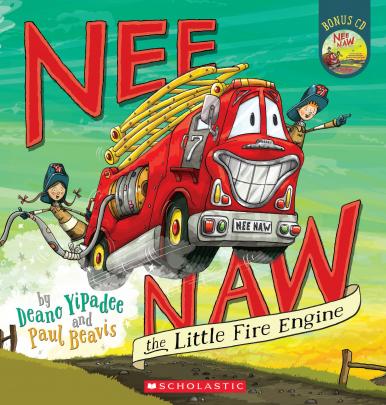 Helen Speirs reviews a selection of the latest books for children.
RURU'S HANGI
Nicki Slade Robinson
Duck Creek Press/David Ling Publishing
I love author illustrator Nicki Slade Robinson's books. This is the sequel to The Little Kiwi's Matariki. Ruru's babies have hatched, and the little Kiwi is quick to share the good news with Tui, Weka and Katipo. She has also hatched a surprise for her morepork friend . . .
Interspersing Maori and English words, the text is simple yet engaging, and the bold, dark and moody illustrations a perfect fit - ka pai!  Ages 3+.
TAWHIRIMATEA: A SONG FOR MATARIKI
June Pitman-Hayes, Kat Merewether
& Ngaere Roberts
Scholastic 
"Tawhirimatea, blow winds blow, Ra, warm us up with your sunshine glow. Papatuanuku, we plant seeds in you. Ua, rain, helps new life come through.''
This lovely story and waiata (on accompanying CD) celebrates the god of weather, Tawhirimatea, the seasons, the universe and whanau.
It is perfectly complemented by evocative pencil, watercolour and Photoshop illustrations of a family enjoying time together and communing with nature. Beautiful. Ages 3+.
THE SINGING DOLPHIN: TE AIHE I WAIATA
Mere Whaanga
Scholastic
Author illustrator Mere Whaanga has written several books designed to keep Maori tribal legends alive.
Here, she uses inspiration from the true story of the dolphin Moko (who lived and played in the sea near the pathway of the whales at Mahia) to tell a new tale - in traditional style - about a grandmother and the fate of her three grandsons.
This is not the carefree tale the book's title might suggest, and will provide plenty of food for thought and discussion. The full text is in English and Maori. The detailed ink and watercolour illustrations are exquisite. Ages 5+.
NGA ATUA: MAORI GODS
Robyn Kahukiwa
Oratia Books
This book provides a great introduction to the Maori gods/supernatural beings/guardians of New Zealand, the nga atua Maori o Aotearoa.
Readers (of all ages) can learn about Tane, who looks after birds, trees and people, Hine-te-iwaiwa, protector of women, girls and babies, the mighty sea gods Tangaroa and Hinemoana, and many more.
The text is short and sweet, and the illustrations bold and bright. A great book for the home or early childhood centre. Ages 3+.
WE'RE OFF TO FIND A KIWI
Juliette MacIver & Kate Wilkinson
Scholastic 
In this simple tale, a little girl and boy go in search of a kiwi but are unsure where to look.
With a bit of help from a tui, sheep and kea, they make their way from city streets to a farm, to the mountains and eventually to the forest, where their efforts are rewarded.
Rhyming text carries the story along, and the dreamy acrylic and pencil illustrations are a perfect fit. Lovely. Ages 2+.
NEE NAW THE LITTLE FIRE ENGINE
Deano Yipadee & Paul Beavis
Scholastic
Another terrific read (and singalong with the accompanying CD) from Scholastic, courtesy of Mosgiel-born children's musician and author Dean O'Brien (aka Deano Yipadee).
Nee Naw is the little old and dented fire engine who could! Although the big bright new engines don't rate him, when there's a fire at Granny's house (which looks surprisingly like a fabulous castle), guess who comes to the rescue?
Fabulous fun illustrations from the talented Paul Beavis make this title simply irresistible. Ages 3+.
Helen Speirs is former ODT books editor.