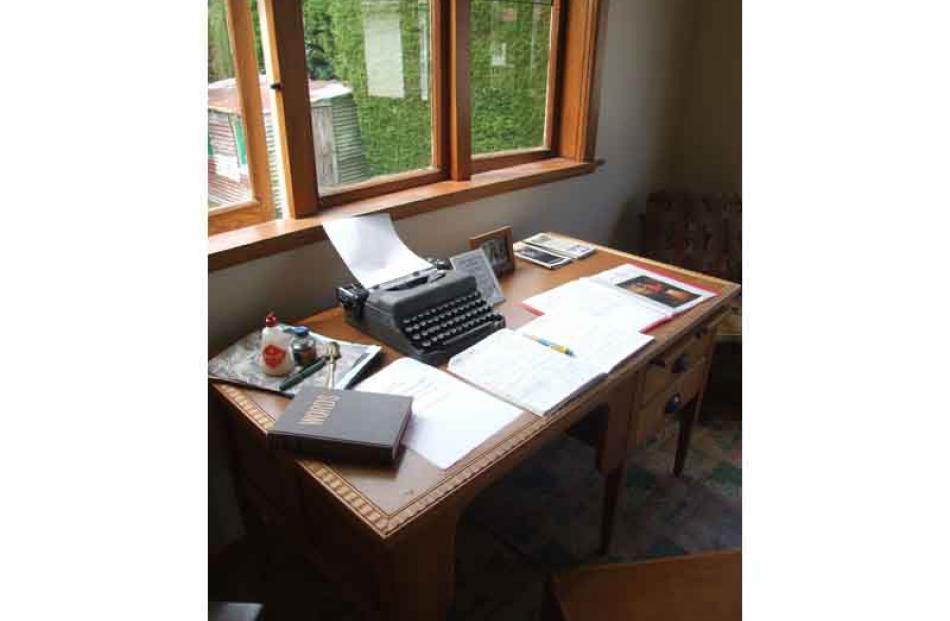 Author Janet Frame's old childhood home in Oamaru is attracting visitors from around the world. Sally Rae pays a visit to 56 Eden St and meets its curator, Ralph Sherwood.

Visitors to 56 Eden St often ask Ralph Sherwood if he ever met Janet Frame.

"I have to say, unfortunately not. However, after four years of spending a lot of time in this house, quite often all by myself, I feel that in some way or another I actually have met Janet and, indeed, we have become very good friends."
Mr Sherwood, a former school teacher, said a lot of other visitors remarked they could almost feel Frame's presence.
"Her presence in the house is almost sometimes palpable," he said.
The modest house, which is owned by the Janet Frame Eden St Trust, has been refurbished appropriate to the era in which the Frame family rented the property, from 1931 to 1944.
Frame, who died in 2004, was supportive of the "reframing" project. The house is open to visitors between November 1 and the end of April.
Mr Sherwood is present every day, except Sunday, between 2pm and 4pm.
His interest in Frame's writing went back to the "dark ages" he said, laughing, when he was a university student and New Zealand literature was more or less in its infancy.
The only book on the reading list that made any particular impression on him was Owls Do Cry and he has been fascinated by Frame's writing ever since.
Since he became associated with the house, he has researched and explored the author and her writing, reading all her novels.
"It's not easy to read Janet Frame. It's sit up straight and pay attention reading. If you're prepared to put in energy and perseverance, its enormously rewarding," he said.
Visitor numbers to the house are up this year on last year, with a lot from the UK and Europe at the moment, and Mr Sherwood has met many interesting people.
He recently spoke to an Italian student who was doing a PhD on Frame, and also met three visitors from Poland - "so they knew about Janet Frame, too".
One of the most gratifying things was the house had become a literary heritage site not only for Oamaru and not only for New Zealand, but for the world.
There had also been more men visiting the house this season. It was a misconception that Frame was a women's writer, he said.
Now in his fourth season as curator, Mr Sherwood said he "just sort of drifted" into the role.
"I didn't fill in any application forms or present a CV. I was lucky enough to have time and the interest to devote to it."
The Janet Frame Eden St Trust board was very keen the house should be allowed to evolve in its own way.
"It leads us rather than us impose things on it," he said.
Mr Sherwood explains to visitors that it was while Frame was living at 56 Eden St that the "whole process of creative expression" began.
It was where she learned the absolute power of words, language and imagination. Nothing in the house is roped off and it is "perfectly all right" to touch things.
Visitors are invited to sit at a desk - not original to the house but original to Frame - in a room at the rear of the house and "savour the moment".
That room, which overlooks the reserve where Frame used to milk the family cow, was a favourite spot for Mr Sherwood to sit during winter when he was checking the house.
The house and colourful garden was a "magical space" - "almost like a parallel universe" - and it opened itself up to people who were ready to meet it, Mr Sherwood said.
"We are so fortunate that the house is still here and has become such an interesting focus for people who are interested in world literature. It's such a wonderful, tranquil place."