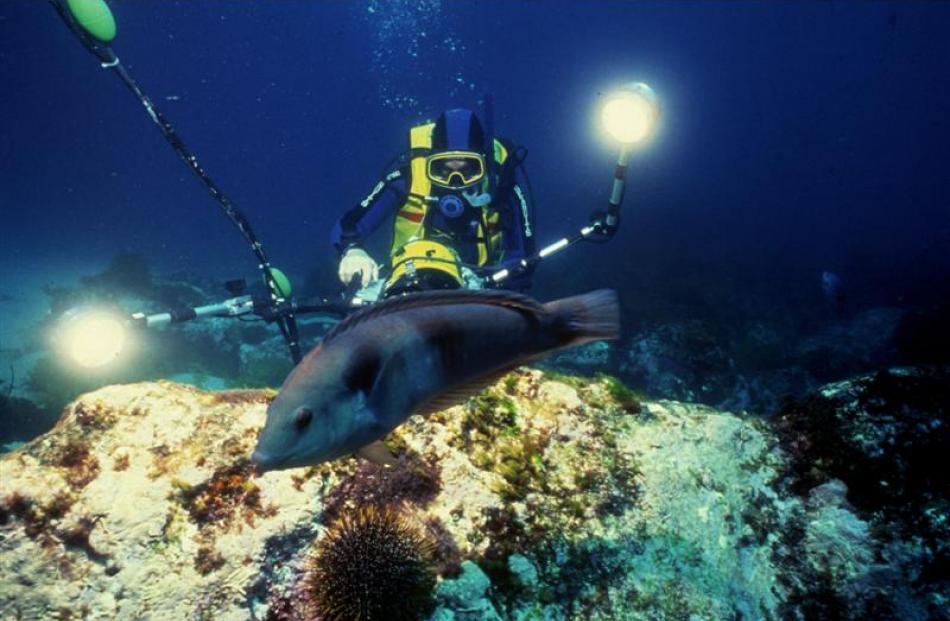 Nature's random acts provide the magic in a new ''blue-chip'' collaboration between NHNZ and TVNZ. But, as with all good stories, it's all in the telling, writes Shane Gilchrist.
As a founding member of New Zealand's Great White Shark Research Project, Picton-based Kina Scollay has helped develop a system used to identify such creatures by visual markings.
That means he can put a name to more than a few of these rather large predatory fish, including Isabella, a female great white.
''All teeth and attitude,'' and named after Scollay's niece, she turned up off Stewart Island last year while he was filming a sequence for a new six-part underwater series, Our Big Blue Backyard.
Produced by Dunedin-based NHNZ, in collaboration with TVNZ, the series premiered on TV One last night and presents an intimate portrayal of some of New Zealand's most charismatic ocean wildlife.
Highlights include a massive group of hunting orca off Northland, a fur seal nursery waterfall pool at Kaikoura and, as mentioned, Stewart Island's pack of idiosyncratic white sharks.
''It's close-up and personal,'' Scollay says of the footage of the great white sharks, adding he filmed within a cage, as per a code of conduct related to shark conservation in New Zealand waters.
''We don't like to free-swim with them. Still, it's pretty exciting to film them from within a cage.''
Indeed, some shots are more exciting (and expensive) than others, as his testimony regarding other shoots would indicate: ''When a camera gets that far into a great white's mouth, it's not good for the camera. Those sorts of shots are not done on zoom.
''You're talking about something the size of a car. I've been filming them for a long time and they just destroy camera gear.''
Curious sharks aside, Scollay and his fellow crew faced challenges in various forms, and in various places.
''The South Island's West Coast is probably the most challenging place to film anything,'' he says in reference to an episode focusing on the Open Bay Islands.
''It's really exposed and the water can be really murky. Success and failure can rely on big calls and local knowledge. At times we had a metre of visibility, yet we're trying to capture something that looks great on TV.
''When we were in Kaikoura, we had a pod of orca turn up one day. We weren't planning to shoot killer whales but ...
''Likewise, when we were filming some kelp forest scenes off Stewart Island, this Hooker sea lion turned up. These are full-on animals. All of a sudden we had 400kg of critter right in your face, chasing my co-diver who is trying to swim out of frame while I'm trying to film.
''Some of the greatest stuff can't be planned for. It comes down to skill and instinct, as well as a desire to just get the job done.''
Judith Curran, NHNZ executive producer of Our Big Blue Backyard hopes the series will allow audiences to look at the ocean (and the marine characters that star in the six shows) with fresh eyes.
''I had a good idea of what I wanted the series to be. That's based on research, knowing the subject, but it is also about universal storytelling.
''Regardless of whether I'm working with orangutans or New Zealand birds or marine species, it is about tapping into a narrative arc: what are the challenges for our 'hero' animals,'' she explains.
''We then need to be clear about what we are trying to capture in the water in order for the editors to make a compelling sequence.''
In short, a road-map is required to help keep the story on track. Yet nature offers random, magic moments that allow occasional detours.
''And you have to be open to those,'' Curran says, adding that her responsibilities included sticking to budget while keeping in mind the series had to work for a New Zealand audience as well as be distributed around the world ''without too much work being done on other versions''.
Funded by NZ On Air's Platinum Fund, as well as TV One and NHNZ, Our Big Blue Backyard spent two years in development, from 2011-12. Filming began in late 2012 and continued for a year, a time-frame Curran says was relatively short for a ''blue-chip'' underwater series.
''Blue-chip refers to marine documentaries focused on animals and their environments. They might have a human narrator, but there are no humans on screen. The minute you put people in a show, it becomes something different.
''Most documentary series of this type take two or three years of filming, so to take just 12 months to film was quite exceptional.
''Logistically, an underwater show is the zenith of challenges for any wildlife film-maker,'' Curran says.
''The minute you have someone in the water with a camera you have to have people watching their backs.
''And in New Zealand, the weather is a massive issue; you don't get weeks of settled days.
''And you don't know if the animals are going to be there.''
---
OUR BIG BLUE BACKYARD: IN SHORT
Episode 1: Northland As the tide rises in Northland's harbours, stingrays and eagle rays swim in to feast on shellfish. But they are not the top of the food chain. Only in New Zealand, and only in these harbours, do orca hunt rays. As the tide ebbs, the once underwater world of Northland's mangroves surfaces and seethes. Twisted roots are exposed and become a seafood platter for patient herons, spoonbills, and shags.
Episode 2: Goat Island Just north of Auckland, tens of thousands of fish school metres from the beach in Goat Island Reserve, where giant snapper can live for 80 years and crayfish grow to weigh 8kg. Both feed on the thousands of sea urchins that graze the kelp forest, maintaining a delicately balanced ecosystem.
Episode 3: Poor Knights Islands The East Auckland current warms the waters around the world-renowned Poor Knights Islands, creating an astonishing environment in which stingrays stack themselves between underwater walls; demoiselles and black angelfish fathers keep a watchful eye on neighbours; when a male Sandagers wrasse disappears, one of the females undergoes a sex change to pick up the missing male's responsibilities. On land, the tuatara and giant weta fuel an ancient feud, while gannets rest for their next attack.
Episode 4: Kaikoura Just beyond the Kaikoura Peninsula lies a dramatic, 1200m-deep canyon supplying nutrient-rich food to a bevy of hungry animals above and underwater. The always-playful Dusky dolphins, New Zealand fur seals and red-billed gulls take advantage of this bounty during breeding season.
Episode 5: Open Bay Islands It's summer at the Open Bay Islands, off the South Island's West Coast, and the local population swells. Octopus, crayfish and penguins are joined by more than 4000 New Zealand fur seals. Mothers balance the demands of nursing pups, mating males and their own need to efficiently hunt and feed.
Episode 6: Stewart Island Standing at just 30cm and weighing only 1kg, little blue penguins run the gauntlet to escape predators, but they are not the only species flirting with death at Stewart Island. Here, the seahorse father has extra responsibilities, the octopus is both hunter and hunted, and 82 great white sharks need to eat, too.
---