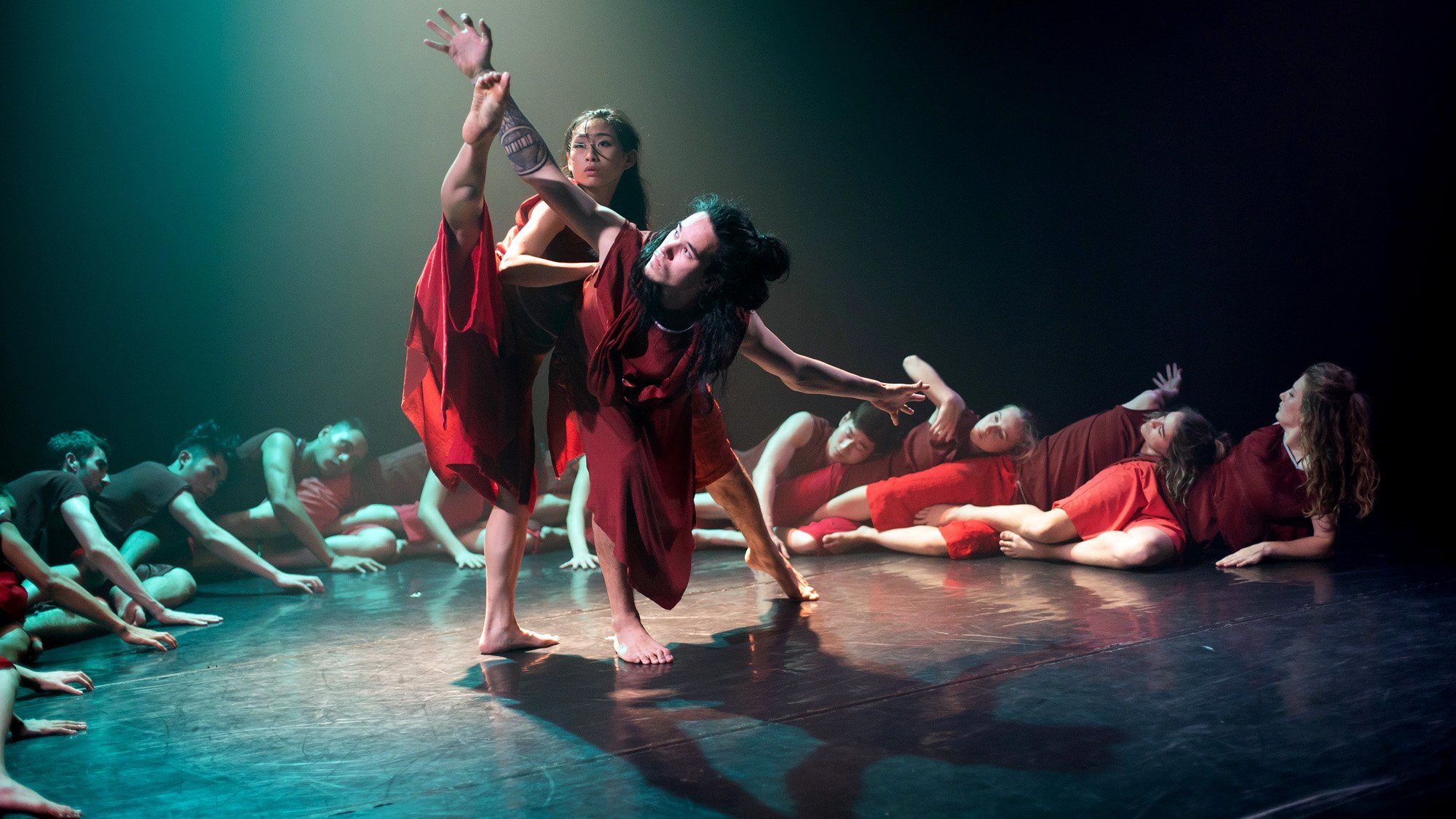 They may come from different countries and different backgrounds, but those involved in Hemispheres share a passion for dance. Rebecca Fox talks to the dancers. 
Not being able to speak each other's language has not prevented dancers from New Zealand and China creating new works.
Footnote New Zealand Dance and Guangdong Modern Dance Company, China's first contemporary dance company, have collaborated to create Hemispheres.
The piece features three works - two choreographed by New Zealanders Sarah Foster-Sproull and Zahra Killeen-Chance and a third by WU Jianwei, from China - tipped to show the technical mastery of the Chinese dancers and the physicality the New Zealand dancers are known for.
It began two years ago when seven dancers from each company met in China with the choreographers to develop the works.
Footnote then returned to China at the end of last year to tour the works.
The Guangdong dancers arrived in New Zealand last week, and are now embarking on a nationwide tour of Hemispheres.
Headlining the season is former Dunedin choreographer Foster-Sproull's Mass Solitude, followed by Killeen-Chance's Elliptical Fictions, which includes projected imagery by her father, New Zealand artist Richard Killeen, and sound design by Wellington composer Emi Pogoni.
WU's The Spring Tide, is expected to feature the "high-quality artistic expression" Chinese dance is famous for.
GUANGDONG MODERN DANCE COMPANY DANCER CHRISTY POINSETTIA MA (HONG KONG)
Learning from each other and respecting each other's uniqueness has been what has made this collaboration special, Poinsettia says.
GMDC dancers are mostly from a classical background and Footnote dancers are from diverse backgrounds.
"There's no good or bad in this difference as it is related to the direction of the companies and choreographies.
"The similarity between the dancers from two companies is that we are all very open-minded and passionate in dancing that we are willing to share."
She has learnt some hip-hop moves from Joshua Faleatua (Footnote dancer) and Taniora (Tanz) Motutere (an Auckland dancer working with Footnote) that she had not done before.
"Georgia [Beechey-Gradwell, a Footnote dancer] has shown me how she gained her flexibility and strength through the practice of yoga. Each and every one of them has shown me something special and it's the perk of collaboration."
Collaborations of this kind between companies from different parts of the world are important.
"The differences between us makes it interesting to work together. I am not saying we are very, very different dancers as we all do contemporary dance and humans basically have one head and four limbs and it just couldn't go too far.
"Yet, as Pina Bausch said, `I'm not interested in how people move, but what moves them.'
"We are different because of the difference intrinsically, how we think, how we perceive, how we transform them into movements. And this difference is most obvious for people with different experience, and I guess living in the other part of the world makes this difference huge and this gap is what makes the collaboration beautiful."
She has been fascinated by how the questions and thinking that has arisen out of Foster-Sproull's work has provoked her and pushed her to further explore movement.
"Yet, I think the most obvious impact is that I connect my mind and body together and I believe the audience can perceive it while watching the performance.
"I am grateful for how this experience has made me a better performer, the process has its hardship and challenges, but I am looking forward to sharing it with the audience in New Zealand."
Working with the other dancers has been fun.
"We would just do stuffs and the other would find it interesting and we'd do it together and then that simple spark just gradually become something wonderful."
Poinsettia has only been with GDMC for a year and this project was the first he had taken part in with the company.
She came to the company after she decided it would be nice to experience life in a full-time company and keep up regular training.
After graduating from Hong Kong Academy for Performing Arts she co-choreographed In The Amorphous Beings, which premiered in Georgetown Festival 2017.
Then she was involved in the Hong Kong Arts Festival, a collaboration in Asia Culture Centre in Gwangju, Korea with female dancers from different regions around Asia, choreographed by Ahn Aesoon.
His love of dance came later for Poinsettia who first went to university to study philosophy and then acting after studying in regular schools and taking a weekly dance class.
"I would say it was like a sleeping volcano, it slept till one day that I decided to finally go for it.
"I changed my mind and studied acting because I love performing. Then I just gradually discovered my love for movement, and here I am."
Her late start to dance meant she had more challenges with physicality like flexibility.
"But it has made me more determined and I cherish the opportunity to work in a professional dance company."
While she loves watching any form of dancing, she prefers to dance in certain styles.
"I used to hate doing ballet, but I slowly fell in love with ballet as I take more ballet class and got inspired by some great teachers. So, I guess you don't really know if you like something until you learn about it enough."
She is also interested exploring how the physical body can speak one's mind when words are not enough and in performance art, visual art and installation art.
It is Poinsettia's first trip to New Zealand but she realised before she came she know little about the country except it is not as populated as Hong Kong.
Her other memory is of watching a television show where Miss Hong Kong visited New Zealand where she had studied.
"New Zealand gives me the impression of sunny weather, big mountains and probably having a diversity in plants and animals."
Since arriving in New Zealand she had realised she had totally underestimated the "sunniness and friendliness" of people.
FOOTNOTE NEW ZEALAND DANCE COMPANY DANCER JOSHUA FALEATUA (AUCKLAND)
Beautiful but hard is how Joshua Faleatua describes the collaboration between the Footnote dancers and the GMDC dancers.
Faleatua, who has been dancing with Footnote for three years, found the language barrier quite difficult as most of the GMDC dancers did not know much English.
"We had a translator but the translation often did not come across exactly as the choreographer wanted.
"It was a lot harder than I thought it would be."
However, that did not stop them creating "beautiful" work, he says.
"It was cool we could still be creative together regardless."
For Faleatua it was a unique experience to perform to an audience on the other side of the world when the companies toured the works last year.
"It was real different, the atmosphere was real different."
He found it surprising that it was not unusual for many in the audience to stand up and take video or pictures in the middle of the show.
"It's little things like that you don't worry about [here]. You don't have to worry about flashes going off and cameras while you're dancing."
Their performances were well received with audience members often saying it was different to what they were used to seeing.
A lot of the dance Faleatua saw while in China was "traditional contemporary" - very technique based with a strong ballet influence.
"Our piece was quite abstract compared to what I saw there."
Faleatua comes from a hip-hop background after starting dance learning break dance from his older brothers.
While Footnote dancers are trained in technique they are also trained to think outside the box and explore different pathways as dancers.
"Coming from two countries, different cultures makes this a true collaboration."
To see 
• Hemispheres, Regent Theatre, Dunedin, February 26. 
• There is a free gallery performance at Dunedin Public Art Gallery at 12.30pm, Tuesday February 26. Entry is by donation.