A new film work by Dunedin dancer, choreographer and film-maker Daniel Belton will debut in a massive outdoor projection as part of Christchurch's upcoming Matariki celebrations.  Rebecca Fox discovers its intriguing origins.
Dancer, choreographer and film-maker Daniel Belton and composer Dame Gillian Whitehead have a lot in common.
They are both based in Dunedin, are well-known in their fields and like to push the boundaries in their work.
So it is surprising they have never worked together — before now.
For Belton, Whitehead has been pivotal to the creation of his latest dance film Ad Parnassum - Purapurawhetu, even more so than first envisaged.
The idea for the work has been bubbling away in the back of Belton's mind since he first saw Bauhaus master Paul Klee's Ad Parnassum painting of 1932 in Switzerland back in 2012.
"It's a stunning divisionist work. It really spoke to me, touched my heart and I thought I'd love to respond to this work one day. To unpack it and share it in a contemporary sense."
Belton has long had a personal interest in Klee's work, which also inspired earlier work for the Good Company Arts (GCA) project such as the dance film and performance series Equilibrist (2016) and his Creative New Zealand Choreographic Fellowship project Line Dances (2010).
"He's an artist I really admire."
In 2019 he decided the time was right to make the work, but he wanted to bring a Pacific and Maori response to the painting to join its obvious links to Mt Parnassus, ancient Greece and the pyramids of Egypt which the artist had visited prior to making the painting.
"We began a conversation around a fusion of Mediterranean and Maori and Pacific Island folklore and mythology [that] could be bound together in a contemporary work."
The tukutuku (Maori lattice weaving) of elder Sonia Snowden, in particular her artwork titled Matariki, came to mind for Belton and influenced the graphic design and the name of the film.
"The pattern purapurawhetu, a design which refers to the stars or star dust, in the upper part of the panel, is a tukutuku design interpretation of the seven star cluster Matariki or Pleiades."
Belton says the tukutuku was woven to acknowledge the Maori New Year and speaks to the early reclamation of knowledge surrounding Matariki by Maori.
So he sought out Whitehead, who is known for her work composing for taonga puoro — Maori traditional musical instruments — and also has a love of Klee's work.
The idea was to create a live performance experience, with Whitehead composing the music while watching the dancers creating, but then Covid-19 hit.

"We realised we were navigating tricky waters with lockdowns."
So like many arts groups at that time they pivoted, deciding the best way forward was to create the work as a 30-minute film instead.
This meant Whitehead was given the opportunity to compose the music which the dancers then responded to.
"I was really interested in working the other way with the dancers, so it was disappointing."
She created a score for string quartet and taonga puoro, fusing classical European and traditional Maori music practices and references to the Matariki constellation and the Greek Pleiades. Bells used by shepherds in Europe and collected by Belton have also been used.
"She found and carefully incorporated an ancient Mediterranean song, Hymn to the Sun, in her score, which connects the audience aurally to ancient Greece, to a time when Delphi and Mt Parnassus were acknowledged as sacred places, home to the Nine Muses."
When restrictions eased, the pair then met for a weekend with a cellist and went through parts of the score together.
"It was inspiring and exciting."
Whitehead says being able to work together was a big help, as in order for a piece to work well it was important to have lots of collaboration and ideas floating around.
At the same time Belton and his team were creating a "virtual synography or scaffolding" to house the dancers, a space for them to exist and tell their story.
It was also significant in that it meant the project was under way, something Belton and GCA thought might never happen.
Assistant director Donnie Harrison says it was an unusual way to work but it was the only way to do it within the constraints of the time.
"We're really grateful we could make a work in a worldwide pandemic."
So with the score recorded in 2020 by the New Zealand String Quartet and taonga puoro musician Alistair Fraser, conducted by Kenneth Young, Belton brought in nine dancers from across the country and from varied cultures and heritages including Maori, Japanese, Fijian, Indian and European, led by Christina Guieb and Jahara Wasalala.
In their research for the film, the team linked the nine muses of ancient Greece with the nine stars of Matariki — Matariki (Alcyone) the mother of the other stars in the constellation; Pohutukawa who connects Matariki to the dead and is the star that carries our dead across the year (Sterope/ Asterope); Tupuanuku who is tied to food that grows in the ground (Pleione); Tupuarangi who is tied to food that comes from above your head such as birds and fruit (Atlas); Waiti who is tied to food that comes from fresh water (Maia); Waita who is tied to food that comes from salt water (Taygeta); Waipunarangi who is tied to the rain (Electra); Ururangi who is tied to the winds (Merope) and Hiwaiterangi/Hiwa who is the youngest star in the cluster, the star you send your wishes to (Celaeno).
"In the work we are recognising the vital role that women play in providing life and generations to come."
As the work was not narrative, the dancers were not named, in an effort to allow some freedom in exploring and capturing what they created on film.
"I'm not trying with this piece to say 'this dancer is this muse', it's very much an abstract narrative and a response to Paul Klee's painting and in response to other influences," Belton says.
During seven days the dancers, all choreographers in their own right, worked together and apart under the direction of Belton and Harrison, often improvising as he encouraged their own voices to show in the work.
"They are talented artists in their own rights. Then we rolled the camera. It was a very energised week, listening to the music, but we didn't try and align anything to the music."
Then Belton set about montaging the film and music together to find the relationships.
"We've created an elevated celestial space. It's great for Matariki. It's kind of a mythical space. It's what contains the narrative of these nine solos."
The process had been very slow but also a joy to bring together, he says.
"There are sequences of animation which weave across the screen space and shift up and down in the vertical interplay with linear frameworks inspired by Klee's original composition. They create a texture lattice aesthetic which evokes weaving and links the to the celestial. At the heart of Ad Parnassum — Purapurawhetu, there are points of inspiration from Maori arts and craft, from the Mediterranean, and from Europe."
The celestial feeling is amplified not only by the lattice aesthetic but also the dancer's costumes, which were donated by New Zealand fashion designer Kate Sylvester. She provided a collection of white neoprene garments that were able to be adapted to fit the minimalist look of the film.
While the film continues Belton's preference for monochrome work, in a nod to Klee's colourful painting, he has included some colour in the film to allow the humanity of the dancers to show through. He also found Whitehead's score evoked colour.
"We've been very restrained in how we use colour ... when the colour comes in it is very carefully shaded and chosen."
Harrison refers to the colour at the end of the film being like steps to another dimension.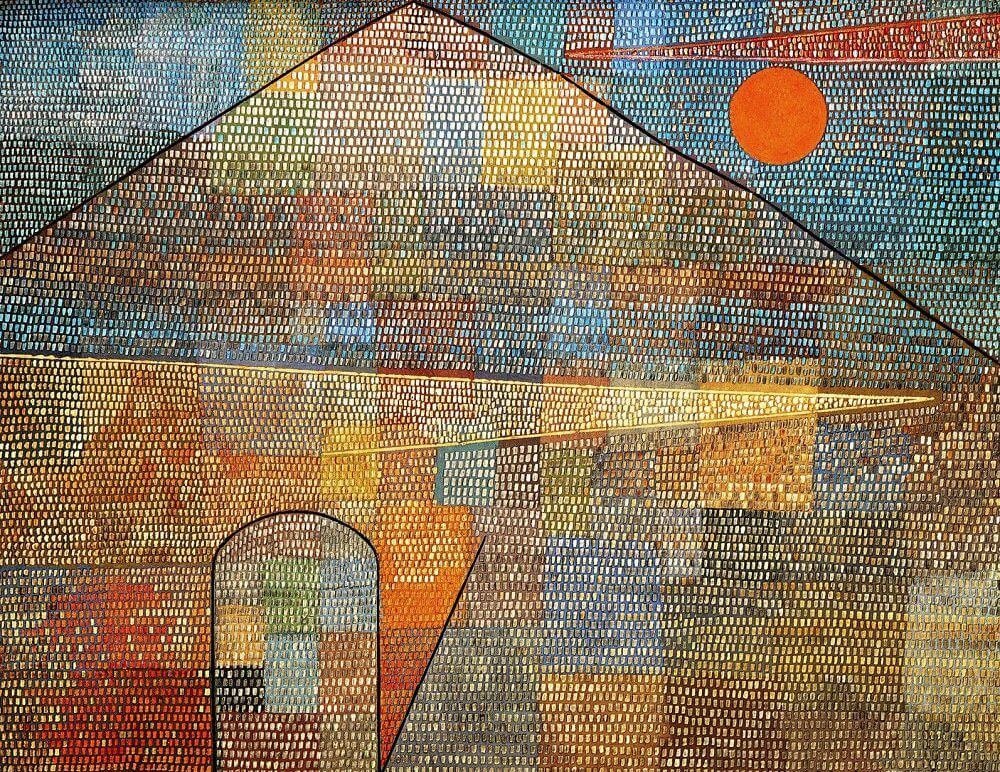 "GCA doesn't do a lot of colour work, but we are introducing more colour into the works."
For Matariki the work is going to be projection mapped on to a custom-designed screen about 11m wide outside in the quadrangle of the Christchurch Art Centre. On opening night there will be two live dancers and a live musician to "activate the projection".
"The quadrangle is stunning. What we are hoping for is a run of really great starry nights where we can see all the constellations above and that link to Matariki. It's exciting."
They are also hoping to show the film internationally as the world opens up.
"We're excited to be at the point where we have a film ready after three years. We're already talking with the team about how could we unpack this, reverse engineer it in the future, to be a live staged performance with live musicians, live dancers, projection mapping. It's been a really interesting process to get this far."
To see:
Ad Parnassum - Purapurawhetu, Christchurch Art Centre, North Quad, June 21 to July  4, 6pm to 8pm
Artist Talk, June 22, 1-2pm, UC Recital Room; Dunedin Public Art Gallery, June 25, 2pm to 3pm