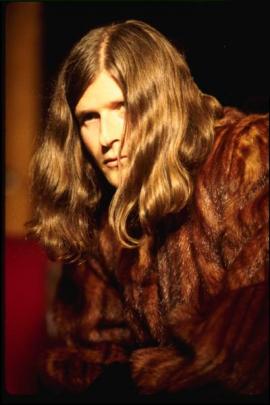 American actor, director and writer Crispin Hellion Glover, the headline act at next month's Dunedin Fringe Festival, prefers to use his roles in Hollywood blockbusters as a launching pad for more experimental films, writes Shane Gilchrist.
Over the years, Crispin Hellion Glover has played some interesting characters, from George McFly in Back to the Future and Thin Man in Charlie's Angels to a monster (Grendal) in Beowulf.
Yet none of those films come close to being as strange as his own efforts as an auteur.
Take Glover's first release as a director, WHAT IS IT? (2005), which features a cast largely comprised of actors with Down's Syndrome, even though the film is not about Down's Syndrome. Rather it is about, ''the adventures of a young man whose principal interests are snails, salt, a pipe and how to get home as tormented by an hubristic racist inner psyche''.
Hmmm.
Glover is bringing WHAT IS IT? and its 2007 sequel, It Is Fine! EVERYTHING IS FINE, to the Dunedin Fringe Festival next month (March 16-17) as well as the Incredibly Strange Film Festival in Auckland soon after.
The films are only one part of the Fringe package; they will be preceded by the ''Big Slide Show'', a concept Glover has been taking to audiences around the globe since 1992.
''The live aspects of the shows are not to be underestimated,'' Glover explains earlier this week via answers to a series of emailed questions.
For his ''Big Slide Show'', Glover will perform a one-hour dramatic narration of eight different books he has published.
''The books are taken from older books from the 1800s. They have been changed into different books from what they originally were. They are heavily illustrated with original drawings and reworked images and photographs.
''I started making my books in 1983 for my own enjoyment without the concept of publishing them. I had always written and drawn and the books came as an accidental outgrowth of that.
''Sometimes people see thematic correlations between the content of my books and the content of the films.
''I consider what I am doing to be following in the steps of vaudeville performers. Vaudeville was the main form of entertainment for most of the history of the United States. It has only relatively recently stopped being the main source of entertainment, but that does not mean this live element mixed with other media is no longer viable.''
Glover takes no small element of pride in the fact he goes to great lengths (sometimes many hours) to answer questions from audience members in regards both his slide shows and his films.
''It is enjoyable to travel and visit places, to meet people, perform the shows and have an interaction with the audiences and discussions about the films afterwards. The forum after the show is also not to be under-estimated as it is a very important part of the show for the audience.
''In this economy it seems like touring with the live show and showing the films with a book signing is a good basic safety net for recouping the money I have invested in the films.''
As a teenager in Los Angeles, Glover took whatever work he could, ''including TV commercials''; at the age of 20, he landed a role in the 1985 Michael J. Fox blockbuster Back to the Future, which led to a leading role in River's Edge the following year and, in 2000, the first Charlie's Angels movie. About that time he began to finance his own films with the proceeds of his successful work.
''After Back to the Future came out and was such a commercial success, I felt a certain obligation towards finding material that somehow reflected my psychological interests.''
Glover acknowledges that his more experimental sojourns would probably not have made it to the big screen had he not been involved in such mainstream movies. He also says it has been a delicate balancing act juggling commercial success with creative vision.
''Charlie's Angels did very well financially and was good for my acting career. I started getting better roles that also paid better and I could continue using that money to finance my films that I am so truly passionate about.
''I have been able to divorce myself from the content of the films that I act in and look at acting as a craft that I am helping other film-makers to accomplish what it is that they want to do.
''Usually, film-makers have hired me because there is something they have felt would be interesting to accomplish with using me in their film and usually I can try to do something interesting as an actor,'' Glover explains.
''If, for some reason, the director is not truly interested in doing something with the character that I personally find interesting, then I can console myself that the money I am making can help to fund my own films, ones that I am so truly passionate about. Usually, however, I feel as though I am able to get something across as an actor that I feel good about. It has worked out well.
''Unfortunately, I see the corporately-funded-and-distributed film industry currently as having a hugely propagandising effect on the US population at large ... The key thing to understand about what happens in corporately-funded film-making is that it is not dictated by what the audience wants but what corporate entities want the audience to see.''
---
See him, hear him
Crispin Hellion Glover brings his ''Big Slide Show and Films'' to the Dunedin Fringe Festival (Red Lecture Theatre, Dunedin, 7pm, R18) on March 16-17.
There are two different slide shows performed each night followed by a feature film. Glover presents his film It is Fine! EVERYTHING IS FINE on March 16 and WHAT IS IT? the following night.
---