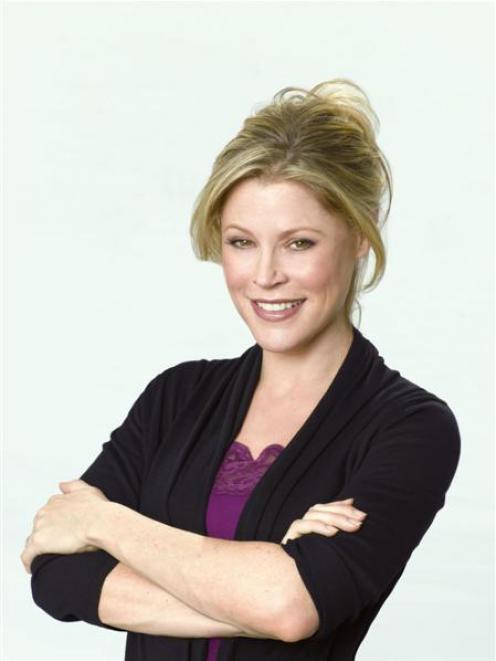 We like Julie Bowen because she slow-danced to
Endless Love
with Adam Sandler in
Happy Gilmore.
We like her sass in the lawyer series Boston Legal.
We talked to her at 5.30am her time, as she was cutting through the canyons of Los Angeles on her way to the set of Modern Family.
Q: It's so early.
A: I know, but this is life. This is what we have to do.
Q: On Modern Family you have three children, and in real life you have three children - do you worry about getting burned out on family on both ends?
A: Yeah. My husband - my real-life husband - asks me, "What do you think single Julie would be doing now?" Probably going to parties, getting a pedicure, going for a long run.
I had many decades of me time and now I just don't have that anymore.
Q: How'd you get this job? A: I read the script and desperately wanted to do it, but I was really pregnant with twins and the character wasn't.
I had to jump through a lot of hoops.
Q: Tell me about growing up in Baltimore.
A: Baltimore is a great place. I had an idealised childhood there and we had a good suburban lifestyle.
No-one locked their doors, and everyone ran around.
Q: And you went into acting after studying the Renaissance in the Ivy League.
A: My parents had an old-fashioned ideal of college, that four years at a liberal arts college should be a liberal arts education.
If you want to specialise, go to grad school ...
I graduated from Brown and said, "Remember how you guys said you'd send me to grad school?" And they said, "Not for acting.
"No no no no. That's not what we meant when we said grad school."
So I waited tables to put myself through acting classes.
Q: Was William Shatner a diva on the set of Boston Legal?
A: Not at all. He is so lovely.
He commands a certain amount of attention and respect and everybody is glad to give it to him because he's still Shatner.
Q: Do you ever get recognised for Happy Gilmore?
A: Most people go, "Wait a minute, that was you?" They can't put those two together.
And oh, my hair in that movie.
It was my first movie and I just said to the hair department, "OK, do you what you want."
And I was in my trailer and thought no-one will see this movie.
It's lived in perpetuity, that big frozen orb of dyed hair.
- Modern Family screens Mondays at 7pm on 3.