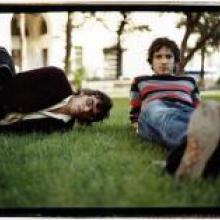 New Zealand comedy duo Bret McKenzie and Jemaine Clement have joined an exclusive club - those who have won a Grammy before releasing a full album.
But that long-awaited album is now not far away, with a full set of quirky Flight of the Conchords songs due for release about April 21.
In the wake of the duo's Grammy success with The Distant Future EP, retailers are gearing up for the album Business Time, but distributors are resisting the urge to bring forward the release date.
Conchords fan Kylie Docherty, product manager of the national chain of CD&DVD Stores, said: ''I think it's going to be huge. They've had fans for years and it's just grown.''
They already have a couple of CDs out - a recording from a BBC radio show and their Grammy winner.
''They were really big Christmas presents, just from them having a really good New Zealand fan base.''
The Grammy had not yet prompted distributors to push for an early release of their new work, Ms Docherty said.
''I suppose you can't get better press coverage than [they] are getting now, but you can't release something if it's not ready.''
Much of the Conchords' pre-Grammy hype was due to the success of their self-titled comedy show on American television network HBO.
It came after they struggled to make a similar show in New Zealand.
Karen Bieleski, who is now Prime's channel manager, said: ''I was at TVNZ about five years ago, and I remember seeing a tape of theirs which was fantastic, but I don't know what happened after that. Nothing came of it.''
She was responsible for snapping up the HBO show for Prime as soon as it was available.
TVNZ corporate affairs manager Megan Richards said she had heard a couple of variations on what happened to the show, but the executives responsible had since left the company.
She could not confirm why it was never picked up.
New Zealand Laugh Festival director Hilary Coe believes the rejection was a blessing in disguise, as Clement and McKenzie headed to the United States and got the HBO deal.
''It's a show that could not have been made in New Zealand. The whole premise is that 'fish out of water' show. And the history of the people that were working on that show . . . the years and years of comedy gold that the director and producer have brought to the show.
''In the States, they have an industry dedicated to comedy professionals.''
Most significantly, the pair gained the expertise of James Bobin, whose past credits include Da Ali G Show, for which he was a co-writer for all 12 episodes in the show's first season.
Bobin was also in the director's chair for six episodes.
When the show came up for auction in New Zealand, Ms Bieleski wanted it for her network.
''It was actually quite a strategic move for us to buy it. We bid against TVNZ and TV3 as far as I'm aware, so it wasn't a case of 'no-one wanted it so we grabbed it'. It was a case where all of us did, but I think Prime wanted it more than the others.
''For a relatively small channel like us, we thought 'We can't go wrong.' I'd seen the pilot; I knew it was great, and we are trying to make a name for ourselves with interesting and distinctive programmes. It was probably more important for Prime to get it.''
She believes the move has paid off. ''For Prime, it's been a show that's really helped put us on the map.'' Ms Bieleski said in some respects, it had received coverage ''slightly out of proportion to the ratings . . . Which is great. It's had enormous cut-through''.
Prime began re-running Flight of the Conchords last week as an ''encore'' but had not anticipated the extra attention a Grammy would bring.
''Because it did so well and we knew it was building steam, we decided to do the encore performance which, in a very nice bit of timing, began last week. If [only] I could claim I knew the Grammys were coming and we thought we'd win one and I whacked it in!
''What I'm hoping is that after all this publicity, with our second-time screening people will see what all the fuss is about and give it a try, because it is just so good.''
Ms Bieleski was not sure when the next season was due because the writers' strike in Hollywood had delayed production on so many shows. - Nick Wilson