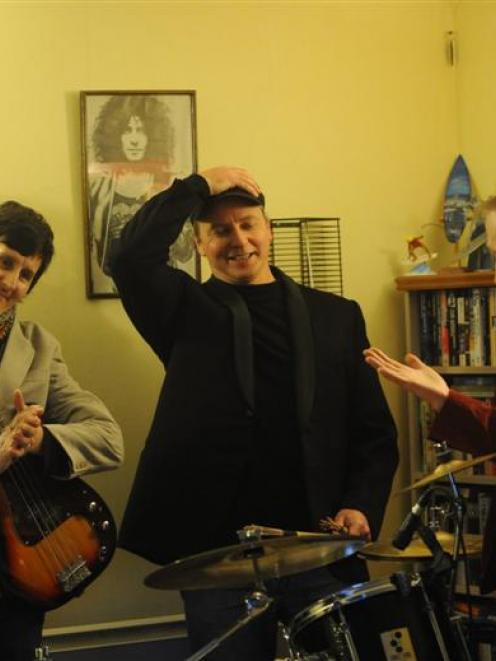 The Bats last played in Dunedin about two years ago at The Backstage, long before the venue met its demise this year.
The band, which is split between Dunedin, well, Port Chalmers, and Christchurch has been around since the early 1980s and has spent much time touring, alongside writing some of the country's catchiest indy-pop tunes.
Next Saturday, The Bats are to share the Sammy's stage with David Kilgour, fellow Dunedin stayers The Puddle, and Haunted Love.
All the bands have solid fanbases in Dunedin, but for at least three of the acts, arguably more fans overseas.
With that in mind, Puddle drummer Ian Henderson has devised the idea of a "virtual show", for people who aren't fortunate enough to live in Dunedin.
"I get a list of those who have bought virtual show tickets," Henderson said.
"I email them and keep them informed of progress. Hopefully, not too long after the show they download some HD videos of highlights - two songs from each band plus other footage - technical details not fully worked out yet. We'll cross that bridge when we get to it".
Henderson says The Puddle has an EP for release next year, recorded in Auckland mostly at the end of its tour earlier this year, though it may grow into an album "if we leave it long enough".
The Bats have finally been persuaded to bring their Guilty Office album release world tour to Dunedin after a stop-start tour in which they have visited the country's other main centres and played to packed-out crowds in the UK, Europe and, more recently, Australia.
The Sammy's concert will be an early start-early finish one, with the first band starting at 8pm and the night's entertainment finishing about midnight.

• See them
The Bats, David Kilgour, The Puddle and Haunted Love play Sammy's on Saturday, November 7