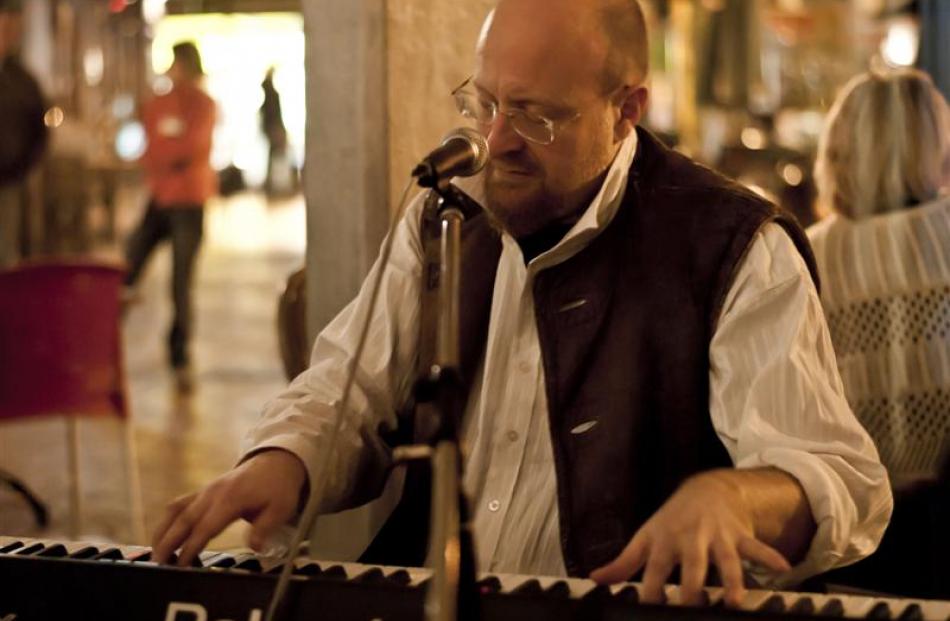 The tribulations and triumphs of Dunedin musician Nick Knox are aired in a new mini-documentary that premieres this weekend. Bruce Munro talks to Knox, and film-makers Max Bellamy and J. Ollie Lucks, about the transformative power of accidents, music and film.
Nick Knox's tall frame is folded to fit a wooden armchair in the shop-front window of The Bads cafe, lower Stuart St, Dunedin.
In the confined space, his knees are a mountain range separating the lofty heights of two upturned business shirt collars, a ginger-grey goatee and gentle, welcoming smile from two firmly planted, large black shoes; the right one attached, not to an ankle, but a metal pole.
Knox recalls his first serious foray as a performing musician about three years ago.
''It was while I still was on the rehabilitation ward, learning to walk with my prosthetic,'' he says.
''I was playing in the art room and some of the fellow recoverers wanted to come and be an audience. They were so into what I was doing, and so encouraging, that I asked some of my friends working at a small bar whether I could come and play.
''So, I did. There were kind of rapturous responses. It was a massive confidence boost and set the trajectory.''
Knox has recently released his second album and is planning regional tours. His haunting musical style is aptly described by local film-maker, musician and cultural commentator Bill Morris.
''Nick's music is thrilling, strange and utterly unique,'' Morris says.
''Imagine Rammstein's tour bus, with a troupe of Tibetan throat singers on board, crashing into the middle of a Bach recital, and you can begin to imagine the sound.''
It is the spontaneous expression of many years' isolation and mental as well as physical ill-health, Knox says.
''I don't want my fingers to do something and then they do that. My fingers play. I put them on the keyboard and they play.
''A recurrent theme is damage. Emotional damage, psychological damage, physical damage.
''I create my music based around my music and feeling states, and to connect with people.''
His music, his struggles and the transformation since losing his leg are the subject of a mini-documentary by Dunedin film-makers J. Ollie Lucks and Max Bellamy. Titled The Characteristics of C-Minor, the beautifully crafted and intensely personal 14-minute biopic premieres on Sky's BBC Knowledge channel tomorrow.
Lucks and Bellamy were the 2013 recipients of a $5400 New Zealand Young Producer grant awarded by BBC Knowledge.
They used the grant to create an exploration and celebration of Knox's music and his life.
''He is such a big gentle giant,'' Lucks says.
''There are aspects of his life you wouldn't guess from talking to him. It's a hidden world.''
''We thought he was an inspiring example,'' Bellamy says.
''He has come out the other side of those trials and tribulations with such vigour and so full of life.''
The sensitive subject matter meant filming took about a month instead of the one week more usual for a short film.
''It was the first time Nick had been in front of a camera, so we had to be very thorough ensuring he was comfortable throughout the process,'' Bellamy says.
Knox is pleased with the results - ''the guys have done an amazing job'' - and says the process has yielded unexpected rewards.
''The film is candid about mental illness ... Initially I was shy about talking about that, compared with the candour I ended up speaking with.
''In the process of making the film it became an enormous growth journey for myself.''
The film successfully enables its subject and the film-makers to take pride in the finished product, Bellamy says.
Lucks is pleased with its ''accurate portrayal'' of Knox.
''His true personality comes across in the film,'' he says.
As cinematographer and co-director charged with making the film ''sing visually'', Bellamy says he is ''proud of how it looks''.
''I hope everyone enjoys it. But I believe for some individuals doing their own soul-searching or facing their own struggles, it will reach them at a personal level,'' he adds.
Knox hopes the documentary will aid his musical career and achieve more beside.
''I'm also feeling increasingly confident that it could foster a wider discussion about mental illness and the value of community.''
Once the film's contract period with BBC Knowledge expires, Lucks and Bellamy hope to distribute it through their own networks and enter it in film festivals.
---
Playing
The Characteristics of C Minor premieres on Sunday, 8.30pm, on the BBC Knowledge channel (SkyTV Ch074).
---