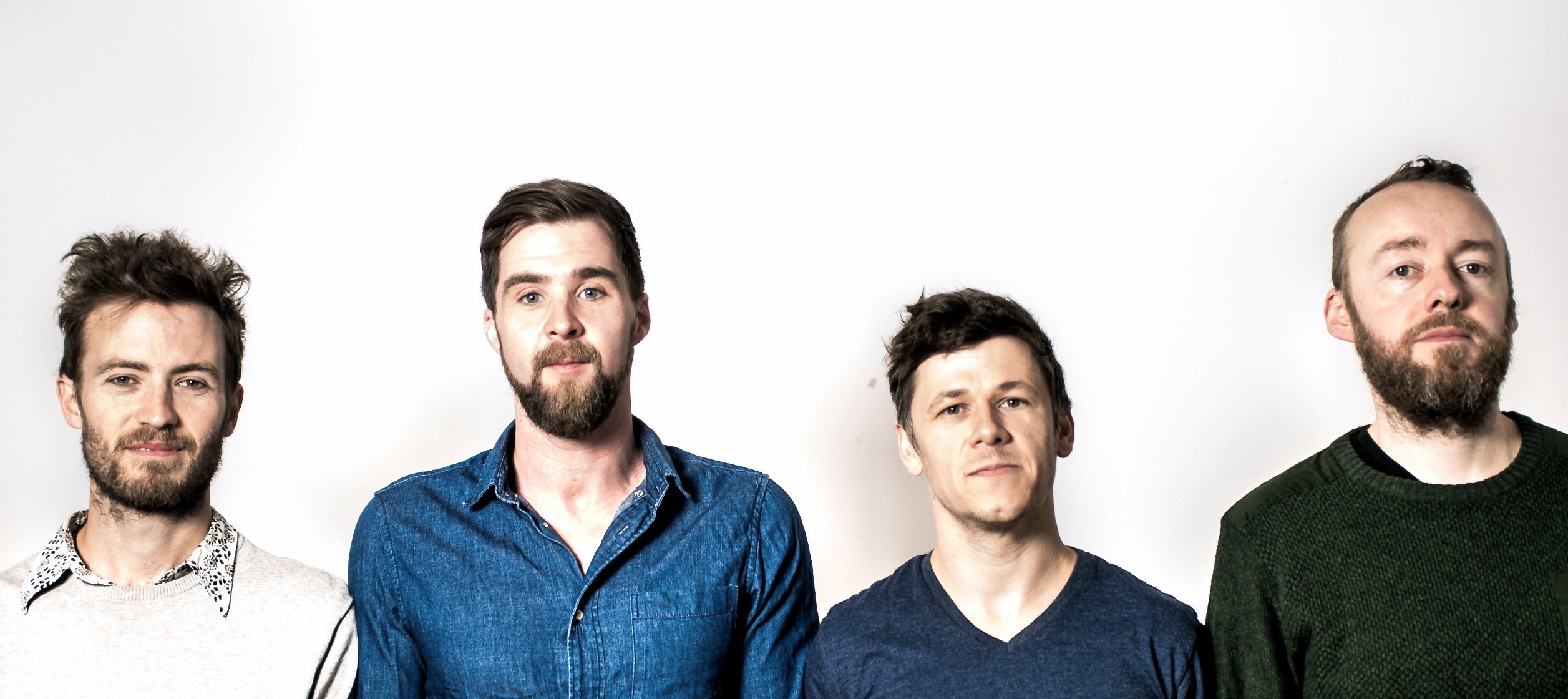 The South is about to get a helping of harmony as the Young Folk travel through. 
Irish band The Young Folk is back in the South playing shows in Dunedin, Cromwell, Arrowtown and Wanaka.
The band is built around Dubliners Anthony Furey (vocals/guitar) and Paul Butler (vocals/piano/synth), who are joined for their live shows by New Zealander Alex Borwick (trombone/synth/percussion/banjo/vocals) and Marc Aubele (bass/mandolin/vocals).
The Young Folk marry traditional acoustic instrumentation and vocal harmonies with contemporary production techniques, resulting in a sound that has been compared with Fleet Foxes, Bon Iver and Crosby Stills & Nash.
Anthony Furey, son of George from chart-topping Irish folk band The Fureys, answered some questions as the band drove south down the Mainland.
Q Have you been in Dunedin before?
A Yes, we were lucky enough to play to a sold-out Dunedin Folk Club last year for our very first show in New Zealand. Unfortunately, we didn't get to spend much time there, but enough time to know your pies are extremely tasty.
Also you guys have the steepest street in the world (Baldwin St) which we are going to attempt to run up when we are there on the ninth.
Q What can folks expect to see at your show?
A First and foremost, we pride ourselves on our four-piece harmonies. Each song has to be just as strong with only vocals and acoustic guitar as it would be with the full armoury of instruments.
We're all multi-instrumentalists, which gives us the opportunity to try out different things on stage too.
But mainly, we like to have fun with the audience. Each gig is so different and that's the most enjoyable part of touring. You never know what to expect.
Q You have two studio albums to your name. Tell us a little about the most recent of these.
A We gave First Sign of Morning a lot more time and breathing space when we were recording it than our debut album, The Little Battle, which was completed in five days.
We see it as a growth in our musical abilities, writing and composing and we had a kick-ass producer, Gavin Glass, at the reins pulling us left, right and centre, to get the best out of us.
What I love about First Sign of Morning, it's a grower with a lot of fictional writing, an album that I think people will have in their collection and continuously go back to.
Q Do you have any interesting, valuable or just plain strange musical memorabilia at home ...
A A few years ago we played at the Stampede City Sessions, in Calgary, where we were given Smithbilt "White Hats" from Tourism Calgary and made honorary citizens of that amazing city.
I have that hat hanging up in my living room, but only throw it on every so often when I put on an old western movie or do my best Garth Brooks impression.
Q What are some of the bands you've played with?
A We've worked with so many amazing acts over the years. It would be rude not to name-drop! The Waterboys, Bob Geldof, Imelda May, Villagers, Midlake and so many more unbelievable acts. We really are lucky to have been given the chance of supporting or sharing the stage with these giants.
Q The first piece of music which really affected you was ...?
A Bright Eyes, I'm Wide Awake, It's Morning. That whole album struck a chord with me the first time I heard it. From start to finish it's just pure perfection for the broken-hearted.
Q Name one song from which you'd like to be collecting royalties for life.
A The Pogues, Fairytale of New York - easiest question I've ever been asked. Mr Shane McGowan reportedly earns half a million a year from that one ... cha ching!
The shows 
 • Tonight (Saturday, February 9), 50 Dundas St, Dunedin. 
 • Tomorrow, The Gate Harvest Hotel, Cromwell. 
 • Monday, New Orleans Hotel, Arrowtown. 
 • Tuesday, Fitzpatricks Irish Bar, Wanaka.