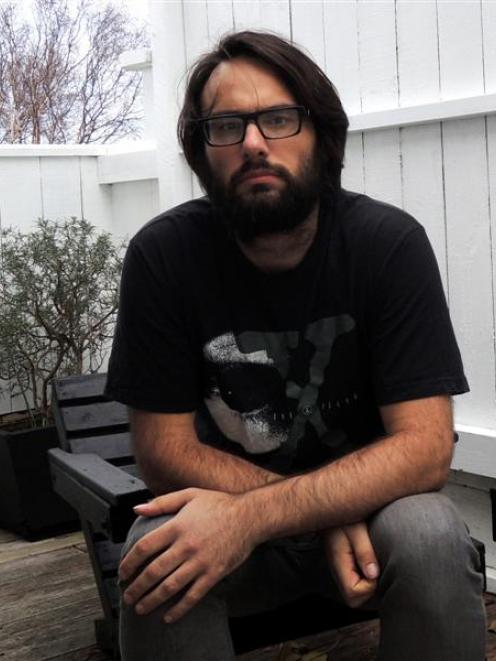 Ian Jorgensen (aka Blink), the entrepreneur and enthusiast behind underground music brand A Low Hum has been a renowned, almost hallowed figure in New Zealand music circles for a number of years now.
Best known for Camp A Low Hum (2007-14), an annual summer music festival with a strong independent ethos and community vibe that went out with a wet but celebratory bang earlier this year, under the A Low Hum brand Blink has also issued numerous records, magazines and books, while touring bands nationally and internationally.
He also, until recently, operated the Puppies music venue in Wellington, which is to close later this year, part of what he calls a successful experiment.
His experiences have formed a central part of his new book called The Problem With Music in New Zealand and How to Fix It & Why I Started And Ran Puppies.
The book is split into two halves.
American musician, engineer, and journalist Steve Albini's legendary text on the industry and corruption called The Problem With Music inspires the first half of the book, written mostly in 2009.
It identifies and discusses various issues within the New Zealand music scene and how it operates.
The second half details his trials and road tests with those problems, while also generating some successful solutions, using his venue, Puppies, as a case study.
It's all pretty relevant stuff and his solutions are often simple and motivating.
A couple of chapters are really eye-opening, with Blink discussing the alcohol industry and its place in New Zealand's culture and royalty collection agencies APRA and PPNZ.
If you're reading this column, it's probable you care about independent music in New Zealand.
As such, I strongly urge you to consider Blink's words, and some of his suggestions.
A must read.
• Ron Gallipoli, the new project from Sharpie Crows' Sam Bradford, visits Dunedin this Thursday to play at Chick's Hotel.
Sardonic and industrial, as Gallipoli Bradford channels a bass-heavy and peculiarly sexy sound based more on electronic production rather than the post-punk and angular attack of Auckland four-piece Sharpie Crows, which he fronts.
Gallipoli, however, still carries the same sense of discordance and has a slightly feral vibe.
It's a ravey rip-out of the society we live in.
---
See it, hear it
• The Problem With Music in New Zealand and How to Fix It & Why I Started And Ran Puppies, by Ian ''Blink'' Jorgensen, is available now via alowhum.com in digital (pay as you like) or physical format (144 pages, A5 book black-and-white perfect-bound, $12).
• Chick's Hotel, Radio One 91FM and Velvet Worm Brewery present Chick's Hotel Pint Night with Ron Gallipoli and Death & The Maiden, Thursday, August 7, at Chick's Hotel. Free entry from 9pm. The Chick's Magic bus leaves Countdown Central at 8.30pm, the University of Otago library at 8.35pm, returning to town after the show. It is free to ride with your 2014 Radio Onecard.
---