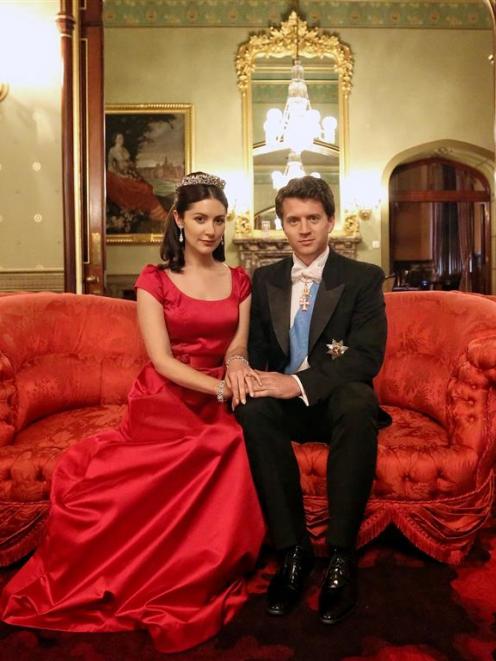 Fact and fiction collide in a telemovie based on the marriage of an Australian commoner to a Danish prince, writes Kim Dungey. 
Until playing the role of Prince Frederik of Denmark in a new telemovie, Kiwi actor Ryan O'Kane knew nothing of how the playboy prince met his future wife in a Sydney pub.
Mary Donaldson bumped into the prince during the 2000 Olympics in a bar called the Slip Inn, the former Dunedin man explains in a phone call from his Sydney home.
"He was incognito with a bunch of other royals and she was out for a night of Olympic fun ... You couldn't make this stuff up if you tried.''
O'Kane, who was in his final year of high school at the time, was still unaware of the romance when the former real estate agent married the prince in Copenhagen four years later.
But when offered an audition for the Channel Ten production, Mary: The Making of a Princess, he wore a suit - hoping to enhance his chances by "at least looking princely''.
People tell him they can see a physical resemblance with the prince but his tendency to slouch meant director Jennifer Leacey often had to remind him to stand up tall, he says, laughing.
Then there was the Danish accent to perfect.
Little footage of Prince Frederik speaking English existed so when he found his wedding speech on YouTube, spoken partly in English for the benefit of Mary's family, he watched it "about a hundred times'', trying to get the different inflections right and resisting the urge to veer into a thick Arnold Schwarzenegger-type accent.
The movie casts him opposite Australian-born British-based actress Emma Hamilton, who played dancer Rosie Dolly, one half of the frivolous Dolly twins, in Mr Selfridge and the sharp-tongued Anne Seymour in The Tudors.
Knowing they would have only four days of rehearsals together, the pair prepared for filming by exchanging faux love letters - re-creating the time early in the royal couple's relationship when they wrote to each other long-distance.
The movie was shot in only four weeks and mostly in Sydney, where Government House stood in for the interior of the royal palace in Copenhagen.
The film-makers also had to recreate the Slip Inn bar - it has since been converted to a Mexican restaurant - where celebratory cocktails "Great Dane'' and "Tasmanian Temptress'' were served on the royals' wedding day.
While the telemovie drew more than 900,000 Australian viewers, Mary's friends expressed disbelief at a storyline that had Prince Frederik skinny-dipping at Bondi Beach and proposing on the side of a Tasmanian highway.
O'Kane says there was no input from the royals or their friends and it did not pretend to be the "gospel truth''.
"This is definitely one person's interpretation of what may have happened behind closed doors.''
However, it did portray "a lot of real events'', including the couple's first public appearance with the Danish royal family at a Lord of the Rings premiere.
O'Kane went into the project aware of Prince Frederik's playboy reputation and jet-setting lifestyle but was surprised to find he had "very little freedom in his life'' and that the Danish royals are encouraged to marry foreigners, possibly so there is no power struggle should they divorce.
"That puts a lot of pressure on every overseas trip ... constantly auditioning future queens.''
Although he is "not a huge believer'' in royalty, saying they have little relevance for his generation, he accepts they are important to some people.
While researching the Danish royal family, he learned that the then king rode his horse through Copenhagen daily in World War 2 and became a rallying symbol for Danish national sentiment during the German occupation.
Playing the heir to one of the world's oldest monarchies is the latest in a long string of credits for the former Kavanagh College pupil, who appeared in Playhouse Theatre productions in Dunedin from the age of 5 and later studied at the New Zealand Drama School.
His previous roles include 1950s fast bowler Bob Blair in Tangiwai, Springbok tour protester Des Oram in Rage and cricketer Jeff Thomson in Howzat!
More recently, he has played the head of Holden Racing, Dennis Sutcliff, in a miniseries on V8 racing legend Peter Brock and English mountaineer Tom Bourdillon in TV One's upcoming drama series on the life of Sir Edmund Hilary.
O'Kane, who moved to Australia after landing a lead role in the detective drama City Homicide, says Mary: The Making of a Princess has been his highest-profile work there and earned him auditions for which he might not otherwise have been considered.
"It's a modern-day fairytale and very different to a lot of the stuff Australia has on it's screens and I guess, by extension, New Zealand has as well ... There used to be a lot of drugs, murder and sex [on Australian television] ... They love to celebrate the underbelly of Australia and those shows do well ...''
While the royal couple had not commented on the movie, they were in Tasmania soon after it screened there and could have watched it on demand, the 33-year-old adds.
"I really wonder if one night they just thought, 'Let's sit down and have a little view; if we don't like it, we can turn it off' sort of thing.
"I think if it were me, I would've watched a copy.''
• Mary: The Making of a Princess screens on Monday, at 8.30pm on TV3