Drawing inspiration from time spent at her Wanaka home, Annabel Langbein has made an internationally-distributed TV series. She talks to Catherine Pattison.
Annabel Langbein has turned her dual loves of Central Otago food and foraging into an internationally-sought-after television series.
Although Auckland-based, she has a home on the shores of Lake Wanaka and drew inspiration for the 13-part Annabel Langbein The Free Range Cook from holidays in the region: "The show is almost like a wee slice of our life when we [she and husband Ted] are down there. We
are passionate hunter/gathery type people.''
The first episode, which screens on TV One at 7pm on Saturday, features cherry-picking in Cromwell, where cook and food-writer Langbein also "had a fantastic time at the farmers market''.
Her missions to "gather, or buy, or collect'' ingredients took her to places including Fiordland for fresh blue cod, Waimate for live chickens and Oamaru for cheese-making.
"In each place there was the opportunity to in a way have a food adventure, meet people growing something really interesting, or making something really interesting.''
Her most "visceral'' experience of seeing food so closely connected to its source was gained after donning a beekeeper's suit and venturing into the Alexandra hills to extract organic honey from hives.
Langbein's holiday home features a well-stocked garden, which provided the staple sustenance for much of the series.
"Every programme I'm out in the garden and I try and concentrate on one ingredient that's in season.''
As co-producer, Langbein decided what would be cooked in her lakeside-cabin kitchen and where the seven-person TVNZ crew would travel to during the six-month project. It is the first time she has fronted her own cooking show and series on television.
Langbein says it feels as if she has "run a marathon'' in the months following theend of filming in April. Her overseas itinerary included a conference in Cannes, where the series' first episodes were launched at the MIPTV 2010 conference.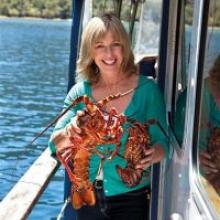 Series distributor FreemantleMedia Enterprises (FME) in the United Kingdom has been marketing it worldwide to multiple television outlets and, as a result, a slice of Central Otago will be beamed into homes in France, Belgium, Sweden, Poland, Israel, UK, Canada, Asia, Brazil and Japan.
She travelled to the London Book Fair, where she promoted a hard-cover book, which is being produced as a companion to the series.
Annabel Langbein The Free Range Cook also debuts on on ABC1 - Australia's national, non-commercial TV channel, at 6pm on Saturday. Despite the already long list of broadcasters who will air the series, Langbein insists "this is just the beginning''.
What makes her so sure of its success is something simple, with which most Kiwis can identify: "The idea that you can take New Zealand out to the world, not just the food and wine but the whole lifestyle''.
Annabel Langbein The Free Range Cook begins on TV One at 7pm on Saturday.