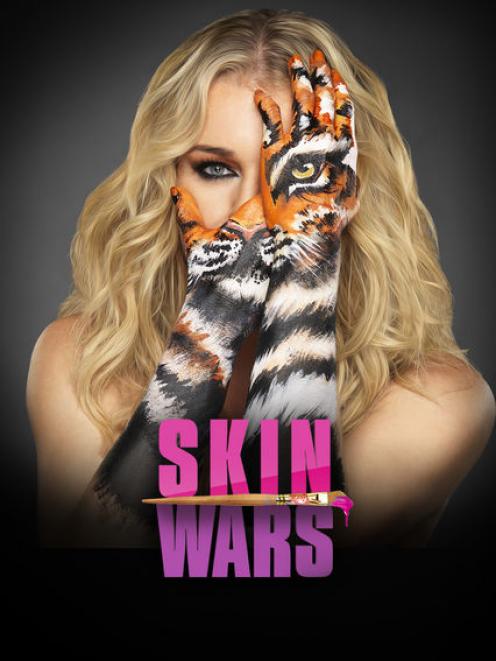 It seems to be a guiding principle of reality television production that cast members should show as much skin as possible at all times.
There's a reason Survivor is always filmed in hot climates (I found the title of Survivor New Zealand perplexing until I realised it wasn't set in New Zealand, but rather featured New Zealanders surviving in Nicaragua, where they can run around the jungle in bikinis to their hearts' content).
The makers of Skin Wars (new to Netflix) have discovered an ingenious new way to make television prominently featuring the human body in almost all of its naked glory. Skin Wars is an elimination challenge-type show in which 10 body painters compete for $US100,000 ($NZ137,000) and the illustrious title of Skin Wars Champion. Each episode features two challenges in which contestants showcase their painting skills, using the almost-naked female human form as their canvas.
Hosted by actress Rebecca Romijn and with judges Craig Tracy, Robin Slonina (whom I gather I would have heard of if I was familiar with the world of body painting) and RuPaul Charles (host of RuPaul's Drag Race), Skin Wars feels very similar in format and tone to Project Runway or America's Next Top Model. As in the aforementioned shows, Skin Wars houses its contestants together between challenges, and derives much of its drama from their interactions.
In typical reality TV fashion, Skin Wars' contestants comprise an eclectic bunch of personalities. The highly skilled and correspondingly arrogant Dutch describes himself as ``the complete embodiment of an artist''. Always eccentrically dressed Mythica loves body painting because, in her words, it ``marries my spirituality and my art together''. Sean from Vermont usually paints his wife Jana - ``it was love at first airbrush'' - while Gear (real name Lawrence) has his own reasons for appreciating this particular artistic medium.
``C'mon, I get to paint a naked girl''. My skin crawls on his model's behalf.
The inter-contestant tensions and the show's earnestly dramatic handling of the challenges and eliminations are typically corny and boring, but it is interesting to see the contestants' creations.
They are all talented artists and their efforts are often quite stunning. Most of them could probably produce similarly impressive works of art on a medium other than the human body, but maybe that would make it a different kind of show.
Each episode ends with the eliminated contestant being solemnly instructed to ``wash off [their] canvas'', followed by footage of them packing their bags, interspersed with clips of their model showering in a dimly lit studio, partially obscured by a frosted glass panel.
I suppose a hose aimed at a square of stretched cloth wouldn't have quite the same visual impact.
 - C. Tilley H. Turner