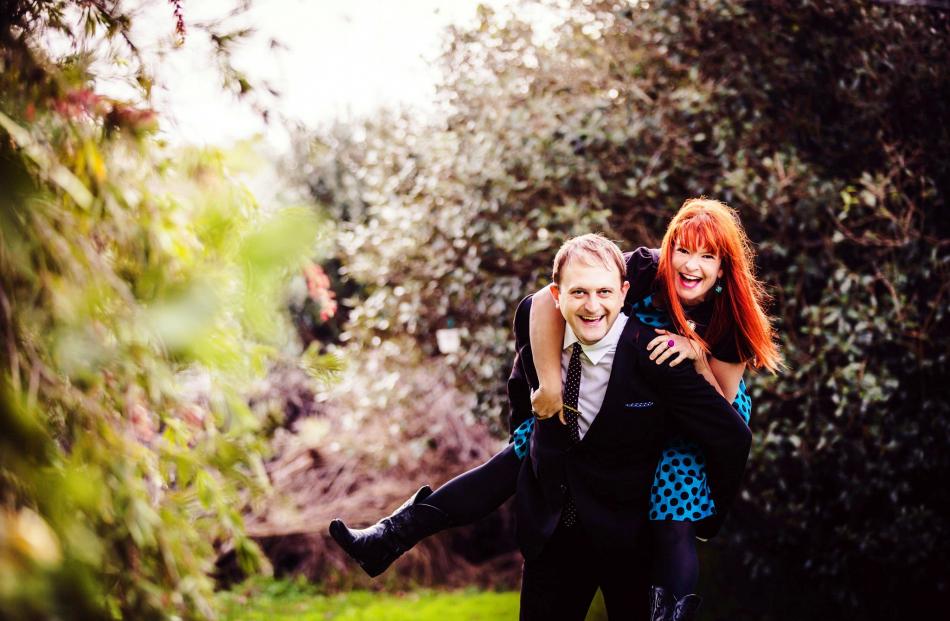 With life imitating art a little bit too closely Penny Ashton got her own happy ever after. She tells Rebecca Fox about her Jane Austen journey.
Parasols, big frocks and tea cups. Penny Ashton loves period dramas.
What she did not expect was her love for ''drama'' to enter reality on her wedding day.
''I got married this year, in my own ever after ending, but mine was distinctly more Bronte in flavour, as I was sick through my whole wedding which was bull****, not gonna lie, but funny ... eventually.''
Since she got married in March she has spent only seven and a-half weeks with her husband. She has taken her Promise and Promiscuity show on the road to Wellington, Chicago, Toronto, Winnipeg, Edinburgh, London and Poland.
The couple are only just fitting in a honeymoon before she heads to Dunedin.
Dunedin arts festival goers might remember the show from the 2014 festival, when the Jane Austen musical sold out at the Playhouse and won the best visiting production at Dunedin Theatre Awards.
''Since then I have performed it over 100 more times in five countries.''
The show had come a long way from its inception after an improvisation genre roller-coaster show.
''Someone said Austen and I just clicked right into it and it got lots of laughs and I thought 'I can do this quite well' and I enjoy it.''
So when a friend asked her to put together a show for an improvisation festival in 2008, out came Austen.
''So I did an Austen musical. It went really well and was a lot of fun.''
From that Promise and Promiscuity was born - a one-woman musical where Ashton plays nine characters and uses 33 Jane Austen quotes accompanied by a ''mash'' of classical and popular music.
''They're sprinkled throughout, along with a lot of innuendo and pop culture references.
''It is a fond pastiche of Austen but there is quite a bit of fond irreverence in there, as well.''
It was only then she fully realised her passion for period drama.
''I was in a movie theatre and I saw out a corner of my eye this big frock and stopped dead to see what it was and I was like, 'Wow, I didn't even realise I was so attuned to period dramas'.
''But yes I do I like the teacups and the chats. I like watching all the TV adaptations ... love the stories and the dialogue.''
It also became apparent a lot of other people loved it, too.
''When we did our Austen one it sold out and we realised there was quite a good a market for it.''
Over the years of doing the Austen show, she had come to learn a lot more about the writer. She has visited her grave, done the Jane Austen Festival in Bath, spoken to groups of Jane Austen fans and given a lecture in British Columbia on Regency work in modern translation.
Despite having done the show so many times, she says it has never become stale, possibly because comedy depends so much on the audience and every audience is different.
She also uses audience participation - ''non-threatening'' - which keeps it ''totally alive''.
The reaction from the crowd during her last visit to Dunedin was ''great''.
She has found her niche with her next project, also a period musical, this time based on Charles Dickens, called Oliver Copperbottom, a new musical by Charles Dickens and Penny Ashton.
A ''style sequel'' is how she describes the work, although there will be ''lot more prostitutes, filth and orphans than Austen has, that is for sure''.
The quirky nature of her work did not come as a surprise given she has been performing since she was a 4-year-old.
While she started ballet as a pre-schooler, it was not until she hit high school and theatre sports was introduced for the first time in 1987, that she discovered comedy. ''I thought it was fun getting laughs.''
She went on to study drama at university and became involved in the comedy club, alongside the likes of Rhys Darby. Ashton also competed in comedy competitions with now high-profile comedians Radar and Jesse Griffin.
When she came back from her ''OE'', theatre and comedy became her focus. ''It's the immediacy of it.''
Having realised she is not cut out for a ''day job'' she had been proactive in making sure she didn't need one. Alongside her theatre work she also did corporate work and is also a marriage celebrant.
''I've basically never really had a job. I've been showing off since I was 4.
''I haven't had a day job in 15 years, which is pretty cool in this industry.''
To see
Promise and Promiscuity plays at the Globe Theatre, Dunedin, tomorrow and Saturday, and next week November 2-5.